آموزش آثار کلاسیک ادبیات بریتانیا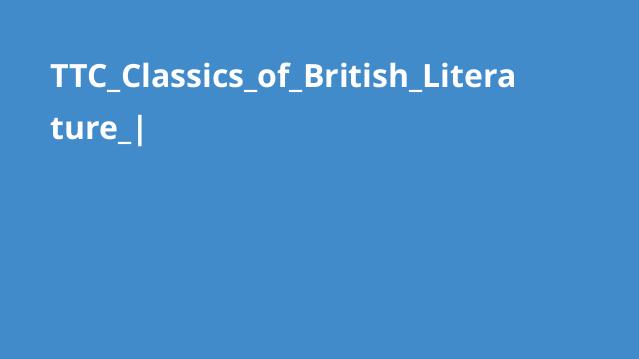 Classics of British Literature |
Publisher: TTC
Link:https://www.thegreatcourses.com/courses/classics-of-british-literature.html
How does literature connect a nation to its past? Few nations can offer a literary legacy that addresses this question as well as that of Great Britain.


48 lectures
30 minutes each
1
Anglo-Saxon Roots—Pessimism and Comradeship
What is English literature? We begin with Anglo-Saxon oral literature, including an in-depth look at Beowulf, the 6th-century foundational text that barely survived the Dark Ages in which it was born.x
2
Chaucer—Social Diversity
Writing in a language still evolving after the Norman conquest, Geoffrey Chaucer took full advantage of the literate audience available for The Canterbury Tales and its groundbreaking depth of observation and diversity of character.x
3
Chaucer—A Man of Unusual Cultivation
A remarkable life as soldier, businessman, scholar, government official, and far-ranging traveler gave Chaucer a deep knowledge of people, on display here in some of the most memorable tales from his most famous work.x
4
Spenser—The Faerie Queene
See how literature can articulate the values that unite a society, nowhere exemplified as well as in Spenser's The Faerie Queene, whose knightly heroes embody the moral virtues of England.x
5
Early Drama—Low Comedy and Religion
Drama's modern form evolved from the so-called mystery or miracle plays staged by guilds, which communicated biblical stories to the masses. These works helped make literature available to a broad populace in spite of widespread illiteracy.x
6
Marlowe—Controversy and Danger
Our discussion of Christopher Marlow—murdered at 29 in what was likely an act of political intrigue—focuses on his masterpiece, Dr. Faustus. In this and three other tragedies, Marlowe probed the theme of man's vaulting ambition and left us a treasure of dramatic innovations.x
7
Shakespeare the Man—The Road to the Globe
By the age of 30, Shakespeare had risen to the top of London's theatrical world as both playwright and actor. This lecture turns to a history, a comedy, and a Roman play drawn from his early works such as Richard III, The Taming of the Shrew, and Titus Andronicus.x
8
Shakespeare—The Mature Years
Shakespeare retired while still in his 50s, at the height of his career, but not before his maturity yielded the finest of his many masterpieces. We explore several, including four great tragedies: Macbeth, King Lear, Hamlet, and Othello.x
9
Shakespeare's Rivals—Jonson and Webster
Great writers happen in company, more so than chance would predict. We look at two who took on the difficult task of following Shakespeare—one writing comedies and the other tragedies. Their work marks the end of a great period for English theater. x
10
The King James Bible—English Most Elegant
The King James Bible of 1611 is the most read work in English literature history, and it owes its greatest debt to William Tyndale. His work on an English translation a century earlier and falling out with Henry VIII led to his own execution.x
11
The Metaphysicals—Conceptual Daring
Many modern readers and scholars consider the work of John Donne and the other so-called "metaphysical" poets to be the highest achievement in English verse. In their day their work circulated in manuscript form, and only among an educated elite. x
12
Paradise Lost—A New Language for Poetry
What novelties did Milton employ in creating a work meant "to justify the ways of God to men"? In examining one of literature's enduring masterpieces, we see that the invention of a new language was only one of many innovations of this blind poet.x
13
Turmoil Makes for Good Literature
Literature both contributed to and reflected England's turmoil in the mid-17th-century overthrow of the monarchy and the subsequent restoration. We see how these roles are illuminated in Thomas Hobbes's Leviathan and John Bunyan's The Pilgrim's Progress.x
14
The Augustans—Order, Decorum, and Wit
As a prosperous England became a leader in European commerce, science, and diplomacy, writers such as Alexander Pope and John Dryden sought to emulate the cultural achievements of Augustan Rome, including its love of wit and satire. x
15
Swift—Anger and Satire
In two works by the first great Irish writer—the Tory pamphlet A Modest Proposal and the fable Gulliver's Travels—we see how Jonathan Swift's simple, satiric prose masks a seething anger with the English court, the Crown, the scientific community, and even mankind.x
16
Johnson—Bringing Order to the Language
Few writers have ever had as much of an authority over their subject matter as the luminary known as "Dr. Johnson." In focusing on his great dictionary project, we see how he established an enduring foundation for the English language and its literature. x
17
Defoe—Crusoe and the Rise of Capitalism
We can date the emergence of the novel almost precisely with the publication of Daniel Defoe's Robinson Crusoe in 1719. More than just a great novel that reflects the emerging economic ideas of its time, it created a genre that inspires greatness and innovation to this day.x
18
Behn—Emancipation in the Restoration
In introducing a woman whose work is the equal of any male writer of the Restoration period, we focus on her masterwork, Oroonoko, the powerful tale of an African prince enslaved and ultimately killed by whites in a colony off the coast of South America. x
19
The Golden Age of Fiction
Many factors brought about the rise of the novel in the 18th century—including a new mass literacy, urbanization, and technological advances in printing. These forces helped bring us the work of Laurence Sterne, which anticipated much of what we now call Postmodernism, the sentimental romance of Samuel Richardson, and the realism of Henry Fielding.x
20
Gibbon—Window into 18th-Century England
In examining The History of the Decline and Fall of the Roman Empire, we see how the enduring literary quality of Gibbon's work gives us a window into 18th-century England as it was becoming an imperial power in its own right.x
21
Equiano—The Inhumanity of Slavery
Professor Sutherland introduces us to the first major black author, who was a slave from age 11 until his early 20s. His works are as important to British literary history as the slave narratives of Frederick Douglass and others are to American literary history.x
22
Women Poets—The Minor Voice
This lecture takes up the unique voices of several women who wrote private lyric poetry, including Queen Elizabeth I, Anne Bradstreet, Margaret Cavendish, Katherine Philips, and Anne Finch. Their work expresses the consciousness and experience of women in this characteristic form.x
23
Wollstonecraft—"First of a New Genus"
We examine the life of a remarkable, largely self-educated woman who determined at age 28 to chart new territory for a female author. Her great work, A Vindication of the Rights of Woman, still speaks loudly to us across the centuries.x
24
Blake—Mythic Universes and Poetry
William Blake created an entirely new method of poetry—a method that requires us to learn his highly individual way of thinking in order to understand the ferociously authoritative voice that dares the reader to disagree. x
25
Scott and Burns—The Voices of Scotland
Sir Walter Scott initially gained fame as a lyric poet before achieving immortality through historical novels such as Waverley. Robert Burns found the identity of Scotland in its common people and their songs, transmuting their ballads into poetry.x
26
Lyrical Ballads—Collaborative Creation
The era from 1770 to 1830 was one of widespread revolution not only in politics, but also in literature. William Wordsworth and Samuel Taylor Coleridge were an unlikely pairing in this Romantic revival, but their Lyrical Ballads overthrew the poetic diction of the Augustan establishment and took poetry in new directions.x
27
Mad, Bad Byron
We look at both Childe Harold's Pilgrimage and Don Juan, the best-known poems of an artist whose scandalous reputation and development of the world-weary misanthropic "Byronic" hero should not obscure a talent for wit that equaled that of the Augustans.x
28
Keats—Literary Gold
The poetic career of John Keats spanned only five years, but he earned immortality. His explorations of beauty, self-destruction, and other mysteries belied the prejudices of upper-crust critics unwilling to forgive his working-class "Cockney" origins. x
29
Frankenstein—A Gothic Masterpiece
It may be difficult to imagine Frankenstein as the product of an 18-year-old mind. But with Mary Wollstonecraft for a mother, William Godwin for a father, and Percy Shelley for a lover and husband, Mary Shelley was, perhaps, genetically and environmentally destined for literary greatness.x
30
Miss Austen and Mrs. Radcliffe
Jane Austen, who viewed the novel as a source of moral authority, would have seen her contemporary Ann Radcliffe's bestselling gothic fiction as a corruption and prostitution of literature. Nonetheless, she read and even relished the fiction of her great opposite.x
31
Pride and Prejudice—Moral Fiction
Pride and Prejudice explores the questions surrounding the marriage decision in a country where the law made women profoundly vulnerable. Like much of Austen's fiction, the novel does not protest against England's laws so much as it examines their implications in the domestic arena. x
32
Dickens—Writer with a Mission
Having captured his public with the comic novel The Pickwick Papers, Charles Dickens resolved to use fiction as an instrument for social reform in an age of injustice—a resolution made clear by the novel explored in this lecture, Oliver Twist.x
33
The 1840s—Growth of the Realistic Novel
The 1840s saw a phenomenal growth in the realistic novel's popularity. We explore four from this period—Dickens's Dombey and Son, Mrs. Gaskell's Mary Barton, Disraeli's Sybil, and Thackeray's Vanity Fair. Each asked hard questions about the direction in which England was headed.x
34
Wuthering Heights—Emily's Masterwork
The 19th century saw the emergence of women novelists, with Charlotte and Emily Brontë joining Jane Austen in achieving dominance. This lecture explores Emily Brontë's Wuthering Heights, a romance narrative built on a sophisticated framework and showcasing characters of psychological complexity.x
35
Jane Eyre and the Other Brontë
Charlotte was the only Brontë sister to live long enough to compile a body of work. Jane Eyre—whose heroine navigates a male-dominated world through intelligence, morality, and spirit—contains many Feminist elements and was the most popular novel of the period.x
36
Voices of Victorian Poetry
The Victorians revered poetry. We look at three revered voices: Alfred Lord Tennyson, Robert Browning, and Gerard Manley Hopkins. Their work, a bridge from high Romanticism to Modernism, paved the way for the poetic achievements of the 20th century.x
37
Eliot—Fiction and Moral Reflection
The woman who wrote as George Eliot was more than the leading female intellectual of her time. Her novel Middlemarch is a vast canvas of ambiguities, taking Realism to its fullest extent and, in asking how society and individuals can be made better, demanding much from readers.x
38
Hardy—Life at Its Worst
Thomas Hardy never shrank from his belief that "the way to the better" demands a "full look at the worst." Jude the Obscure reflects his pain over the demise of English prosperity and his Wessex birthplace, and is the most autobiographical and pessimistic of his novels.x
39
The British Bestseller—An Overview
Though often neglected as "literature," popular fiction can endure as well as those works recognized as classics. This lecture covers popular fiction by Arthur Conan Doyle, the creator of Sherlock Holmes and H. G. Wells, a pioneer of science fiction.x
40
Heart of Darkness—Heart of the Empire?
Although the interpretation and reputation of Conrad's Heart of Darkness, a devastating look at the colonial enterprise in Africa, have changed more than once since it was written, the novel continues to force an examination of the truths and prejudices held in our own hearts.x
41
Wilde—Celebrity Author
Oscar Wilde was perhaps the first celebrity author. Although he does not rank with such writers as Shakespeare, Milton, or Byron, his witticisms, aesthete's guise, and persecution have become enshrined in our memories and help sustain his position in the canon of English literature.x
42
Shaw and Pygmalion
Although the Dublin-born playwright George Bernard Shaw was radically antiestablishment in his espousal of Socialism, feminism, and evolution, he was revered by the English and wildly successful. This lecture looks at Pygmalion, Shaw's satire on language and the class system in English society.x
43
Joyce and Yeats—Giants of Irish Literature
In the second of two lectures featuring the Irish voice, we look at the lives and work of James Joyce and W. B. Yeats, two giants who rejected Victorianism and pioneered new forms and themes for the writers who followed.x
44
Great War, Great Poetry
The carnage of World War I produced a flood of great poetry in England: bitter, angry, haunting, and beautiful. We look at several poets who found the inspiration for art amid the horror, including Siegfried Sassoon, Wilfred Owen, Rupert Brooke, Isaac Rosenberg, and Robert Graves.x
45
Bloomsbury and the Bloomsberries
The Bloomsbury Group was a civilized set of writers, thinkers, artists, and political theorists who helped reshape English society, culture, and literature in the aftermath of World War I. We focus on its two most prominent literary members, Virginia Woolf and E. M. Forster.x
46
20th-Century English Poetry—Two Traditions
The two broad 20th-century streams of English poetry are the traditional, with Thomas Hardy at its headwaters, and the Modernist, steered by T. S. Eliot. In addition to poetry by these masters—including Eliot's "The Waste Land"—we'll also look at work by W. H. Auden, Philip Larkin, and Seamus Heaney.x
47
British Fiction from James to Rushdie
Quality fiction has expanded remarkably since the Victorian novel. This lecture looks at the genre's changing role in the 20th and 21st centuries, introducing a broad range of writers that includes Henry James, D. H. Lawrence, George Orwell, Graham Greene, Evelyn Waugh, and Salman Rushdie.x
48
New Theatre, New Literary Worlds
We conclude with a look at the vital changes in British drama since the early 20th century, focusing primarily on the geniuses of anger and absurdity—Samuel Beckett, John Osborne, and Harold Pinter—and closing with the greatest theatrical wit since Ben Jonson: Tom Stoppard.x

Few nations offer a literary legacy as impressive as that of Great Britain. For more than 1,500 years, the literature of this tiny island has taught, nurtured, thrilled, outraged, and humbled readers both inside and outside its borders. Chaucer, Shakespeare, Dickens, Austen, Swift, Conrad, Wilde—the roster of British writers who have made a lasting impact on literature is remarkable. More importantly, Britain's writers have long challenged readers with new ways of understanding an ever-changing world. The 48 fascinating lectures in Classics of British Literature provide you with a rare opportunity to step beyond the surface of Britain's grand literary masterpieces and experience the times and conditions they came from and the diverse issues with which their writers grappled. British-born Professor John Sutherland, the Lord Northcliffe Professor Emeritus of Modern English at University College London and Visiting Professor of Literature at the California Institute of Technology, has spent a lifetime exploring these rich works. The unique insights he shares into how and why these works succeed as both literature and documents of Britain's social and political history can forever alter the way you experience a novel, poem, or play. Explore the Soul of Great Britain Even though the term "English literature" is familiar to most of us, when we stop to think of what exactly we mean by it, the answer is anything but simple. English literature is not the same thing as literature written in English; rather, English literature embodies the essence of Great Britain: its history, its challenges, its politics, its culture, and its impressions of the outside world. "Literature is embedded in the nation, as the heart is embedded in the body," notes Professor Sutherland. "[British literature] is, in a very real sense, the United Kingdom ... in its most revealing aspect: its inner self, its soul." Great literature also affords non-Britons a connection with the past, with cultures and schools of thought that might appear distant to us in our 21st-century world. Indeed, the shared cultural heritage between Britain and the United States makes understanding these works more important than ever; at the same time that Classics of British Literature reveals new perspectives on the development of Britain, it demonstrates that many of these issues and themes are relevant to everyone. Britain's Literary Mosaic More than just a survey course, Classics of British Literature shows you how Britain's cultural landscape acted upon its literature—and how, in turn, literature affected the cultural landscape. Professor Sutherland takes a historical approach to the wealth of works explored in these lectures, grounding them in specific contexts and, oftentimes, connecting them with one another. While it is vital that we appreciate the universal and transcendent quality of literature, according to Professor Sutherland, we also need to appreciate "as fully as one can, the conditions that gave birth to these works of literature; to reinsert them, that is, back into history." The end result is not a laundry list of famous works but instead a mosaic of Britain's history as revealed through the individual threads of its most revered literary masterpieces. Throughout the course, you discover how each work is linked to others that have come before it—whether building on its predecessors' work or casting it aside to challenge readers and audiences with new ways of understanding a changing world. For example: The King James Bible of 1611 paved the way for succeeding literature, including an entire generation of dramatists whose success depended on an understanding of the spoken word by a largely illiterate audience. The language of the King James Bible, read aloud in church weekly, became the English language familiar to an entire population. Graham Greene's The Heart of the Matter, set in Sierra Leone during World War II, echoes themes about the British colonization of Africa cemented almost 50 years earlier in Joseph Conrad's Heart of Darkness. James Joyce's highly experimental fiction—including Ulysses and Finnegans Wake—shocked the British literary establishment of the early 20th century. By opposing conventional thinking and morality, he helped create a new climate for future writers. A Valuable Record of Societal Change As you unpack almost 2,000 years' worth of exciting literature, you witness how many of these classics provide a valuable record of Britain's societal conflict and tension. As Britain evolved over the centuries, literature took a more active role in depicting its society's problems. In some instances, it even worked to solve them. You will see how: Oliver Twist's restless moving throughout Charles Dickens's Oliver Twist—from the workhouse in Mudfog to the center of London and the rural English countryside—reflected the British population's mass migrations as a result of the Industrial Revolution during the early 19th century. George Eliot used the vast narrative canvas of Middlemarch to depict her idea on how to improve society: not by reforming the law through legislation but by people reforming themselves through the abandonment of ardent idealism. John Osborne's Look Back in Anger, which exploded onto the London stage in 1956, dealt a fatal blow to centuries of censorial severity by the Lord Chamberlain, who was charged with ensuring that nothing offensive was ever performed on the British stage. All the great writers that come to mind when you think of British literature are here in Classics of British Literature, along with unique looks at their most popular and powerful works, including Edmund Spenser and his epic poem The Faerie Queene, Daniel Defoe and his shipwreck narrative Robinson Crusoe, and Mary Shelley's gothic novel Frankenstein. You also enjoy the company of less-familiar voices whose importance we now recognize—like Aphra Behn, the "first loud and clear, wholly independent woman's voice" in literature—and contemporary authors like Salman Rushdie who continue to take literature into new territories. An Award-Winning Scholar with Wit It is hard to imagine a professor better suited to teach this course than Professor Sutherland, who has accumulated decades of academic and teaching honors, including the Associated Student Body of Caltech Excellence in Teaching Award and the Sherman Fairchild Distinguished Scholar Award from Caltech. Professor Sutherland is also a prolific author whose works range from scholarly editions of classic Victorian fiction and articles in academic journals to close examinations of manuscript materials and literary biography. He is also a man of extraordinary charm and wit. When Professor Sutherland reads aloud, as he does throughout Classics of British LIterature, you revel with him in the many different sounds of the English language, from the Anglo-Saxon of the 7th century to the various class accents representative of today's English speech. His delivery alone conveys a sense of just how much is encompassed by the term "British literature." Participate in a Rich Conversation Literature is "a great conversation with our predecessors," says Professor Sutherland in the introduction to the course. "It's the reason why we study it and it's a reason why, even though the makers are long dead ... it lives for us." With Classics of British Literature, you hold a thought-provoking conversation with the giants of British literary history. It is a conversation that exposes you to some of Britain's most vital and engaging works and gives you a unique lens through which to view its rich history. As you finish the course and find yourself on the threshold of the 21st century, you better understand what it means to be both British and a human being in an increasingly complex world.
آیا می خواهید برنامه نویسی موبایل را با بهترین تکنولوژی شروع کنید؟
به کمک این دوره آموزشی که توسط مدیر سایت گیت تدریس می شود به راحتی اپلیکیشن های Android و iOS و Windows Phone بسازید.
تمامی مباحث از مقدماتی تا پیشرفته آموزش داده می شوند و شرکت کنندگان دوره به مدت نامحدود پشتیبانی می شوند.
برای اطلاعات بیشتر و استفاده از دوره روی لینک زیر کلیک نمایید:
آموزش برنامه نویسی چندسکویی موبایل
آیا می خواهید طراحی وب را به صورت حرفه ای یاد بگیرید؟
در این دوره آموزشی طراحی وب را در قالب بیش از 72 ساعت آموزش تصویری فارسی فرامیگیرید.
در این دوره HTML5 | CSS3 | Javascript | Jquery | Ajax | Bootstrap4 | PHP | MYSQL | SQL Server | Wordpress آموزش داده می شود.
تمامی مباحث از مقدماتی تا پیشرفته آموزش داده می شوند و شرکت کنندگان دوره به مدت نامحدود پشتیبانی می شوند.
برای اطلاعات بیشتر و استفاده از دوره روی لینک زیر کلیک نمایید:
دوره آموزش طراحی وب
حجم فایل: 9.72GB
لینک های دانلود: (Download Links)
موضوع: آموزش زبان انگلیسی | English Learning آموزش های TTC
تگ ها: آموزش آثار کلاسیک ادبیات بریتانیا فیلم آموزش آثار کلاسیک ادبیات بریتانیا
تبلیغات
مدیر