آموزش زبان فرانسوی: فرهنگ های مکالمه فرانسوی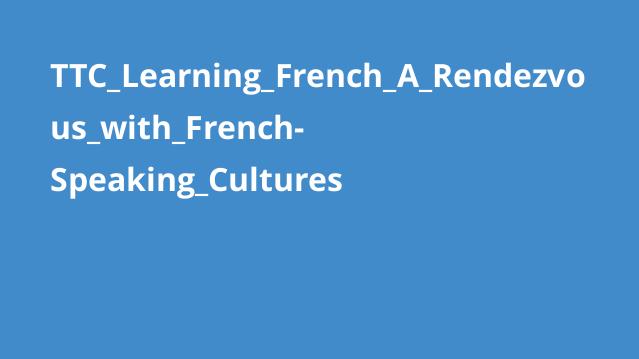 Learning French: A Rendezvous with French-Speaking Cultures
Publisher: TTC
Link:https://www.thegreatcourses.com/courses/learning-french-a-rendezvous-with-french-speaking-cultures.html
N/A


30 lectures
44 minutes each
1
Welcome to the French-Speaking World
Bonjour! Begin your voyage with a global look at the French language and French-speaking countries around the world. Learning a new language is an active process, and language is deeply connected to the cultures where it is spoken. In this first lecture, you will survey a few patterns and rules to jump-start your understanding of French.x
2
Ici, on parle français: French Is Spoken Here
One important facet of the French-speaking world is that manners and politeness still matter. Discover a few essential phrases that will ensure you don't commit any faux pas before you've even had a chance to open your mouth. Then survey the basics of numbers, definite and indefinite articles, the alphabet, and geography.x
3
French around the World
Continue your exploration of French manners and culture and build on the phrases from the first lecture. Then reflect on several "word families" that will help you build your vocabulary and make connections across the language. Along the way, you'll also pick up a few common verb forms, adjectives, and adverbs.x
4
Francophone Towns and Villages
When traveling in French-speaking countries, the verb aller – "to go" – is one of the most useful. Get to know this verb along with important question words such as "How much?" "Why?" and "When?" This lecture also gives you a chance to listen to a great deal of spoken French to help you practice your de-coding skills.x
5
Weather, Seasons, and Some Geography
Find out how to discuss the weather, as well as what the weather is like in different parts of France. Then shift your attention to times of year—seasons, months, and dates. While you learn about the weather and time, Professor Williams also introduces you to a few new verb forms to help you talk about preferences and things to do.x
6
La Vie en France: Life in France
Continue your study of time by examining the days of the week, times of day, and typical French routines throughout the day. More verb forms will help you express what you want to do, what you can do, and what you have to do. And of course, you'll also gain plenty of practice speaking and listening.x
7
Vacations and Leisure Activities
In addition to teaching you the language, this course also serves as a cultural toolkit. You may know that the French enjoy their leisure time, so here you will discover the language of vacation and leisure, including the major French holidays. You'll also get your first glimpse of the "imperative mood."x
8
À table: Daily Meals
You won't get far in a French-speaking country without being able to talk about food and drink, particularly given that mealtime is often sacred in the French culture. This lecture takes you through breakfast and lunch, showing you how to express hunger and thirst, how to order, and the necessary vocabulary to enjoy your meal.x
9
Buying Groceries
Shift your attention from ordering food in restaurants to buying food (and other items) from the store. Find out how to count and calculate totals, and review the language and cultural considerations of making a purchase. Then tackle a few more regular and irregular verb forms to help you build your communications skills.x
10
Where to Eat
Going to a market or restaurant is a culinary adventure. Here, you will put together several things you've learned from previous lectures and take a virtual trip to a restaurant. Professor Williams walks you through a typical dialogue with a waiter. You'll also begin to examine different verb "moods"—the conditional, the indicative, and the imperative.x
11
The Life of the Traveler
This first of several lectures on traveling through a French country arms you with the language around the daily routines of a tourist. Step into a Parisian hotel and have a conversation with a clerk to make sure you have somewhere to stay for the night. Continue your study of grammar with a look at pronominal and reciprocal verbs.x
12
Public Transportation
This second lecture takes you on a journey around France to immerse you in the language of transportation to help you get from point A to point B. Professor Williams gives you a few common verbs and expressions to help you talk about where you came from, where you're going, and how to get there.x
13
Travel and Technology
While values evolve very slowly, cultures often change quickly due to new devices. Round out the unit on life as a tourist with an examination of modern technology. Reflect on the French value of privacy and investigate the way smart phones and the internet have changed the nature of privacy—and the way we travel.x
14
Souvenirs de voyage
In this lecture, you'll gain a few helpful tools for learning about other cultures and the objects you'll encounter. Discover the vocabulary to talk about clothing and houses, and then review the grammar you've learned thus far. In French, the verbs will always be with us, so take a few moments to survey some new verb forms as well as the subjunctive mood.x
15
Les Vêtements: How and Why to Dress
Revisit some of the verbs you've already encountered to help you dress with style, particularly faire (to do or make), savoir (to know), and voir (to see). Build on what you've learned about the subjunctive mood to help you make your sartorial decisions. What you learn here will help you to dress your best for your travels.x
16
The Home and Private Spaces
Your final cultural stop around France is the home. Tour the house to uncover the vocabulary of different rooms and their functions, as well as some regional differences in architecture. Then delve into a few "tricky translations" where you must choose the right word for the right situation.x
17
« Je fais des progrès en français ! »
Visit the town of Lyon with Professor Williams to review what you've learned from the past few lectures and see how well prepared you are to navigate an unfamiliar city. Continue studying how get around and ask for directions. Learn a few additional nuances to the vocabulary you've acquired.x
18
La Musique, le théâtre et la danse
You can't understand a culture without understanding its arts. Here, Professor Williams transitions to a multi-lecture unit on the arts, beginning with the world of performing arts. The great news is that much of the vocabulary of music, theater, and dance involves English cognates. This lecture also introduces the past tense.x
19
La Littérature et le cinéma
Shift your attention from the stage to the realm of literature and cinema. Learn key words to help you navigate the bookstore and talk about novels, biographies, histories, poems, and more. Continue your study of verb tenses, which are the building blocks for telling a story.x
20
L'Art et les artistes
Delve into the visual arts: sculpture, painting, and photography. As you build your vocabulary, you will also add new tools to your storytelling repertoire. With a particular focus on the verb "to be"—être—Professor Williams introduces the imperfect tense, which will better help you describe what is going on in a given situation.x
21
Le Patrimoine: Museums
In addition to the arts, cultural heritage is important in French-speaking cultures. Your first stop is the museum, and your survey helps you put together much of what you learned in the previous unit. Review the major verb tenses—present, past, composé, and imperfect—and learn how to distinguish the different types of past tense.x
22
Le Patrimoine: Customs
Consider the relationship between customs and heritage, and uncover the language for French myths and traditions. Then hone the necessary skills to help you follow a story in French. Find out how to make your descriptions livelier with adjectives and adverbs, including words of "degree"—très, trop, peu, and the like.x
23
Le Patrimoine: Places to Visit
Travel through history and around French-speaking countries to explore several cultural heritage sites. You'll unpack how heritage refers both to the legacy of the past that we benefit from today, as well as what we will pass onto the future. On your tour, you will learn a series of new comparative adjectives.x
24
Le Tourisme et les régions
Because of the connection between language and culture, there are many commonalities among French-speaking countries. But regional differences also abound. From food to everyday activities, explore what makes different countries and regions in France unique. From the Alps to Bordeaux, witness the diverse and exciting variety of the French-speaking world.x
25
Les Fêtes et les festivals
One of the joys of travel is seeing the cultural connections and distinctions from one place to the next. In this lecture, use the language of celebrations to gain insight into the culture. Festivities include parties, commemorations, and…rodeos! You'll also revisit the conditional "would" tense as well as a few verbs with irregular stems.x
26
Underlying Cultural Values
While culture often changes, values tend to remain constant, with roots in major historical events such as the French Revolution. Reflect on important values in French-speaking countries, particularly hospitality. Your foray takes you through the language of government, politics, fraternity, and liberty.x
27
Aventures: Conversation
The difference between mere tourist travel and adventure is that adventure is about immersion, which requires you to engage on a deeper level. This unit gives you that deep engagement, beginning here with the art of conversation. Discover the rhythms of French conversation and some of the cultural rules to set you up for success.x
28
Aventures: Telling a Story
Continue your adventure by rounding out your skills to tell and follow a story. A new verb tense—the pluperfect—will help you tell personal stories, show the link between past and present events, and forge a connection with another person. Practice listening, reading and telling stories.x
29
Aventures: Reading Cultures
You've already encountered the subjunctive tense Now take it to the next level to help you "read" a culture. Refine your ability to observe and analyze the world around you thanks to cultural artifacts. How do people dress? What do they eat? How do they greet each other? This crucial skillset will help you navigate almost any new place.x
30
Your Future with French
You've come a long way in these 30 in-depth lectures. Learning a new language is a lifelong adventure, but before she leaves you, Professor Williams has one more lesson in verbs to impart. Walk through the ins and outs of the future tense and look to tomorrow. Then wrap up what you've learned so you can continue your adventures in learning French.x

The musical sound of the French language tends to conjure certain images for English-speakers. Leisurely mornings of coffee and pastries in a café. The Bohemian life of an artist on the Left Bank of the Seine. The romance of « Je t'aime. » The understatement of « Ça va. » the inspiration of Liberté, Égalité, and Fraternité: French is a beautiful—and global—language, and one of the most rewarding you can study.
Yet as with learning any new language, it can be a frustrating experience. Dozens if not hundreds of platforms promise to teach you with buzzwords like "immersion," and suggest that passive listening for a "few minutes a day" is all it takes to learn a new language. There's no getting around it: learning a new language is challenging, and it requires active participation. But with the right approach, it should also be a fun and incredibly rewarding endeavor.
Learning French: A Rendezvous with French-Speaking Cultures includes what most platforms omit: context. In these 30 lively, step-by-step lectures, Professor Ann Williams of the Metropolitan State University of Denver has crafted an effective and engaging course that gives you the core building blocks of the language while also giving you crucial insight into the relationship between French and French-speaking cultures. This ingenious approach is perfect for adult language learners who are serious about enjoying and using the French language.
This course is designed to provide an insider's look at the French-speaking world, and it reveals the deep and often invisible intersection between language and culture. By touring France and countries such as Morocco, Canada, Senegal, and others, Professor Williams gives you a feel for everyday life, highlighting the vocabulary you need for success, whether you are looking to get around as a tourist or want to engage with the people and the culture on a deeper level.
Acquiring a new language takes time and patience, but you will love the process in this course. Professor Williams makes learning French a joy with these comprehensive lectures, which are filled with conversations to help you practice as well as insider tips to give you insights about the nuances of the culture. Learning French: A Rendezvous with French-Speaking Cultures presents a hands-on tour of the language that will open up an entirely new world for you.
Learn the Essentials of a Beautiful, Global Language
Beyond the romance and musicality of its status as a Romance language, French is a growing world language, the official language in 30 countries and widely spoken in many more. After learning the language, you will join 200 million people around the world who use French every day, from the day-to-day use in homes and neighborhoods to the high-stakes world of international business or United Nations diplomacy.
To get you going from minute one in this course, Professor Williams starts with the basic premise that you already know a great deal of French thanks to its close connection to English. Using what you know through cognates as a springboard, you'll immediately dive into the unique features of French. The opening lectures take you "under the hood" of the language, showing you key concepts of grammar that will guide you through the rest of the course—and beyond.
Professor Williams then takes a practical, step-by-step tour of the language, helping you understand the underlying principles to give you a deeper appreciation for the language. The course gives you the perfect blend of grammatical theory and real-world usage. For instance, you will:

Learn a wealth of "de-coding skills" to help you learn through context.
Gain quick access to the basics of how to get around in a French-speaking country.
Explore "word families" to make connections between common words to broaden your vocabulary.
Find out how to engage with French speakers in different contexts, from business transactions to dinner party conversations.
Unlock the secrets of French verb forms, including the present, past, imperfect, subjunctive, and future tenses.
Grasp the cultural underpinnings and the underlying structure of the language, making it easy to absorb vocabulary and apply grammatical principles.

Because French is spoken from the very beginning of the course, you will immediately get a sense for the sounds and rhythms of the language, aided by some remarkable pronunciation tips as well as and pitfalls to avoid before you can develop any common bad habits. And while Professor Williams emphasizes conversational French, she also sprinkles in examples from menus, street signs, poems, and other texts to help you build your reading knowledge. Helpful graphics translate key words throughout, ensuring you both see and hear the language.
Bridge the Connection Between Language and Culture
Language can never be divorced from culture, and effective communication requires an understanding of a society's mores. This course's subtitle—"A Rendezvous with French-Speaking Cultures"—indicates Professor Williams' brilliant method for bringing the language to life. She examines the values and subtleties of French-speaking cultures, which will help you refine your interactions with French speakers, making them more natural and easygoing.
For example, the French tend to value courtesy. If you approach an attendant to inquire about upcoming train schedules, you'll have better luck if you greet him or her with a polite
« Bonjour » or « Excusez-moi » first. Likewise, understatement is more common in France than in the United States. Whereas Americans always seem to be doing "Great!" the French are more likely to say things are « Pas mal » (not bad).
Among other cultural practices, you will reflect on:

Mealtime customs
Travel hints
The rhythms of conversation
Technology and privacy
The language of leisure
Holiday customs
And more

In addition to the cultural basics of getting around, you will also delve into the arts and heritage of the French-speaking world. Professor Williams guides you through museums and art galleries, cinemas and concert halls, to introduce you to some of the touchstones that make each culture unique. She develops the grammar lessons and vocabulary around cultural topics so that, rather than simply memorizing words, you build your knowledge around each theme, making the learning process easier and more enjoyable.
Build a Toolkit for a Lifelong Journey
This course mirrors college-level French but offers terms and cultural insights you wouldn't ordinarily find in a basic survey of the language. In fact, Professor Williams' conversation-based approach and the self-pacing of video lectures will likely help people who may have struggled to learn French in the past. Combined with the professor's infectious enthusiasm, the stunning on-screen visuals and the studio props make comprehension easy and enjoyable.
One of the strengths of her approach is the way Professor Williams moves forward while circling back to re-visit key concepts. Subsequent lectures clarify the initial encounters with words and phrases, helping you learn through repetition. And because practice makes perfect, the course comes with a Language Lab, specially crafted spoken exercises to practice your lessons. A workbook, the Cahier d'exercices, provides written support for the content of each lecture.
If there's one piece of advice Professor Williams has to offer for success, it's that learning a language is a lifelong pursuit. She expertly guides you through 30 clear and wide-ranging lessons, giving you a remarkable introduction to one of the world's great languages. Learning French: A Rendezvous with French-Speaking Cultures makes acquiring—and, most important, using—French easier than you ever imagined, and when you complete the course, you will be poised for the next step in your journey.
آیا می خواهید برنامه نویسی موبایل را با بهترین تکنولوژی شروع کنید؟
به کمک این دوره آموزشی که توسط مدیر سایت گیت تدریس می شود به راحتی اپلیکیشن های Android و iOS و Windows Phone بسازید.
تمامی مباحث از مقدماتی تا پیشرفته آموزش داده می شوند و شرکت کنندگان دوره به مدت نامحدود پشتیبانی می شوند.
برای اطلاعات بیشتر و استفاده از دوره روی لینک زیر کلیک نمایید:
آموزش برنامه نویسی چندسکویی موبایل
آیا می خواهید طراحی وب را به صورت حرفه ای یاد بگیرید؟
در این دوره آموزشی طراحی وب را در قالب بیش از 72 ساعت آموزش تصویری فارسی فرامیگیرید.
در این دوره HTML5 | CSS3 | Javascript | Jquery | Ajax | Bootstrap4 | PHP | MYSQL | SQL Server | Wordpress آموزش داده می شود.
تمامی مباحث از مقدماتی تا پیشرفته آموزش داده می شوند و شرکت کنندگان دوره به مدت نامحدود پشتیبانی می شوند.
برای اطلاعات بیشتر و استفاده از دوره روی لینک زیر کلیک نمایید:
دوره آموزش طراحی وب
حجم فایل: 6.53GB
لینک های دانلود: (Download Links)
موضوع: آموزش زبان انگلیسی | English Learning آموزش های TTC
تگ ها: آموزش زبان فرانسوی فیلم آموزش زبان فرانسوی
تبلیغات
مدیر