آموزش زبان اسپانیایی: چگونه یک زبان جدید را بیاموزیم و با آن صحبت کنیم؟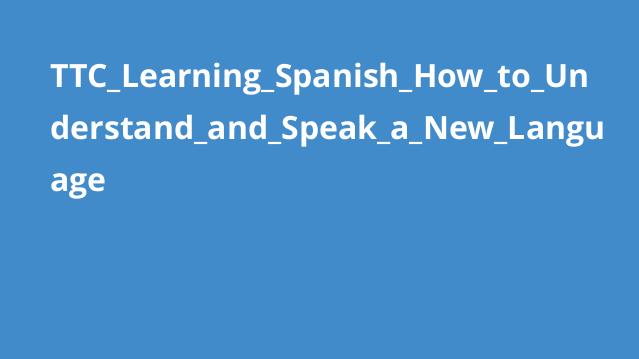 Learning Spanish: How to Understand and Speak a New Language
Publisher: TTC
Link:https://www.thegreatcourses.com/courses/learning-spanish-how-to-understand-and-speak-a-new-language.html
N/A


30 lectures
43 minutes each
1
Introduction to the Spanish Language
Begin by looking at both the "whats" of Spanish (elements such as grammar and vocabulary), and the "hows"—how to study, practice, and learn the language most effectively. Start with identifying cognates (Spanish words that are similar to their English equivalents), hearing the five Spanish vowel sounds, and practicing basic greetings, responses, and goodbyes.x
2
Definite Articles and Nouns
Learn the gender of Spanish nouns by practicing each new noun with its masculine or feminine definite article. Grasp how the suffixes of nouns can help identify their gender. Study how to make nouns plural, practice pronouncing Spanish consonants, and learn the letters of the Spanish alphabet.x
3
Subject Pronouns and the Verb Ser
Investigate the five singular subject pronouns and the seven plural subject pronouns in Spanish, and how they are used in Spanish-speaking cultures. Then conjugate the verb ser (to be) in the present tense, create simple sentences, and explore how Spanish adjectives agree with the nouns they modify in number and gender.x
4
Regular -ar Verbs in the Present
Here, learn about an important category of Spanish verbs—those whose infinitives end in -ar. Conjugate regular -ar verbs in the present tense by identifying the verb's stem and adding the appropriate endings. Continue with Spanish adjectives and their placement, cognate adjectives, and the pronunciation of important consonants.x
5
Indefinite Articles and Numbers to 100
Acquire the Spanish indefinite articles ("a", "an", and "some" in English), and observe how indefinite articles are used in Spanish. Learn to count to 100, and practice simple math problems. Finally, complete your work with Spanish consonants, making important distinctions in the pronunciations of b, v, g, d, and x.x
6
The Verb Estar and Numbers over 100
Investigate the verb estar, the second Spanish verb for "to be". Learn about the uses of estar, as contrasted with ser. Conjugate estar in the present tense, and use it with adjectives describing emotions, conditions, and locations. Learn to count to 1000, and conclude with a historical note about Spanish pronunciation.x
7
Regular -er and -ir Verbs in the Present
Conjugate two new categories of Spanish verbs—those that end in -er and -ir. For both, learn and practice the appropriate endings for the present tense. Continue with possessive adjectives, and study how these are used in Spanish. Then discover three ways of forming questions, and learn vocabulary related to the family.x
8
The Verb Ir in the Present
Begin with an important irregular verb: ir, meaning "to go". Conjugate ir in the present tense, and learn about its key uses in Spanish. Next, study and practice common Spanish interrogatives—words used in asking questions. Finish by looking at effective ways to remember new words and build vocabulary.x
9
Expressing Time in Spanish
First, practice telling the time of day in Spanish, expressing the hour and minutes, and learn important vocabulary relating to time. Continue with the days of the week and vocabulary regarding days and dates. Finally, learn the months of the year, and form questions relating to time, dates, and the seasons.x
10
Expressions Using the Verb Tener
This lesson begins with another important irregular verb: tener (to have). Grasp how to conjugate tener, and learn expressions using it regarding physical conditions, emotional conditions, and age. Add more important vocabulary related to the family. Finish by considering some important strategies to help you succeed as a language learner.x
11
Verbs like Hacer and Interrogative Words
Study the verb hacer (to make or to do), and learn some of the many familiar expressions that use it. Continue with the similar verbs poner, salir, and traer, and take a deeper look at Spanish interrogatives. Learn how to talk about punctuation in Spanish, and discover how it is used.x
12
The Verbs Saber and Conocer
Spanish has two verbs, saber and conocer, which carry the meanings of the English verb "to know." Investigate their conjugations, their differences in meaning, and their uses. Then add some new verbs that are conjugated like conocer, and begin to study Spanish prepositions, focusing on those that describe spatial relationships.x
13
Stem-Changing Verbs
Here, work with Spanish verbs that are irregular—not in their tense endings, but in the verb stems used to conjugate them. Study how to conjugate verbs of this type as you learn a range of new verbs. Also study prepositional pronouns, as well as rules for which syllables to stress when pronouncing Spanish words.x
14
Ver, Dar, and Other Irregular Verbs
Delve into the fascinating history of U.S. place names that are derived from Spanish, including the names of five states. Continue your work with key irregular verbs, and study important guidelines for conjugating them. Then, listen to excerpts from a Spanish newscast, and explore the value of listening to the news in Spanish.x
15
The Present Progressive
The present progressive is a useful grammatical construction in Spanish that describes something that is in progress right now, happening in the present. Learn how to form and use the present progressive, and how its use in Spanish differs from the way it's used in English. Continue with vocabulary related to dining, meals, and eating venues.x
16
Direct Object Pronouns and Adverbs
Begin with additional vocabulary concerning food and drink, focusing on breakfast and lunch. Then study direct object pronouns (such as "them" in English), which replace direct object nouns to avoid redundancy, and learn their uses and placement in Spanish. Finally, encounter Spanish adverbs: common words used to modify verbs, adjectives, or other adverbs.x
17
Affirmatives, Negatives, and Demonstratives
Now add the Spanish demonstrative adjectives ("this" and "that" in English) and the related demonstrative pronouns, and study additional vocabulary related to eating dinner. Look at ways to create both affirmative and negative statements in Spanish, and learn about regional differences in the language as it's spoken across the world.x
18
More Affirmative and Negative Expressions
Learn and practice a range of new vocabulary related to colors, followed by words that describe clothing. Take a detailed look at Spanish affirmative and negative adjectives (as in "some" and "none" in English), which can also be used as pronouns. Also study how to pronounce vowel combinations, diphthongs, and triphthongs in Spanish.x
19
Indirect Object Pronouns
Continue working with vocabulary related to clothing, and practice describing clothing. Then study Spanish indirect object pronouns—pronouns that replace indirect objects—and learn verbs that commonly use them. Last, explore some additional strategies for learning and remembering new vocabulary.x
20
Double Object Pronouns
Enlarge your vocabulary with words relating to rooms and furnishings in a house, and learn how to say ordinal numbers in Spanish. Then study how to use indirect and direct object pronouns together (as in, "I give it to you" in English), and explore some important expressions using the verb pensar (to think).x
21
Reflexive Verbs
Reflexive verbs are those for which the subject and the object of the action are the same (as in, "I wash myself" in English). Study how these verbs function in Spanish, and learn commonly used examples. Look deeply at the uses of the verbs ser and estar, the two Spanish verbs signifying "to be."x
22
Talking about the Past: Acabar and Hace
Here, add important vocabulary relating to motion and travel, and learn some common reflexive verbs that describe mental and emotional states. Then study two useful constructions for speaking about the past: acabar de, which describes something that just happened, and hace…que, which expresses how long something has been going on.x
23
Talking about the Past: ¿Desde Cuándo…?
This lesson introduces two common constructions that allow you to ask how long someone has done something, and how long something has been going on. Following this, add a range of vocabulary related to leisure activities, household chores, and romantic relationships. Also explore strategies to improve your speaking in Spanish.x
24
Formal Commands and Unequal Comparisons
Continue to enlarge your vocabulary with words relating to places, such as public venues and businesses. Then learn how to say formal commands, also known as imperatives, as well as negative commands, and practice using them in different contexts. Study ways to compare two things that are not the same. Finally, consider two effective approaches to remembering grammar rules.x
25
Informal Commands
Study and practice informal commands, both affirmative and negative, including their important irregular forms. Learn vocabulary related to the human body, and practice commands referring to the body. Then grasp how to use pronouns with commands, and explore some of the most commonly used command forms in Spanish.x
26
Superlatives and Equal Comparisons
Delve into vocabulary relating to sports and outdoor activities, and investigate the importance of el fútbol, or soccer, in Spanish-speaking countries. Learn how to make comparisons involving actions, numbers, and things that are equal, and how to express superlatives. Last, consider a useful approach to thinking about and incorporating new vocabulary.x
27
Regular -ar Verbs in the Preterite
Begin to work with the preterite tense, which expresses actions completed in the past. Explore how to use this tense in Spanish, how to conjugate regular -ar verbs, and how to make preterite conjugations easy to remember. Expand on preterite usage by practicing with new vocabulary used in describing past events.x
28
Regular -er and -ir Verbs in the Preterite
Continue your exploration of this vital tense in Spanish, and learn to express past actions with regular -er and -ir verbs, stem-changing verbs, and irregular verbs. Observe how some Spanish verbs actually change meaning when used in the preterite. Also learn important adjectives that describe inherent characteristics of something, as well as others used to describe changeable conditions.x
29
Irregular Verbs in the Preterite
Round out your knowledge of the preterite by working with the full range of Spanish verbs that are irregular in this tense. Grasp why, in studying the present and preterite tenses, you have now learned the hardest verb conjugations in the Spanish language. Then add important vocabulary about work and money.x
30
Next Steps in Improving Your Spanish
Begin this final lesson with useful vocabulary regarding professions, technology, and the Internet. Learn about key verbs that are commonly used with prepositions, and review the preterite tense. Conclude by looking at ways to have an immersive experience with Spanish, and get a preview of a second level of Spanish study.x

Have you ever tried to learn another language, only to abandon your efforts due to boredom or frustration? In this highly effective course, we're pleased to present an approach that turns the tables on the problems so many people face in learning a new language. Experience the fastest and most direct way to get up and running with a beautiful and highly useful language. Learning Spanish: How to Understand and Speak a New Language offers you an exciting and practical way to quickly build the ability to communicate in Spanish.
In 30 highly engaging lessons, this ingeniously constructed program leads you sequentially through the core building blocks of competence in spoken Spanish. In each lesson, you'll get "under the hood" of the language, learning the key concepts of grammar, culture, and vocabulary that will make acquiring Spanish easier than you ever imagined.
You'll also gain a rich working vocabulary that will prepare you for a wide range of everyday situations. The end of each lesson includes audio exercises that will build your pronunciation, comprehension, and conversational skills. Plus, the workbook includes plenty of reading and writing exercises to practice and build upon what you learn.
This course is designed to cover the curriculum of a first semester college course in Spanish. Throughout the lessons, you'll explore how to learn a language and start communicating. Your teacher, world-class language instructor Professor Bill Worden of the University of Alabama, has refined this approach over more than 20 years, distilling the step-by-step system that works the best for adult learners. As an integral part of the language lessons themselves, he teaches a set of learning strategies that will enable you to be a successful language learner and will help you actively use and remember the material.
Even if you believe you have no aptitude for language learning, this course will show you otherwise. If you follow these fun and rewarding lessons, and practice by using the specially crafted accompanying audio and print materials, by the end of the course you'll be able to converse in Spanish, and to communicate about work, leisure, food, family, friends, travel, and much more.
Useful, Beautiful, and Mind-Expanding
Spanish is the third most widely spoken language in the world. Increasingly relevant in global culture and economics, it's the official language of 20 countries, plus the territory of Puerto Rico. Half a billion people speak it, including over 50 million in the U.S., and every day we encounter Spanish speakers right around the corner. For these reasons and more, Spanish is one of the most useful languages on earth.
Spanish is also one of the great Romance languages of Europe, with a rich and glorious literature from both the Old and New Worlds, and whose poetic sensibility and sensual rhythms make it one of the most beautiful languages in the world to hear and speak.
Learning a foreign language is one of life's most broadening experiences, allowing you to travel into other cultures, to build new friendships and professional contacts, and to communicate with a vast segment of the human population where conversation would otherwise never take place.
For these reasons and more, learning Spanish is a practical, enjoyable educational endeavor, and Learning Spanish is designed to provide the tools you need to embark on this journey into an important and incredibly useful language.
Master the Essentials of Spoken Spanish
The remarkable effectiveness of this course rests on Professor Worden's skill in breaking down the core elements of Spanish into an easily learnable sequence. From the beginning, you'll work with key material and concepts that help you build a fundamental "feel" for the language.
The lessons begin with simple groundwork for Spanish: the proper pronunciation of consonant and vowel sounds, the alphabet, and greetings and responses to greetings. With these building blocks, you can start speaking to people in Spanish right away!
From there, you'll delve into the most important part of speech: verbs. This is anything but dry, rote repetition: you'll discover verbs through their living context, by using them in many different practical settings, getting a visceral sense of how they operate in everyday speaking, and, most importantly, experiencing how they form the basis for expressing yourself in Spanish.
By working sequentially with ser and estar—the two Spanish verbs meaning "to be"—plus vital verbs such as ir (to go), tener (to have), hacer (to make or do), and querer (to want or to love), you'll learn to talk about basic thoughts, feelings, and actions.
You'll build on the ability to express yourself with verbs through in-depth practice with the forms and uses of Spanish nouns, adjectives, adverbs, prepositions, and pronouns, and an ever-expanding vocabulary—all the necessary linguistic tools that will allow you to communicate successfully in Spanish.
Enriching the language lessons, Professor Worden exposes you to the culture and ethos of the Spanish-speaking world. At key moments, you'll explore Spanish literature, soccer rivalries, family relationships, and more. You'll also learn about variations in how Spanish is spoken in different regions of the world.
Lay the Groundwork for Real Conversations
Professor Worden has structured this course to give you the ability to communicate about many kinds of practical, daily situations. Across the span of the lessons, you'll learn to negotiate common activities and concerns in Spanish through these vital subjects and forms of speech:

Understand a full range of social greetings and expressions used in social interactions.
Learn to express time, days, and dates in Spanish, as well as to count and use numbers.
Study how to talk about emotions and mental states.
Develop vocabulary on subjects such as social life, the family, the home, food and drink, money, the Internet, travel, leisure activities, the human body, romantic relations, and more.
Study how to make useful affirmative and negative statements, and learn the rules for commands (also called imperatives), which are indispensable for everyday speech.
Learn to form interrogatives and to ask and answer questions—vital skills for building conversational fluency in Spanish.

Throughout the course, you'll deepen your facility with verbs as you learn how to speak about events using the present tense, become familiar with two different ways to talk about future events, and practice talking about the past using several key expressions and the preterite tense.
Discover Principles of Successful Language Learning
As a key component of this course, you'll use specific study tools and approaches that will allow you to succeed with Spanish.
First, in addition to the video lessons, the program provides the core resources of an audio glossary for each lesson, audio speaking activities, and a course workbook.

Following each lesson, the audio glossary will give you practice with pronunciation, listening to a native speaker, and reviewing the lesson's new vocabulary.
The speaking activities that follow the audio glossary help you improve your listening and speaking skills as you become comfortable with dialogues and interactions in Spanish.
The exercises in the workbook develop your reading and writing skills in Spanish while you practice the vocabulary and grammar presented in the lessons. The workbook also contains enlightening Cultural Reading sections about different aspects of the cultures of the Spanish-speaking world.

As an added benefit, Professor Worden teaches you a range of specific learning strategies that help you to fully incorporate and remember the material, and that help you build real conversational skill. Among these strategies, you'll learn about

the mindset of successful language learners, which involves developing a positive response to the unfamiliar, and approaching the new language as a puzzle to be solved;
ways to remember new words and build vocabulary, using all five senses;
how to find a real world connection to the language, and use your Spanish from the beginning;
sources available all around you for practicing, such as reading the news and listening to news broadcasts in Spanish;
three potent listening tools for deepening your comprehension; and
specific, easy-to-implement approaches to remembering key points of grammar.

Knowing and using these strategies will help you acquire and begin using Spanish more quickly than you may have thought possible.
Experience the Magic of Speaking a New Language
Learning a new language opens the door to an entirely new dimension of experience, and brings you a much broader and deeper connection with the world. In just 30 lessons, Learning Spanish: How to Understand and Speak a New Language teaches you the essentials of Spanish, empowering you to converse with Spanish speakers and to embark on the extraordinary journey of discovery that a new language brings. By simply using these lessons and the accompanying materials, you'll enjoy a life-changing skill.
آیا می خواهید برنامه نویسی موبایل را با بهترین تکنولوژی شروع کنید؟
به کمک این دوره آموزشی که توسط مدیر سایت گیت تدریس می شود به راحتی اپلیکیشن های Android و iOS و Windows Phone بسازید.
تمامی مباحث از مقدماتی تا پیشرفته آموزش داده می شوند و شرکت کنندگان دوره به مدت نامحدود پشتیبانی می شوند.
برای اطلاعات بیشتر و استفاده از دوره روی لینک زیر کلیک نمایید:
آموزش برنامه نویسی چندسکویی موبایل
آیا می خواهید طراحی وب را به صورت حرفه ای یاد بگیرید؟
در این دوره آموزشی طراحی وب را در قالب بیش از 72 ساعت آموزش تصویری فارسی فرامیگیرید.
در این دوره HTML5 | CSS3 | Javascript | Jquery | Ajax | Bootstrap4 | PHP | MYSQL | SQL Server | Wordpress آموزش داده می شود.
تمامی مباحث از مقدماتی تا پیشرفته آموزش داده می شوند و شرکت کنندگان دوره به مدت نامحدود پشتیبانی می شوند.
برای اطلاعات بیشتر و استفاده از دوره روی لینک زیر کلیک نمایید:
دوره آموزش طراحی وب
حجم فایل: 4.6GB
لینک های دانلود: (Download Links)
موضوع: آموزش زبان انگلیسی | English Learning آموزش های TTC
تگ ها: آموزش زبان اسپانیایی دانلود آموزش زبان اسپانیایی فیلم آموزش زبان اسپانیایی
تبلیغات
مدیر