آموزش نواختن گیتار: آکورد، فلس و سولوس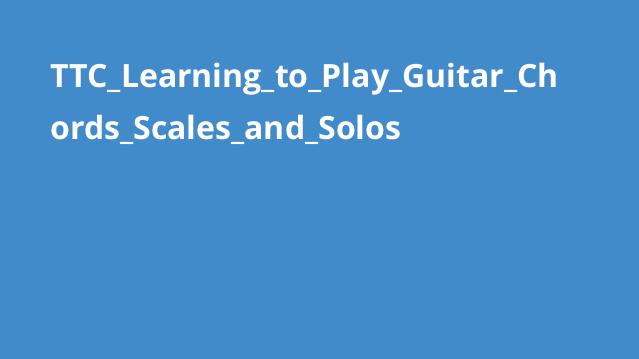 Learning to Play Guitar: Chords, Scales, and Solos
Publisher: TTC
Link:https://www.thegreatcourses.com/courses/learning-to-play-guitar-chords-scales-and-solos.html
N/A


24 lectures
31 minutes each
1
Guitar Basics: Play a Song in 60 Seconds
Discover how you can play a simple song on the guitar in just one minute. Then study the parts of the guitar, and how to hold the instrument. Play G and C major chords, and review the classic bass line from the song you learned. Finally, practice your song, combining your bass line with a four-note melody.x
2
Tuning Up, Reading Music, and Dexterity
Consider important principles of musical learning, the essence of practice, and the importance of performance. Investigate how to tune your guitar, and learn a useful warmup. Observe how pitch and rhythm are notated (written), practice E and A minor chords, and work with a musical number using the chords you've learned so far.x
3
Classical Guitar Position and Posture
Explore body posture with the instrument; then, practice your warmup using alternating fingers. Grasp how written music is divided into "measures" and "beats". Learn fuller versions of G and C major chords, see how they are written in the tablature form of notation, and add a melody to the song from the last lesson.x
4
Learning How to Practice the Guitar
Look deeper into how to practice and master each element in the learning process. Explore "shifting"—moving the left hand position in guitar playing. Then grasp how the lower three strings are notated, and practice moving between chords on the instrument. Play a major scale, and use it in the song "Shifting Sands".x
5
Playing Fingerstyle Guitar
Learn about three legends of "fingerstyle" guitar--the technique of playing with the right-hand thumb and fingers. Practice the basics of right-hand fingerstyle technique, with alternating fingers. Study the notation of open strings; then extend your fingerstyle to "fingering" chords. Play a G major scale across three strings, and use your fingerstyle in a song.x
6
Playing Rhythm Guitar
Discover the leading lights of "rhythm guitar", a playing style where the guitarist provides the rhythmic foundation for a band. Review your fingerstyle technique, and play arpeggios (broken chords). Learn to play eighth-notes, and "¾" or waltz-like rhythms. Practice a two-octave scale, some melodic patterns or "licks", and put these elements together in today's song.x
7
The Pentatonic Scale
Look into the remarkable guitar-playing of Eric Johnson, and his use of the pentatonic (five-tone) scale. Learn a left-hand exercise for "walking" across the fretboard; then study half-step intervals on the guitar and how to read them. Investigate syncopated strumming patterns, the two-octave pentatonic scale, and how to use them in improvising.x
8
The Blues Scale and Lateral Stretching
Enter the world of the blues, and learn about some pioneering pre-war blues players. For left hand technique, practice a "lateral stretching" exercise for flexibility. Add the A7 chord, along with syncopated blues strumming patterns and the A blues scale. Last, play "Blues for Art", incorporating your new strumming patterns and the blues scale.x
9
Planting for Control and Accuracy
First, contemplate the principles of tonal beauty, as taught by the great Romero brothers. Study the technique of "planting", an aid for technical accuracy. Learn the D and A major chords, and how to read key signatures. Then play a new melody in D major, and accompany it in fingerstyle using your new chords.x
10
Guitar Tremolo: Gaining Speed
Here, encounter two classical guitar titans, Agustín Barrios and Andrés Segovia, and grasp their contributions to the instrument. Study tremolo, which gives the illusion of a sustained note. Learn to read sixteenth-notes, add the E major chord, the major pentatonic scale, and use your tremolo and finger technique in the "Raindrop Etude".x
11
Legato and Power Chords
Begin with legato technique (also called "hammer-ons" and "pull-offs"), a way of smoothly connecting guitar tones without plucking the string. Then add the two-note "power chord" to your repertoire, a key chord for rock music. Practice some patterns ("licks") using the minor pentatonic scale, and put all of these elements together in a rock song.x
12
Travis Picking for Folk, Country, and Rock
Trace the remarkable life of Merle Travis, who pioneered a distinctive and highly influential fingerpicking style. Refine your descending legato technique ("pull-offs"), a great exercise for strength and finger independence. Study the "Travis picking" style, practice some melodic licks using pull-offs, and try Travis picking in the blues tune "Dusty Blue".x
13
Hammer-Ons and Pull-Offs
Hear classic road stories of some great guitar players, as they point to the collaborative roles of the guitar. Learn the B7, C7, and G7 chords ("dominant seventh" chords), and grasp their role in musical harmony. Play the scale of E major across all six strings; then use your legato technique, dominant sevenths, and E major scale in accompanying a singer.x
14
Finger Independence and Chord Theory
Explore harmonic tension and resolution, and the dominant and tonic chords, through compelling examples in the music of Richard Wagner. Practice an important exercise for independent movement of the left hand fingers. Discover how three-note chords ("triads") can be constructed from the notes of the scale. Finally, play an original song using the material from this lesson.x
15
Crosspicking and Bass Lines
Uncover the legend and innovations of Doc Watson, the great bluegrass player who was brought out of obscurity by a chance meeting. Study the challenges of playing with a pick while moving across the strings. Then taste "barre" chords, a useful technique you'll explore further, learn the C major scale, and try a tune inspired by Johnny Cash.x
16
Piano-Style Guitar and Fingernail Care
Investigate the musical effects created by the fingernails versus the fingertips, and grasp the basics of nail shaping and care for guitar playing. Then study chord "qualities" (major, minor, diminished), and look at common chord patterns and sequences. In today's song, practice "piano-style" guitar, playing melody and accompaniment simultaneously.x
17
Syncopated Strumming and Movable Scales
Begin with some memorable stories that illustrate the challenges of performance. Practice "chromatic octaves", for hand coordination and flexibility, and learn to read "dotted" eighth notes. Experiment with different ways to play common chords, study "movable" scales (that use the same fingering pattern), and use these elements in an original tune.x
18
A New Pentatonic Scale and the Capo
Explore the work of composer John Cage, as it points to the value of musical "silence"—the space between notes. Then learn to read musical "rests" (silences in the music). Study how to use the capo, a device used to shorten the guitar's string length. Continue your work with "movable" pentatonic and major scales, and revive your "Travis picking" skills for today's tune.x
19
Barre Chords: Movable Chords
Delve into the original style of jazz guitarist Johnny Smith, and the story behind one of his greatest hits. Then go deeper into barre chords, one of the most challenging guitar techniques. Learn "movable" chord shapes, using the same fingering for multiple chords, and practice two-octave arpeggios (broken chords). End with a reggae-style song, structured in "A-A-B-A" form.x
20
Flamenco Technique: Rasgueado
This lecture explores the flamenco style, highlighting the career and historic innovations of Paco de Lucia. Study the flamenco strumming technique of rasgueado. Learn to harmonize melody notes, practice movable A, Am and A7 chords, and expand your work with arpeggios. End with a flamenco-tinged song, using your new rasgueado, chords, and melodic technique.x
21
Playing with Natural Harmonics
Learn to play the beautiful, chiming guitar tones called harmonics. First, explore the lives of some great players who featured them. Then play harmonics on all six strings, and see how they're notated. Practice four-note diatonic seventh chords, and investigate modes, permutations of the major scale. Use your new chords and harmonics in the tune "Harmonic Landscapes".x
22
Jazz Harmony and Dorian Mode
Take the measure of guitarist Charlie Christian and alto saxophonist Charlie Parker, each of whom transformed jazz and their instruments. Grasp how to work for greater speed and accuracy when playing melodies. Learn "movable" chord shapes for major and minor seventh chords, practice the Dorian modal scale, and use them in a minor blues tune.x
23
DADGAD Tuning and Lydian Mode
Take a look at the far-reaching influence of acoustic guitarist Michael Hedges, and his ingenious use of alternate tunings of the instrument. Continue with a two-part cross-picking exercise, for hand dexterity. Practice the Lydian modal scale. Then explore alternate tunings, focusing on Michael Hedges' "D-A-D-G-A-D" tuning, and use it in the song "Alpine Sunrise".x
24
Taking the Guitar to the Next Level
Trace the career of violinist Malcolm Watson, as it illustrates principles of success for musicians, and consider seven habits of highly effective guitar players. Then learn the technique of artificial harmonics. Add half diminished and full diminished chords to your repertoire, play the Mixolydian scale, and finish the course with a jazz and flamenco inspired song.x

The guitar is the perfect first instrument to not only learn how to play, but to learn how to read, understand, and enjoy music. And, whether you've had a few years of lessons, taught yourself, or never picked a guitar up, this course is the perfect way to start.
Brilliantly designed so you can learn from the ground up, Learning to Play Guitar: Chords, Scales, and Solos is a unique and effective way to rapidly access one of the most meaningful, enjoyable, and satisfying forms of self-expression. You don't need to know how to read a note when you start this course, but even if you do, you'll quickly gain new techniques, knowledge, and understanding.
The highly original modular format of this course is designed to immediately get you from learning to playing. Each of the 24-lectures begins with an engaging historical narrative, or personal story, and then dives right in with five modular units of instruction:

Technique—Learn the correct way to hold the guitar, how to move naturally around the instrument, and all of the core skills of guitar playing, from left hand fingering and shifting to right hand strumming, finger picking, and pick playing.
Musicianship and Note Reading—Learn how to read three kinds of musical notation, and discover that reading music is actually quite simple if you learn it in short, easy steps; grasp how to play and read rhythms, and develop the ability to play by ear.
Chords—Discover how to play a wide range of basic chords--the harmonic building blocks of music and the musical foundation under a melody; study chord theory, and the fundamentals of musical structure.
Scales and Melodic Patterns--Study the fundamental scales for guitar—another vital building block of guitar playing—as well as guitar melodic patterns or "licks," tools that give you the ability to play lead guitar lines and melodies.
Putting it All Together—From the very first lesson, put together what you've learned in real guitar tunes and pieces, covering a variety of different musical styles. Each lesson is capped off with a song that puts all the material to use.

Why the guitar? Like the piano, the guitar is a stand-alone solo instrument, and an endlessly adaptable "partner" for musical and vocal accompaniment. Amazingly versatile, the guitar is an instrument with an unparalleled range of expression, encompassing rock, pop, jazz, country, blues, and classical styles of music. And yet, the fundamentals of the guitar are surprisingly easy to learn—and quickly! The guitar is also one of most affordable and portable instruments. What you learn from studying the guitar easily translates to all musical instruments and disciplines, including singing, songwriting, and arranging.
Your instructor is Dr. Colin McAllister, a popular teacher and performer, whose wide musical range extends from rock bands, and the Avant garde, to classical solo guitar, chamber music. symphony orchestras, and jazz groups. Dr. McAllister studied under the "First Family" of the classical guitar—the Romero brothers—and befriended one of America's greatest jazz guitarists, Johnny Smith. He sprinkles this course with well-told stories and deft lessons from more than 25 years of professional experience. He also shatters the myth that you must have special talent, or start at an early age, to play an instrument well. Sharing his own stories, which range from poignant to hilarious, and joined by a promising guitar student and guest vocalists, Dr. McAllister shows you that learning even four guitar chords will open up a world of possibilities, encompassing hundreds of songs, as well as styles and eras.
As you make your way through each lesson on the path from beginner to accomplished musician, you will gain the equivalent of two semesters of university-level instruction, or dozens of hours of private instruction, along with the material for hundreds of hours of practice.
This course quickly becomes an experience—one that will deepen your appreciation of everything musical that you hear.
Master the Basics of a World-Spanning Instrument
TGC's Learning to Play Guitar: Chords, Scales, and Solos presents an engaging and adaptable learning system, developed by Dr. McAllister over decades of professional playing and teaching, which will have you playing the guitar in a remarkably short amount of time. The rapid results of these lessons are a result of Dr. McAllister's ability to present each element of guitar playing in clear, graspable steps.
Starting from the beginning, and building one element on another, Dr. McAllister introduces you to a spectrum of basic principles and musical material, giving you a solid foundation for playing the guitar and for further study in any style. Beginning with simple chords and bass lines, you'll learn how to play both melodies and accompaniment, as well as a range of musical styles and guitar techniques, encompassing traditions such as jazz, rock, classical, flamenco, blues, reggae, and many more.
Dr. McAllister also takes you on an odyssey into the history of the guitar, its greatest players, and the styles they created and embodied, from guitar legends to many pivotal but lesser known figures. Each lesson explores a significant topic related to the lore of the guitar, giving you a wealth of material to explore on your own.
One of the biggest benefits to this course of study is that each lesson is customizable, allowing you to study the material in a preferred sequence or focus on areas that interest you, and are easy to reference for review and practice. And the learning system is highly visual, giving you the chance to learn by watching the professor play, and using diagrams, drawings, and animations to help you incorporate the material.
Build A Solid Base for Playing in Many Styles
This course is expertly designed to give you a base knowledge of both guitar playing skills and different guitar styles. For beginners as well as more experienced players, these are techniques and materials which you can use immediately, and will give you much to explore and expand on. Some important elements you will cover include:
The Art of Improvising:
Improvising on the guitar is based on a fundamental grasp of chords and scales, as the title of the course suggests. As the lessons unfold, you'll learn major, minor, seventh, dominant seventh, and diminished chords in different keys, and "power" chords for rock music, as well as the major and minor scales, blues scale, pentatonic (five-tone) scales, "modal" scales, and arpeggios (broken chords)—all of which will equip you to improvise in any style.
Guitar Skills:
Enriching your left and right hand technique, you'll practice a range of key guitar skills, which will take your music-making in many exciting directions. Among these, you'll learn "Travis picking" for folk, country, and rock playing; tremolo, which gives the illusion of a sustained tone; legato techniques (called "hammer-ons" and "pull-offs") for shaping melodies; rasgueado, a dynamic flamenco strumming technique, harmonics (beautiful, bell-like guitar tones), barre technique (for "movable" chords), and how to accompany a vocalist.
Guitar Styles:
Throughout the lessons, you'll learn the elements of many different musical styles. As key examples, you'll grasp the basics of jazz harmony, making use of your seventh chords and modal scales, blues, using the blues scale and licks, and you'll explore rhythm guitar, "piano-style" guitar, classical styles, Spanish flamenco, and others. In all cases, you'll learn to play songs in the styles you've studied.
Elements of Music Theory:
In this course, for everything you learn to play, you will also learn to read it in music notation. Step by step, you'll grasp how music is organized in terms of rhythm and harmony, both conceptually and on the page, and how different pitches, rhythms, keys, and tonalities are written. In the process, you'll learn to read musical key signatures and time signatures, rests (musical silences), how to use a metronome, how to understand common chord progressions, and more.
Pathways to Strong Guitar Technique:
In instrumental music, "technique" is the how of playing the instrument naturally and efficiently. Proper technique is vital to successful guitar playing—as important as any other element—for achieving ease with the instrument and avoiding physical problems in playing. Throughout these lessons, you'll learn elements of good technique such as "planting" (a practice for building technical accuracy), efficient hand position, exercises for the independence of the fingers, dexterity with a guitar pick, speed and accuracy in playing melodies, moving efficiently between chords, and how best to practice the different guitar skills you learn.
Travel into the Fascinating History and Lore of the Guitar
Throughout the lessons, Dr. McAllister's passion for the guitar and for teaching, as well as his energetic and charismatic style, make this a highly enjoyable learning process. He enriches the lessons with inspiring and eloquent commentary on the nature of practice, the habits of successful guitar players, the value of music, and how best to study and learn.
In bringing you into the world of the guitar, he speaks vividly of the instrument's evolution, history, and musical roles, and of the lives of guitarists—from his own professional experiences and road stories to the contributions and innovations of the instrument's most legendary players, such as:

John Fahey--a master of steel-string fingerstyle guitar playing;
Augustin Barrios "Mangoré"--Paraguayan guitarist, composer, and poet; an outlandish genius, innovator, and one of the first classical guitarists to record;
Emily Remler--an astonishing talent, an improbable figure in jazz (white, middle class, woman), and one of the finest players of her time;
Charlie Christian--the first modern jazz guitarist, who transformed big band music, and reinvented the jazz guitar as a solo instrument; and
Michael Hedges--one of most innovative and influential acoustic guitarists, who pioneered ingenious alternate tunings of the instrument.

Learning to Play Guitar: Chords, Scales, and Solos offers you an engaging and highly effective way to master the fundamentals of this incredibly versatile instrument. With these 24 expertly designed lessons, the world of the guitar and the sheer joy of playing it are yours.
آیا می خواهید برنامه نویسی موبایل را با بهترین تکنولوژی شروع کنید؟
به کمک این دوره آموزشی که توسط مدیر سایت گیت تدریس می شود به راحتی اپلیکیشن های Android و iOS و Windows Phone بسازید.
تمامی مباحث از مقدماتی تا پیشرفته آموزش داده می شوند و شرکت کنندگان دوره به مدت نامحدود پشتیبانی می شوند.
برای اطلاعات بیشتر و استفاده از دوره روی لینک زیر کلیک نمایید:
آموزش برنامه نویسی چندسکویی موبایل
آیا می خواهید طراحی وب را به صورت حرفه ای یاد بگیرید؟
در این دوره آموزشی طراحی وب را در قالب بیش از 72 ساعت آموزش تصویری فارسی فرامیگیرید.
در این دوره HTML5 | CSS3 | Javascript | Jquery | Ajax | Bootstrap4 | PHP | MYSQL | SQL Server | Wordpress آموزش داده می شود.
تمامی مباحث از مقدماتی تا پیشرفته آموزش داده می شوند و شرکت کنندگان دوره به مدت نامحدود پشتیبانی می شوند.
برای اطلاعات بیشتر و استفاده از دوره روی لینک زیر کلیک نمایید:
دوره آموزش طراحی وب
حجم فایل: 7.33GB
لینک های دانلود: (Download Links)
موضوع: آموزش گیتار | Guitar Tutorial آموزش موسیقی | Music Tutorial آموزش های TTC دسته بندی نشده
مدیر