آموزش درس های زندگی از کتاب های بزرگ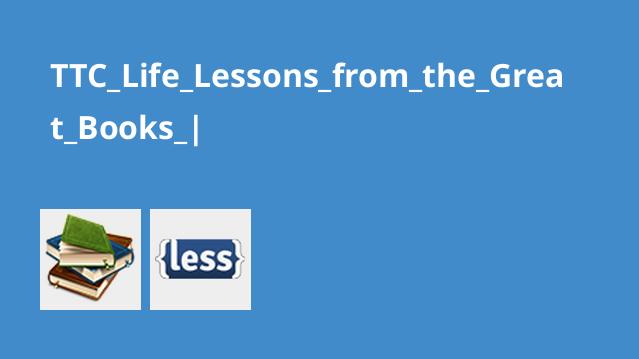 Life Lessons from the Great Books |
Publisher: TTC
Link:https://www.thegreatcourses.com/courses/life-lessons-from-the-great-books.html
For every important moment in your life, there is a Great Book that can give you a unique perspective on the experience. Learn how some of Western civilization's greatest literary masterpieces can provide you with guidance and consolation.


36 lectures
30 minutes each
1
Seneca—"On Providence"
In this introductory lecture, Professor Fears explains how wisdom enables us to take information and apply it to our lives. You begin with the Roman Empire and Seneca's "On Providence," which asserts that evil cannot befall a truly good man because, if a man believes that God is good, then there is no real evil.x
2
The Gospel of John
Learn how the Gospel of John differs from the other synoptic Gospels (Matthew, Mark, and Luke) in both its majestic language and the ways it reveals Jesus's character. This text can teach you that the message of a single teacher can be more powerful than the rule of a massive empire.x
3
Boethius, Martin Luther King—Conscience
See how Boethius's On the Consolation of Philosophy instructs us on how true wisdom resides in recognizing the harm caused by returning evil with evil. Also, see Martin Luther King Jr.'s "Letter from a Birmingham Jail" as a profound testimony to our ability to change the world.x
4
Dostoevsky—The Brothers Karamazov
Evil, suffering, and death have important purposes that we oftentimes can't understand, according to Professor Fears. In this lecture, see how Fyodor Dostoevsky's The Brothers Karamazov explores the depths of the Russian soul and teaches us about the very meaning of human existence.x
5
Elie Wiesel—Night
Elie Wiesel's Night shows us how we can triumph as individuals in the face of great evil. In this lecture, you examine Wiesel's life and family before the Holocaust and witness how he survived the worst genocide in history. Both Wiesel's life and his novel are testaments to the unconquerable human spirit.x
6
Schweitzer—Out of My Life and Thought
Albert Schweitzer was one of the greatest humanitarians of his time. His autobiography, Out of My Life and Thought, is a fascinating study of his spiritual journey bringing modern medicine to Africa. Learn how this work teaches us that our very humanity rests on our reverence for all life.x
7
Goethe—The Sufferings of Young Werther
Discover how Goethe advises us to move on with our lives rather than succumb to the tragic fate of lovesickness in The Sufferings of Young Werther. The most famous literary figure of his day, Goethe based the work on his own near-tragic experience with unrequited love.x
8
Shakespeare—Hamlet
A meditation on the perils and merits of revenge, Shakespeare's Hamlet demonstrates its author's keen understanding of human motivations. The greatest lesson to be learned from this Great Book, you find, is this: Move on—vengeance will change nothing.x
9
Sophocles—Ajax
Learn how Sophocles' Ajax examines the ideas of pride and honor. Set against the violent backdrop of the Trojan War, this tragedy teaches us that even the best human qualities can become destructive when pushed to excess.x
10
Plato—Epistle VII
Plato's Epistle VII is a revealing and rewarding study of how even great philosophers can make nearly fatal mistakes. In this lecture, read the iconic Greek philosopher's letter as a valuable lesson on how to admit mistakes.x
11
Cicero—"On Old Age"
The Roman answer to Plato, Cicero achieved a successful legal career before entering the tumultuous world of politics. Investigate Cicero's "On Old Age" and his beliefs that older people are beneficial to society because of their experience, wisdom, and good judgment—despite what young people may say.x
12
Isaac Bashevis Singer—The Penitent
The Penitent, written by Nobel Prize winner Isaac Singer, is a powerful tale of a Jewish man who achieves worldly success in New York City but soon realizes how hollow that success is. The Penitentteaches us the lesson that the only reason to live a long life is to continue growing and developing.x
13
Euripides—Alcestis
What do we mean when we talk about true love? Greek tragedies like Euripides' Alcestis teach us that anything taken to excess—even something good—leads to destruction. In Alcestis's self-sacrifice for her husband's immortality, you find the higher ideal of love that leads us to put others before ourselves.x
14
Euripides—Medea
Turn from the idea of love as self-sacrifice to the idea of love as all-consuming hatred. In Euripides' Medea, the jealous title character's passion for revenge is so potent that she slays her own children to punish her husband for his infidelity. x
15
Von Strasburg—Tristan and Isolde
Tristan and Isolde teaches us about the overwhelming power of love to make people abandon codes of honor and betray those to whom they owe the most. In this lecture, consider how the tragedy also instructs us on the medieval ideal of human passion as an allegory for the love of God.x
16
Shakespeare—Antony and Cleopatra
Explore yet another side of the power of love in Shakespeare's Antony and Cleopatra. In this tragedy, learn how a man of enormous talent and opportunity can throw away world rule for the love of a woman. What makes this lesson all the more effective? Its basis in historical fact.x
17
Shakespeare—Macbeth
Like his Antony and Cleopatra, Shakespeare's Macbeth depicts the use of love as a tool for achieving power. You see how Lady Macbeth uses her husband as a surrogate for authority and fuels his decisions with her misguided love—a plan that contributes to the play's tragic outcome.x
18
Aldous Huxley—Brave New World
In contrast to earlier works that deal with the theme of love, Aldous Huxley's Brave New World takes you to a society devoid of love—one where sex and reproduction happen outside the world of affection and relationships. Professor Fears emphasizes how this futuristic satire is a warning about the perils of technology for humanity.x
19
Homer—Odyssey
Begin your look at what lessons can be found in history's great adventure stories by studying Homer's Odyssey. The epitome of adventure tales, Odyssey teaches us invaluable lessons about how to survive in a world of temptations, dangers, and questionable decisions.x
20
Sophocles—Philoctetes
Focus on Sophocles' Philoctetes as a lesson in the cruel business of war. Even though war brings untold suffering, wisdom and redemption can still emerge. This powerful lesson, you learn, is one that each generation must learn anew.x
21
The Song of Roland—Chivalric Adventure
A tale of bravery, treachery, and loyalty to one's faith, the French epic The Song of Roland teaches us that honor is an external value. Explore how The Song of Roland also warns us about the destructive nature of honor when pushed too far.x
22
Nibelungenlied—Chivalric Romance
Composed around A.D. 1200, the Nibelungenlied is a masterpiece of medieval literature. Examine how this Great Book brings together a number of themes from the course, including the creative and destructive power of love and how to courageously find one's destiny.x
23
Lewis and Clark—Journals
Meriwether Lewis and William Clark lived one of the greatest adventures in history: the exploration of the Louisiana Purchase. This scientific and diplomatic mission was detailed in The Journals of Lewis and Clark, which you consider as a way to get valuable lessons on both friendship and personal destiny.x
24
T. E. Lawrence—Seven Pillars of Wisdom
T. E. Lawrence, better known as Lawrence of Arabia, lived a life of grand adventure. His life story, recorded in Seven Pillars of Wisdom, provides you with the perfect image of a man of destiny—one whose imprint is still left on the map of the Middle East and in the hearts of anyone longing for personal challenge.x
25
Aristophanes—Comedies
Laughter is a universal human action. In the first of a series of lectures about lessons of laughter and irony, you investigate the comedies of Aristophanes—including Acharnians, Peace, and Lysistrata—and how they reflected the mood of the Athenian people during the Peloponnesian War. x
26
Menander—The Grouch
Menander's The Grouch tells a humorous tale of love hindered by a grumpy old man who is protective of his daughter and who is rescued from a well into which he has fallen by her would-be suitor. An important lesson you glean from this Great Book is that making happiness your ultimate goal leads to true happiness.x
27
Machiavelli—La Mandragola
When we are seduced and betrayed, it is often because we have seduced and betrayed ourselves. See how this unpleasant point is illustrated in Machiavelli's Italian comedy about love, lust, and betrayal: La Mandragola (The Mandrake).x
28
Erasmus—In Praise of Folly
Erasmus's In Praise of Folly is written as a speech given by Folly, personified as a clown. This Great Book teaches us how to step back, see ourselves as others see us, and frequently pause to laugh at ourselves and our follies.x
29
Thomas More—Utopia
While Erasmus teaches us to see ourselves as others see us individually, Thomas More (a close friend of Erasmus) does so nationally in Utopia. More conceived of Utopia as the tale of a mythic land where all goods are held in common and all needs are fully met.x
30
George Orwell—Animal Farm
Learn how George Orwell's Animal Farm uses social satire to bring attention to conditions in the Soviet Union under Joseph Stalin. This scathing critique of the dangers of Communism under a ruthless dictator was aimed at exposing the evils of totalitarianism.x
31
Josephus—History of the Jewish War
Focus now on the final universal theme of the course: patriotism. Come to see History of the Jewish War by the historian Flavius Josephus as a moving lesson in the human love of freedom. To fight and die in the noble cause of freedom, you learn, should never be considered a defeat.x
32
Joseph Addison—Cato
Although not commonly read today, Joseph Addison's Cato was one of the most influential intellectual models for the American Revolution. This 1713 play—about the struggle of the Roman Cato the Younger under the tyranny of Julius Caesar—has much to teach us about the ideals of our nation. x
33
George Washington—Farewell Address
As a general and a president, George Washington was a great model of civic virtue and patriotism. His farewell address, an open letter to the American people, addresses national issues still with us today, including party division, foreign policy, and fiscal responsibility.x
34
Abraham Lincoln, George Patton—War
Explore the many ways in which war defines what it means to be patriotic by looking at two great wartime leaders: Abraham Lincoln and George S. Patton. Lincoln's 1864 letter to Mrs. Lydia Bixby teaches us about the costs of personal sacrifice, while Patton's life and career as told in War as I Knew It teach us about valor in the midst of battle.x
35
Theodore Roosevelt—An Autobiography
Chronicle the development of Theodore Roosevelt's ideas and his rise to political fame, as detailed in An Autobiography. Roosevelt's travels into and exploration of the American frontier helped him—and can help you—understand what makes a political leader truly great.x
36
The Wisdom of Great Books
Professor Fears concludes the course by reminding you about the tried-and-true lessons to be found in the pages of Great Books. Although the world has changed throughout the course of human history, themes such as love, courage, and patriotism have always been—and will continue to be—part of our lives.x

For every important moment and stage in your life, there is a Great Book that can offer you invaluable lessons and place your unique experiences in a larger perspective. Some of history's greatest authors have written about timeless themes and trying points in our lives. If you're unlucky in love, you can seek sympathy in Goethe's epistolary novel, The Sufferings of Young Werther, and its title character's frustrations with unrequited love. If you're looking to explore new environments, you can follow along with Lewis and Clark in their detailed journals as they journey through the Louisiana Territory. And if you're trying to lead a noble and hard-working life, you can learn from Albert Schweitzer, whose autobiography Out of My Life and Thought details his work providing medical care in a remote African village. In Life Lessons from the Great Books, Professor J. Rufus Fears of the University of Oklahoma—a marvelous storyteller with deep historical knowledge—shows you how some of Western civilization's greatest literary masterpieces can speak to you and provide guidance in your life across the gulf of time and culture. Rich in historical perspective and infused with layers of meaning, these 36 lectures reveal the wealth of insight these enduring works can provide in your life. You'll come to see that each of these works—whether written 2,000, 200, or 20 years ago—remain relevant to all of us. What Makes a Book "Great"? According to Professor Fears, four characteristics define a Great Book: Its focus on great themes such as love, courage, and patriotism Its composition in a noble language Its ability to speak to readers across the ages Its ability to speak to readers not as groups, but as individuals In Life Lessons from the Great Books, you focus on more than three dozen works that span the timeline of Western history, from ancient Greece and Rome to the modern age. Each of these 36 books provides insights not only into the human experience of their particular time and place but also into your own situation. Great Books are touchstones to history and the story of humanity. Every Great Book you explore in this course—from the Odyssey and the Gospel of John to Hamlet and Animal Farm—is a unique expression of the human spirit and a fountain of advice, from how to conduct yourself in times of trouble to how to better appreciate the simple moments in your life. In addition to pointing out the merits and virtues of each text in the course, Professor Fears explains how authors learned from and influenced each other, and how certain texts are interrelated. "We will be very concerned in our course not with just what each one of these books says, but also with how it has built upon the lessons of the books that have come before and how it contributes to an ongoing current of intellectual excitement and dialogue," he notes. Great Themes, Enduring Life Lessons The lectures in Life Lessons from the Great Books are grouped into six broad themes that run through history's most compelling stories. Each of these themes is universal—we've all, at some point or another, felt the pangs of love or tried to steel our souls with courage. In exploring these themes within the context of these Great Books, you learn new ideas about both the works themselves and the broad scope of the human condition. The Unconquerable Human Spirit: Why can your spirit endure so much hardship without crumbling? Fyodor Dostoevsky displays the inner battle of the human spirit against sensuousness, violence, and mystery in The Brothers Karamazov. Similarly, Elie Wiesel's Night presents a single individual struggling to survive during one of history's darkest moments: the Holocaust. Youth and Old Age: How can you cope with the trials and tribulations of youth? Of old age? Goethe's The Sufferings of Young Werther remains an enduring statement about the passions of youth, while Cicero's "On Old Age" counsels us on the importance of old age and the wisdom that comes with it. Romance and Love: Why can love bring both pain and pleasure? How can you overcome heartache? Great Books such as Tristan and Isolde (with its depiction of chivalric romance) and Macbeth (with Lady Macbeth's use of love to manipulate her husband) help you understand love in all its complex forms. Adventure and Courage: How can you find the strength within yourself to face life's many challenges? T. E. Lawrence's Seven Pillars of Wisdom, which charts the soldier's experiences in the Middle East during World War I, reveals how one can reinvent oneself in new environments and discover inner strengths. Laughter and Irony: How can humor help to console you in times of trouble? How can it offer us unique perspectives on horrible situations? See how George Orwell's Animal Farm uses pointed satire as an opportunity to skewer Communist ideals. Patriotism: What is the true meaning of patriotism? President George Washington's farewell address called for the avoidance of savage partisan strife—a message that still rings true in today's world. President Theodore Roosevelt's Autobiography offers you timeless views on patriotic characteristics such as honesty and integrity. A Storyteller Who Brings Literature to Life An extraordinary orator, Professor Fears possesses a passion, knowledge, and authority that shine through in each of these inspirational lectures. You quickly understand why he has earned 25 teaching awards in his distinguished career. His deep knowledge of classical history sheds new light on these literary masterpieces. With each lecture in Life Lessons from the Great Books, you discover fascinating new vantage points from which to view classic works. Professor Fears's analogies between ancient dilemmas and their modern-day counterparts close the gap between literature and your daily life; they show you how these resonant themes are not new to the modern human condition but instead have been felt throughout history. You take solace in the realization that the ancient Greeks, medieval scholars, and our country's Founding Fathers all experienced social struggles, ethical dilemmas, and personal challenges similar to those we all face. If you haven't read these Great Books before, the warmth of Professor Fears's storytelling and his insightful approach to literature will have you heading to the library to learn more. And if you've already read these works, you'll discover new themes and ideas that will help you get more out of them. Regardless of your previous familiarity with these works, you'll come to understand why these masterpieces remain eternal testaments to the variety of human experience and the powerful ways in which literature can guide and inspire us.
آیا می خواهید برنامه نویسی موبایل را با بهترین تکنولوژی شروع کنید؟
به کمک این دوره آموزشی که توسط مدیر سایت گیت تدریس می شود به راحتی اپلیکیشن های Android و iOS و Windows Phone بسازید.
تمامی مباحث از مقدماتی تا پیشرفته آموزش داده می شوند و شرکت کنندگان دوره به مدت نامحدود پشتیبانی می شوند.
برای اطلاعات بیشتر و استفاده از دوره روی لینک زیر کلیک نمایید:
آموزش برنامه نویسی چندسکویی موبایل
آیا می خواهید طراحی وب را به صورت حرفه ای یاد بگیرید؟
در این دوره آموزشی طراحی وب را در قالب بیش از 72 ساعت آموزش تصویری فارسی فرامیگیرید.
در این دوره HTML5 | CSS3 | Javascript | Jquery | Ajax | Bootstrap4 | PHP | MYSQL | SQL Server | Wordpress آموزش داده می شود.
تمامی مباحث از مقدماتی تا پیشرفته آموزش داده می شوند و شرکت کنندگان دوره به مدت نامحدود پشتیبانی می شوند.
برای اطلاعات بیشتر و استفاده از دوره روی لینک زیر کلیک نمایید:
دوره آموزش طراحی وب
حجم فایل: 9.2GB
لینک های دانلود: (Download Links)
موضوع: آموزش های TTC مباحث عمومی
تگ ها: آموزش درس های زندگی از کتاب های بزرگ آموزش رهنمودهای زندگی
مدیر