آموزش رازهای علمی درباره حافظه قوی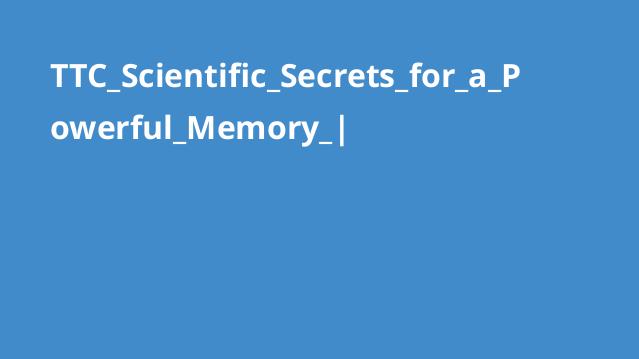 Scientific Secrets for a Powerful Memory |
Publisher: TTC
Link:https://www.thegreatcourses.com/courses/scientific-secrets-for-a-powerful-memory.html
Memory is, without a doubt, the most powerful (and practical) tool of everyday life. By linking both your past and your future, memory gives you the power to plan, to reason, to perceive, and to understand.


6 lectures
30 minutes each
1
Your Amazing Prehistoric Memory
Discover how remarkable your memory ability can be and get an introduction to some of the fascinating ways you can transform your average memory into an excellent one. After a quick memory test to set the stage, Professor Vishton introduces you to one of the most basic ways your memory can encode information: the Major System. With this strategy, you'll learn how to encode numbers into words and then into distinct images that can help you recall the numerical information whenever you like. You'll also explore the prehistoric roots of why we think the way we do.x
2
Encoding Information with Images
Focus on one of the simplest tricks for memorizing information: the Method of Loci. Like the Major System, this strategy encodes information into a format your brain is especially good at using; in this case, it ties information to a physical location. Gain familiarity with this method through several engaging exercises. Also, peek inside the mind of mental athletes to see how their seemingly superhuman feats of memory are rooted in nothing more than innate brain power we all have.x
3
Maximizing Short- and Long-Term Memory
In this insightful lecture, Professor Vishton walks you through the three steps of successful memory: a perception to short-term memory, encoding short-term memory to your long-term memory, and retrieving information from your long-term memory. In addition, you'll explore how amnesia and other hippocampus-related damages can disrupt this normal memory process; you'll examine some intriguing ways (such as "chunking") to get around the limitations of your short-term memory; and much more.x
4
Why and When We Forget
Forgetting happens to the best of us—but it can be mitigated through the use of several key techniques. Among the topics you'll investigate are the "Ebbinghaus forgetting function," which offers insights into the relationship between time, amount of studying, and the likelihood of memory recall; the most effective way to remember a new set of information (hint: it doesn't involve cramming); and how to access that pesky piece of information that's "on the tip of your tongue."x
5
Keeping Your Whole Brain in Peak Condition
To have a good memory that functions at the peak of its powers, you need to keep your entire brain healthy. Professor Vishton shows you how to do just that. You'll learn how not just a part of your brain, but the entire organ, is involved in remembering things. You'll also investigate the science behind studies of exercise, sleep, and nutrition—and the curious ways that a balanced diet, daily activity, and a good night's sleep relate to optimal mental functioning. x
6
Human Memory Is Reconstruction, Not Replay
Why should you bother enhancing your memory when there are computers that can do it for you? In what ways is information stored on a computer different from information stored in the recesses of your brain? What are the limits of how memory functions? What are some important roles that technology can—and should—play in backing up our memories? Why are "source memories" and "flashbulb memories" so problematic, and how can you recognize them? Find the answers in this final lecturex

What was the name of your first pet? Where did you put your house keys? How do you get to work every morning? Most likely, you didn't need to look up the answers to these questions. You remembered them. Memory is, without a doubt, the most powerful (and practical) tool of everyday life. By linking both your past and your future, memory gives you the power to plan, to reason, to perceive, and to understand. As long as thinking and insight are important in how we live our lives, memory will be critical as well. And the better your memory, the more information you'll have at your immediate disposal and the better your thinking will be.
Yet while all of us have an amazing capacity for memory, there are plenty of times when it seems to fail us. Why does this happen? And how can you fix it?
According to award-winning Professor Peter M. Vishton of The College of William & Mary, an engaging cognitive scientist who has spent decades studying the secrets of human memory, the problem is simple. "Our brains were not really built for the types of memory challenges we give them in classrooms, offices, and throughout our daily lives,"he says. "So the central trick to enhancing the power of your memory is to transform things that are hard to remember into things that are easier for your brain to encode and later recall."
This insight lies at the heart of his captivating course Scientific Secrets for a Powerful Memory. In just six engaging and interactive lectures, you'll explore the real research (not the fads) on how memory functions—and then apply these findings to help you make better use of the memory abilities you have. By tapping into a series of scientifically proven strategies, tricks, and techniques, and by practicing them through dynamic exercises led by Professor Vishton, you'll emerge from the end of this short course with the ability to process information more effectively and to increase your chance of remembering almost anything you want.
Discover How Remarkable Memory Is
Throughout this course, Professor Vishton continually focuses on just how remarkable memory is—and how easily it can be strengthened, enhanced, and improved at any age.
"We may have trouble remembering phone numbers, names, where we left our keys, or facts for an exam,"he says. "All of these failings, however, are not due to limitations of your brain to encode and store information. We all have this capacity, and to a remarkable level!"
The most important way to improve your memory performance and to remember information accurately and for a long time, according to Professor Vishton, is to transform that information into something that's easier for your brain to remember and use, like a distinct visual image or a simple string of letters. Essentially all of the techniques you learn about in Scientific Secrets for a Powerful Memory center on this single goal.
Build Your Mental Tool Kit
So what are some of the powerful skills you'll be able to add to your mental tool kit? Throughout these lectures, you'll learn about a range of methods and techniques designed to boost your memory's powers.

The Major System: How can you convert hard-to-remember numbers (such as birthdays, identification numbers, or parking lot zones) into easy-to-remember images? Developed in 1648, the Major System assigns a particular phonetic consonant sound to the digits 0 through 9. When you intersperse vowels and other non-Major consonants, you can make words of items that you can easily imagine.
The Method of Loci: Credited to the Greek poet Simonides, the Method of Loci is one of the simplest and most effective tricks for memorizing information. If you can tie the information—whether it's a shopping list or the names of the last 15 U.S. presidents—to known, physical locations, then your memory for it will be dramatically improved compared with simply attempting to recall the information off the top of your head.
Chunking: Studies have shown that people can hold about seven meaningful, self-coherent items (such as letters or entire sentences) in their short-term memory (known as "chunks"). From this perspective, these seven storage locations can actually hold a nearly unlimited number of things. All you have to do is learn to pack more information into each of these seven chunks using the other strategies explored in the course.

And those are only a few of the insights you'll find. You'll also get tips on everything from how best to study for an exam to proven ways for transferring information from your short-term to your long-term memory.
Unlock Your Memory's Untapped Potential
"I've long been fascinated with human cognition and the brain,"notes Professor Vishton, named one of the best 300 professors in America by The Princeton Review. "And since the beginning of my time studying psychology, I've also been interested in memory."
His amazement at the strength and capabilities of human memory is one you'll most certainly be agreeing with as you learn from each of his expertly crafted lectures. With his wealth of experience both teaching and researching the mysteries of memory and the human mind, Professor Vishton offers you the model guide for improving your own everyday memory.
And to expand on your skills and put them to work, he's filled these six lectures with short exercises you can perform as you watch or listen. Pause the course and work on the examples or test your newfound skills at the end of each lecture; there are plenty of opportunities for you to practice what you've learned.
We've all long held people with fantastic memories as somehow superhuman; but the truth is that anyone can be a memory whiz—provided they know the skills for doing so. And now Scientific Secrets for a Powerful Memory offers you the key to unlocking your memory's vast, untapped potential.
آیا می خواهید برنامه نویسی موبایل را با بهترین تکنولوژی شروع کنید؟
به کمک این دوره آموزشی که توسط مدیر سایت گیت تدریس می شود به راحتی اپلیکیشن های Android و iOS و Windows Phone بسازید.
تمامی مباحث از مقدماتی تا پیشرفته آموزش داده می شوند و شرکت کنندگان دوره به مدت نامحدود پشتیبانی می شوند.
برای اطلاعات بیشتر و استفاده از دوره روی لینک زیر کلیک نمایید:
آموزش برنامه نویسی چندسکویی موبایل
آیا می خواهید طراحی وب را به صورت حرفه ای یاد بگیرید؟
در این دوره آموزشی طراحی وب را در قالب بیش از 72 ساعت آموزش تصویری فارسی فرامیگیرید.
در این دوره HTML5 | CSS3 | Javascript | Jquery | Ajax | Bootstrap4 | PHP | MYSQL | SQL Server | Wordpress آموزش داده می شود.
تمامی مباحث از مقدماتی تا پیشرفته آموزش داده می شوند و شرکت کنندگان دوره به مدت نامحدود پشتیبانی می شوند.
برای اطلاعات بیشتر و استفاده از دوره روی لینک زیر کلیک نمایید:
دوره آموزش طراحی وب
حجم فایل: 2GB
لینک های دانلود: (Download Links)
موضوع: آموزش های TTC آموزش های علمی
مدیر