آموزش هنر مدیریت مناقشات: دستیابی به راه حل هایی برای زندگی و کار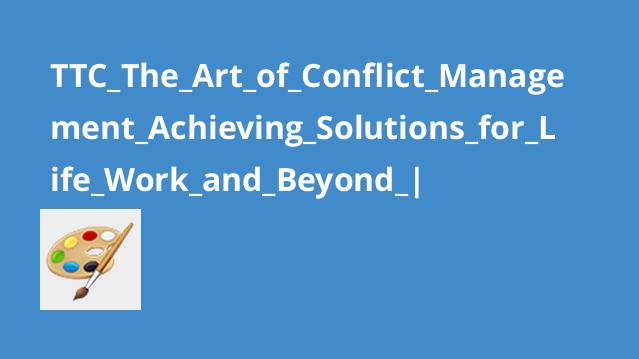 The Art of Conflict Management: Achieving Solutions for Life, Work, and Beyond |
Publisher: TTC
Link:https://www.thegreatcourses.com/courses/art-of-conflict-management-achieving-solutions-for-life-work-and-beyond.html
Improve and enhance the way you handle conflict in your professional and personal life. Learn practical tips, tools, and techniques- all of which draw on groundbreaking research and strategies rooted in the "win-win" model.


24 lectures
30 minutes each
1
Why Conflict Management Matters
The study of conflict management has made enormous strides since the mid-20th century. In this introductory lecture, learn what conflict is, why it is inevitable even in successful relationships, and why dealing with it constructively is both essential and beneficial, whether in your business or personal life. x
2
The Adversary System
Recognition of conflict and its costs goes back to the philosophers of ancient Greece. Grasp both the advantages and disadvantages of the system they devised to cope with it, including the adversary system's underlying assumption that conflicts are inherently competitive, with resolutions requiring winners and losers. x
3
Morton Deutsch and the Concept of Win-Win
Meet the founder of modern conflict management theory, whose research resulted in a far different approach than that envisioned from the adversarial perspective. His finding that most conflicts can, in fact, produce a "win" for both sides has dominated the field for the last 60 years. x
4
Perception, Perspective, and Punctuation
Conflict arises not so much out of differences between parties, but in how those differences are perceived by each side. Gain fresh insight into the factors that shape those perceptions, including the critically important fundamental attribution error, of which just about everyone is guilty.x
5
Managing Multiple and Conflicting Emotions
Emotions, even when powerfully felt, do not have to derail your attempts to manage or resolve a conflict. This lecture describes the role these "internal facts" play in any conflict and offers useful tools for recognizing and handling them in yourself and others.x
6
Multiple, Complex, and Changing Goals
Goals that appear simple on the surface actually have many layers, with each concealing different needs. Add a key skill to successfully managing conflict by learning to identify the multiple goals driving both parties.x
7
Power—How Much We Need and How to Use It
Power is in play in every conflict, but its "advantage" is less than you may think. This discussion of the sources and uses of power reveals a valuable insight from recent research: that lasting resolutions are more likely when power is equally distributed.x
8
Conflict Styles
An exploration of the five most common "default strategies," or styles, of conflict management upends a commonly held assumption. Compromise, it seems, is not the most effective conflict management strategy. It produces results far less desirable than the preferred strategy for producing "win-win" results, which is collaboration. x
9
Dysfunctional Conflict Strategies
Dissect the rogue's gallery of strategies that should never become your ongoing conflict management style and that are best avoided unless they are the only viable alternatives. Delve into the damage that can be done through avoidance, withdrawal, imposition, triangulation, manipulation, absolute framing, payback, or compromise.x
10
Principled Negotiation
Explore the basic principles underlying the true "win-win" approach. These include understanding the importance of separating people from the problem; focusing on interests instead of positions; generating multiple options for mutual gain; and basing your choices on objective criteria.x
11
Preparing and Arranging to Negotiate
Approaching a negotiation can be just as important as the negotiation itself. This lecture explains the steps you need to take in first recognizing whether the basic conditions for negotiation are present and then arranging for the actual negotiation.x
12
Negotiating Conflict Resolutions
Enhance your chances for success at the table by absorbing the essential "how-to" steps for conducting the negotiation, gaining a clear agreement, and following through—including the steps you should take when agreements are or aren't kept. x
13
Listening in Conflict
It's one of the most important skills you can have in your relationship tool kit, but it's also one in which many of us fall short. Learn the fundamentals of this demanding skill, including the key things you should focus on in discerning someone's real messages. x
14
Dynamic Patterns in Close Relationships
Dealing with conflict in your personal relationships, whether with friends, family, work colleagues, neighbors, or simply acquaintances, requires its own special set of skills. Gain vital insights into the conflict management styles that can sustain or damage those relationships.x
15
Disruptions in Close Relationships
There are steps you can take to avoid conflict in a close relationship or manage and resolve conflict when it does inevitably occur. However, when a destabilizing event—such as a serious illness—creates what is known as a critical communications context, the special insights offered here become even more important.x
16
How Management Theories Affect Conflict
Explore the impact of several accepted theories of management to understand why the biggest losses to organizations don't come from major conflicts at all. Instead, they come from the accumulation of small, day-to-day ones.x
17
The Manager's Role in Dealing with Conflict
Even when managers aren't actively involved in managing a conflict, their everyday actions help determine the frequency and seriousness of the conflicts that occur. Learn the steps managers need to know to create the best atmosphere possible for successful conflict management.x
18
Getting Professional Help with Conflict
Several decades of focus on conflict management have led to a wide array of professional specialties, each devoted to different aspects of conflict management. Become familiar with the different skills of mediators, arbitrators, ombudsmen, counselors, and informal organizational "priests"—as well as when to call on them.x
19
Helping Others Manage Conflict
What should you do as a nonprofessional to help others resolve a conflict? And how can you best do so? This lecture offers suggestions on the best procedures to follow and the pitfalls you need to avoid.x
20
Moral and Cultural Conflicts
Conflicts based on moral and cultural differences can seem the most intractable of all, beyond anyone's skills of resolution. Nevertheless, there are steps that can achieve positive and lasting progress. Grasp the essential principles of reframing the issues, fractionating them into resolvable pieces, and developing empathy and mutual trust between opposing sides.x
21
Managing Moral Conflicts—Success Stories
See how the principles of the previous lecture are put into successful practice to resolve three notable conflicts long in the public eye. In particular, learn how they were used by President Jimmy Carter in the Camp David Accords and President Ronald Reagan in the Strategic Arms Reduction Treaty talks. x
22
Managing Conflict's Aftermath
Conflicts are rarely "over" when negotiations conclude, even when the results are successful. Gain insights into the concepts of acceptance, apology, amends, forgiveness, reconciliation, healing, and even the escalation that can follow in conflict's wake. x
23
Teaching Our Children about Conflict
Some of the strongest advances in the study of conflict management have been in how to pass on what we have learned to the next generation. Examine the different ways children learn about conflict and what we are already doing to improve that process. x
24
Conflict Management—A Success in Progress
Compare what you've learned in this course to what was known about conflict and its management in 1950, before research really began in earnest. Conclude the course with 10 key takeaway points, each of which can be applied in your own life right now.x

Conflict is everywhere, something we all experience on a regular basis. Whether it's learning that your spouse has a different kind of vacation in mind than you do or that your boss's idea of your job differs from your own, conflict is simply an inevitable aspect of human relationships. As desirable as it might seem, there's just no way to live a conflict-free life.Handled badly, conflict can do real harm, both to you and the people you care about the most. It can cripple your career and the businesses you work for. And it can leave its scars on your community and even your nation.Handled well, however, conflict can be extraordinarily useful. If you have the skills needed to identify and resolve conflict, it can actually be your ally. It can help you identify and solve problems. And it can build deeper and stronger relationships, whether with your coworkers, supervisors and subordinates, or your closest friends and loved ones. Most of us, though, haven't been lucky enough to have been taught those vital skills or to have learned the ways in which factors like perspective, emotions, goals, and power can create or drive a conflict. For better or worse, we've had to pick things up as we went along, beginning in our homes or schoolyards and going on from there. All with uneven results that can play out for the rest of our lives, burdening us with a default conflict "style" that may be dysfunctional at best and seriously harmful at worst.The Art of Conflict Management: Achieving Solutions for Life, Work, and Beyond is an opportunity for you to gain those essential skills. Its 24 lectures are brimming with practical tips, tools, and techniques everyone can use to better manage conflict in his or her professional and personal lives, which receive equal emphasis in the course. Strategies and Tactics You Can Use Right NowPresented by Professor Michael Dues of The University of Arizona—an award-winning teacher, writer, author, and successful consultant to both public and private organizations—these lectures will show you how to effectively deal with conflicts of all kinds, using the "win-win" model that has dominated the field for the past six decades. You'll gain effective techniques for handling conflicts in your workplace, other organizational settings, or your personal life, whether you're dealing with supervisors, coworkers, acquaintances, close friends, or family members. You'll learn the best ways to analyze conflicts and work through the steps toward resolving them, including clarifying goals, handling difficult emotions, and negotiating agreements. And you'll grasp the fundamental tricks of the trade that experienced negotiators have long used to deal with even the most seemingly intractable moral and cultural conflicts. While drawing on the latest groundbreaking research, Professor Dues has designed this course to be as practical as possible. Requiring no background in conflict management, negotiation, or psychology, the lectures offer you not just knowledge, but strategies and tactics you can put to work in your own life right now.See the Best Conflict Management Techniques in ActionBest of all, you'll be able to see those strategies and tactics in action. Professor Dues has crafted 70 professionally acted dramatizations to illustrate different conflict situations at home and in the workplace.Most of these situations will be familiar to all of us, undoubtedly echoing similar conflicts we've experienced in our own lives. And as you watch them unfold, you'll grasp far more than what works and what doesn't. You'll understand why.Moreover, to ensure that you gain a true working feel for the dynamics at play in each of these situations, Professor Dues ends each lecture with a simple yet provocative "assignment."He asks you to focus on events in your own life in which those same dynamics have been felt, and to then apply what you have just learned in evaluating your own statements and actions. There's no better way to get a real handle on a conflict you know well and to see immediately what needs to happen to resolve it. Even something as simple as offering an apology, for example, takes on a whole new light after you learn the five components that must be included if an apology is to be truly accepted and effective. And while most of us probably believe we already know how to apologize, it's likely that many of our own apologies might not include all of these essentials: A specific statement of the offending behavior An acknowledgment that it was harmful Our assumption of responsibility for both the behavior and the harm done An admission of regret Our commitment to not repeat the behavior Discover New Realizations about the Conflicts in LifeTime after time, you're likely to catch yourself in a quick one-two punch of realization after Professor Dues makes a telling point, or after a pair of dramatizations illustrates the right and wrong way we can communicate during a conflict:Realization No. 1: Well, of course. That makes sense. I probably knew that already. Quickly followed by...Realization No. 2: I don't think I actually said it that way the last time I was in that situation. Maybe that's why things didn't work out as well as I had hoped.The lectures abound with examples producing similar realizations. Professor Dues repeatedly reveals conversational pathways that make all the sense in the world, but that we might not necessarily take or even consider on our own. By folding these insights into the findings of six decades of research and presenting the material in easily digestible form, he succeeds in leaving you with knowledge that manages to be both eye-opening and intuitive. That knowledge becomes a toolbox of techniques you can put to work today, not only preventing as many conflicts as possible but equipping you to manage in the best possible way the ones that do take place in spite of your best efforts.One of the most remarkable points Professor Dues makes is how even the most seemingly intractable conflicts can be eased toward resolution by these techniques. His riveting descriptions of how they have been put to use on the world stage—including President Carter's creative eliciting of empathy during the Camp David negotiations between Israel and Egypt—offer profound examples of how powerful these techniques can be.And while your own conflicts may not seem to rise to a similar scale, there is no mistaking the impact they can have on your own world, where your relationships—at work, with friends, or with family—define your success and happiness.You don't have a choice about becoming involved in conflict. You do, however, have a choice about learning to manage it successfully and about using the invaluable tools this course can give you.
آیا می خواهید برنامه نویسی موبایل را با بهترین تکنولوژی شروع کنید؟
به کمک این دوره آموزشی که توسط مدیر سایت گیت تدریس می شود به راحتی اپلیکیشن های Android و iOS و Windows Phone بسازید.
تمامی مباحث از مقدماتی تا پیشرفته آموزش داده می شوند و شرکت کنندگان دوره به مدت نامحدود پشتیبانی می شوند.
برای اطلاعات بیشتر و استفاده از دوره روی لینک زیر کلیک نمایید:
آموزش برنامه نویسی چندسکویی موبایل
آیا می خواهید طراحی وب را به صورت حرفه ای یاد بگیرید؟
در این دوره آموزشی طراحی وب را در قالب بیش از 72 ساعت آموزش تصویری فارسی فرامیگیرید.
در این دوره HTML5 | CSS3 | Javascript | Jquery | Ajax | Bootstrap4 | PHP | MYSQL | SQL Server | Wordpress آموزش داده می شود.
تمامی مباحث از مقدماتی تا پیشرفته آموزش داده می شوند و شرکت کنندگان دوره به مدت نامحدود پشتیبانی می شوند.
برای اطلاعات بیشتر و استفاده از دوره روی لینک زیر کلیک نمایید:
دوره آموزش طراحی وب
حجم فایل: 5.16GB
لینک های دانلود: (Download Links)
موضوع: آموزش های TTC کسب و کار | Business
تگ ها: آموزش هنر مدیریت مناقشات فیلم آموزش هنر مدیریت مناقشات
مدیر