آموزش هنر سخنرانی عمومی: درس هایی از بزرگترین سخنرانی های تاریخ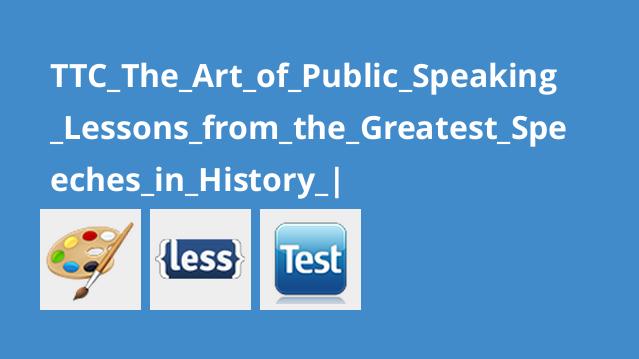 The Art of Public Speaking: Lessons from the Greatest Speeches in History |
Publisher: TTC
Link:https://www.thegreatcourses.com/courses/art-of-public-speaking-lessons-from-the-greatest-speeches-in-history.html
ll it takes is confidence, practice, and the knowledge of time-tested techniques and strategies used by history's greatest public speakers—all of which you'll find in The Art of Public Speaking: Lessons from the Greatest Speeches in History.


12 lectures
31 minutes each
1
Overcome Obstacles—Demosthenes of Athens
Here, Professor Hale outlines the goals of the course. Then, he introduces you to Demosthenes—the ancient Greek orator whose life and career illustrates how practice, hard work, memorization, the acceptance of early failures, and other skills are essential to overcoming obstacles from stage fright to speech impediments.x
2
Practice Your Delivery—Patrick Henry
Key to effective speaking is using your voice and body to reinforce your meaning. Using examples from Patrick Henry, Oliver Cromwell, Winston Churchill, and others, learn how the power of a speech lies not so much in words as in vocal and physical elements like tone, pitch, facial expression, and posture.x
3
Be Yourself—Elizabeth I to Her Army
In order to make the deepest possible connection with your audience, it's essential to talk about yourself. This lecture provides you with advice on opening up to people about yourself—your experiences, your emotions, even your weaknesses—with some lessons taken from speeches by Elizabeth I and Sojourner Truth.x
4
Find Your Humorous Voice—Will Rogers
Learn how to use humorous techniques such as hyperbole, incongruity, and surprise—even when your speech is of the utmost seriousness. The secret of effective humor, as speeches by Will Rogers and others show, is to ensure that each laugh makes a point and focuses your audience's attention on the topic.x
5
Make It a Story—Marie Curie on Discovery
Turn now to a series of lectures on composing effective speeches. Here, investigate the benefits of organizing information into a story to give your details weight and vividness. One powerful example of this concept at work: Marie Curie using storytelling to explain the complexities of radium—and to make them memorable.x
6
Use the Power of Three—Paul to His People
What is the power of three? And why is it so important to writing a great speech? Find out as Professor Hale unpacks the 13th chapter from Paul's first letter to the Corinthians to demonstrate why a speech—and the examples and anecdotes it uses—should be planned in threes.x
7
Build a Logical Case—Susan B. Anthony
Logic should always guide the sequence of your thoughts, whether you're giving a sermon, a corporate report, or a birthday toast. Discover how to avoid digressions, offensive statements, contrarian views, and other pitfalls that may disrupt the logic of your speech, with examples from Susan B. Anthony, John Stuart Mill, and Chief Joseph.x
8
Paint Pictures in Words—Tecumseh on Unity
Narrow your focus to the individual words and phrases you use in your speech—each of which can make your topic unforgettable. With the help of Tecumseh, Homer, Aesop, and others, examine ways to create and use evocative images, avoid mixed metaphors and hyperbole, and more.x
9
Focus on Your Audience—Gandhi on Trial
Now that you've learned how to overcome obstacles and prepare, it's time to learn the essential elements of actually giving a speech. Here, Professor Hale uses famous historical figures, including Gandhi and President Kennedy, as models for how to deliver your speech to—and connect with—specific audiences.x
10
Share a Vision—Martin Luther King's Dream
Martin Luther King Jr.'s "I Have a Dream" speech is one of the most iconic speeches in modern history. More important: It's the perfect example of a speech with the power to inspire. In this lecture, discover ways to articulate and share your personal vision with an audience.x
11
Change Minds and Hearts—Mark Antony
Sometimes, you may find yourself speaking before an audience who needs to be persuaded about your point of view. Discover invaluable tips for swaying emotions and opinions by appealing to sentiments, repeating facts, and using props—just like Mark Antony does in his unforgettable speech from William Shakespeare's Julius Caesar.x
12
Call for Positive Action—Lincoln at Gettysburg
Finish the course with a look at what Professor Hale considers the greatest speech ever written: Abraham Lincoln's Gettysburg Address. Two powerful lessons you can take away from Lincoln's words: Include a clear call to action near the conclusion of your speech, and always craft a strong ending.x

Everybody is a public speaker. Maybe you're delivering a corporate presentation or interviewing for a new job. Maybe you're a teacher lecturing students or a citizen addressing a neighborhood association. Maybe you're arguing a case before a courtroom or persuading book club members about the merits of your latest read.
Whatever the situation, being able to speak in public is essential to success. You can have the most logical argument possible, but in order to truly teach, inform, persuade, or defend, you need to present your ideas with conviction and confidence.
Yet this is often easier said than done. Many of us have a deep fear of public speaking. Or we think it's just an intuitive talent that can't be learned. But according to award-winning Professor John R. Hale of the University of Louisville, a masterful public speaker who has delivered more than 1,000 speeches to all manner of audiences, that couldn't be further from the truth.
All it takes is confidence, practice, and the knowledge of time-tested techniques and strategies used by history's greatest public speakers—all of which you'll find in The Art of Public Speaking: Lessons from the Greatest Speeches in History. This 12-lecture course is your guide to the secrets of this essential skill, an insider's look at what makes history's enduring speeches so unforgettable, and an invaluable reference tool you can use any time you have to speak your mind.
Learn from History's Greatest Public Speakers
As both a lecturer and a distinguished historian, Professor Hale has a strong awareness of how public speaking has been used effectively in the past. What makes The Art of Public Speaking such a unique educational experience is that you learn about the craft from some of the best public speakers in history. Each lecture features powerful speeches by iconic individuals that illustrate how the strategies of public speaking have been used in real situations.
Here are some of the powerful voices you'll meet:

Abraham Lincoln, who defined the art of delivering a strong conclusion with his iconic Gettysburg Address
Marie Curie, whose commencement address to Vassar College in 1921 exemplifies how to turn dry facts into captivating stories
Martin Luther King Jr., who illustrated the best way to share beliefs in his stirring "I Have a Dream"speech

A Course Designed for All Speakers
Explorations of public speaking are often bogged down in complex rhetorical terms. But Professor Hale has designed The Art of Public Speaking to be accessible to everyone. In order to do this, he takes you through each of the three key components of successful public speaking.

How to prepare for public speaking: Learn from Patrick Henry, Elizabeth I, and others how to overcome stage fright, control your voice and body, use humor, and personalize your delivery.
How to craft a great speech: Learn how to build captivating speeches from people such as Paul the Apostle and Susan B. Anthony and how to use stories, examples, logic, and impressive visual images.
How to handle your audience: Learn from Mark Antony, Gandhi, and others how to focus on your audience, persuade them to agree with you, invite them to share your vision, and inspire them to change.

Practical Advice to Help You in Any Situation
The Art of Public Speaking, though rooted in rich history, is packed with practical advice. Here are just three of the tips you'll find:

Speak from personal knowledge: Use personal experiences to allow your audience to better connect with you. In polite conversation, talking about yourself is frowned upon; in public speaking, it's essential.
Organize your facts into a story: When drafting a speech, find the underlying stories in your topic and organize your information around these stories. You'll find it easier to remember your speech, and your audience will engage more with your message.
Weave familiar references into your speech: Using familiar quotations when addressing your audience can establish a common ground. They may not be your words but, when used sparingly, they can infuse your speech with added power.

A Course that's Informative and Inspirational
Praised by both our customers and his students for delivering lectures that are informative and engaging, Professor Hale is the perfect instructor for a course on the power of public speaking. Each of his lectures is an example of lecturing at its finest, demonstrating firsthand the ability of a public speaker to tell stories, to inform, and to inspire.
So join him on this invaluable and practical look at one of the most important skills in your personal and professional life. Whether you want to finally become the confident public speaker you've always wanted to be or are just looking for fresh advice on how to strengthen your public speaking skills, this dynamic course has everything you need.
آیا می خواهید برنامه نویسی موبایل را با بهترین تکنولوژی شروع کنید؟
به کمک این دوره آموزشی که توسط مدیر سایت گیت تدریس می شود به راحتی اپلیکیشن های Android و iOS و Windows Phone بسازید.
تمامی مباحث از مقدماتی تا پیشرفته آموزش داده می شوند و شرکت کنندگان دوره به مدت نامحدود پشتیبانی می شوند.
برای اطلاعات بیشتر و استفاده از دوره روی لینک زیر کلیک نمایید:
آموزش برنامه نویسی چندسکویی موبایل
آیا می خواهید طراحی وب را به صورت حرفه ای یاد بگیرید؟
در این دوره آموزشی طراحی وب را در قالب بیش از 72 ساعت آموزش تصویری فارسی فرامیگیرید.
در این دوره HTML5 | CSS3 | Javascript | Jquery | Ajax | Bootstrap4 | PHP | MYSQL | SQL Server | Wordpress آموزش داده می شود.
تمامی مباحث از مقدماتی تا پیشرفته آموزش داده می شوند و شرکت کنندگان دوره به مدت نامحدود پشتیبانی می شوند.
برای اطلاعات بیشتر و استفاده از دوره روی لینک زیر کلیک نمایید:
دوره آموزش طراحی وب
حجم فایل: 2.94GB
لینک های دانلود: (Download Links)
موضوع: آموزش های TTC کسب و کار | Business
مدیر