راهنمای جغرافیای ملی برای عکاسی از منظره و حیات وحش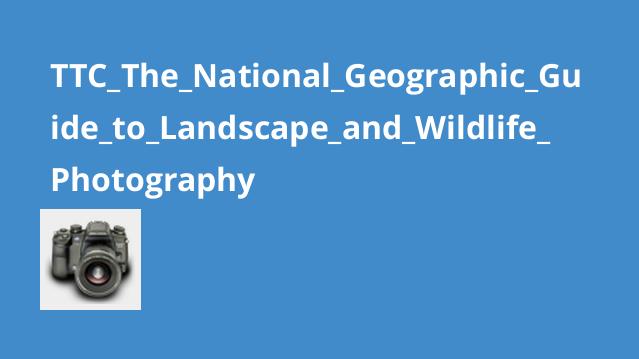 The National Geographic Guide to Landscape and Wildlife Photography
Publisher: TTC
Link:https://www.thegreatcourses.com/courses/the-national-geographic-guide-to-landscape-and-wildlife-photography.html
N/A


24 lectures
29 minutes each
1
Landscape Photographer, Landscape Artist
Start your photographic adventure by grounding yourself in the essence of great landscape photography. How is it like fly fishing? What artists and photographers have influenced Mr. Melford's own work? What three elements and tools do photographers need to capture breathtaking shots of the natural world?x
2
Seeing the Way the Camera Sees
Shutter speed, depth of field, and ISO (a camera's sensitivity to light). Discover how these technical concepts work with one another to form the foundation of powerful landscape photos. Also, learn how to sketch a shot with your mobile phone to see if it's worth pursuing.x
3
What's in My Bag?
Every image in these lectures was captured with equipment found in Mr. Melford's backpack. Peer inside the landscape photographer's bag and discover when to use essential tools including cable releases, different lenses (such as the perfect landscape lens) and polarizing filters (which take the haze out of sky and water).x
4
Four Kinds of Light in Landscapes
Every worthwhile landscape photo has three elements that make it powerful: composition, light, and content. Among the many topics you'll cover in this lecture are compositional aspects (such as leading lines and frames within frames) and the four kinds of light (including diffused light and incremental weather light).x
5
Landscape Color Variation and Combinations
Colors abound in the natural world, so it's essential for landscape photographers to understand how they mix-and how people respond to them. Taking you to places like Acadia National Park and Adirondack State Park, Mr. Melford shows you how to play with color in your photos.x
6
Nighttime and Daytime Skyscapes
Aim your camera upwards with this lesson on shooting the sky during the day and at night. From sun-blocking clouds to the aurora borealis and star trails, you'll learn that shooting the sky (whether from the ground or up in the air) requires anticipation, perseverance, and patience.x
7
Above- and Below-Surface Waterscapes
How do expert landscape photographers use water as their subject or as a compositional element? What does it take to capture the dramatic spectacle of a waterfall? Why is ice a great element for finding abstract patterns? How can you take interesting underwater photographs without investing in expensive camera housings? x
8
Landscape Photography Site Research
Landscape photographs often requires photographers to do their research. In this lecture, take a trip out to the stark majesty of Death Valley and learn how landscape photographers decipher where to find the best potential for images-while leaving themselves open to wandering and uncovering little-known gems.x
9
Drive-By Photography: Travel Photos
When you're traveling by car, boat, or plane, you're often not in control of what you can photograph. However, you can still use the photographer's expert eye to get interesting shots. Journey with Mr. Melford to fascinating international locales and learn how to turn impossible situations into rewarding challenges.x
10
Computer Editing: Review and Cataloging
With digital photography, once you've captured the image your work is only half finished. In the first of two lectures on editing photographs on your computer, learn how to catalog your photos, how to organize them for easy access, and (most important of all) how to be a ruthless self-editor. x
11
Computer Editing: Development
Continue learning how photographers use computer editing software to make sure photos look their best. You'll learn tips, tricks, and shortcuts for working with important development tools like the dehaze filter, hue saturation, the histogram, and color and contrast.x
12
Five Ideas for Successful Landscape Photos
Mr. Melford leaves you with five all-important ideas on making sure the next landscape photos you take are unforgettable ones. Using more work from his extensive portfolio, he shares inspirational advice on finding your own style, surrounding yourself with art, and getting out there into the natural world.x
13
Wildlife Photography
Start the second half of the course with Mr. Laman, who introduces you to the varied skills mastered by all great wildlife photographers. First up: a journey to the rainforests of Borneo in search of African hornbills that illustrates the practical aspects you have to figure out before taking that perfect shot.x
14
Photographing Winter Wildlife
Winter weather offers a stunning environment in which to photograph wild animals. Comb through Mr. Laman's shots of snow monkeys, cranes, and other animals to glean the technical aspects of shooting outdoors in the winter, including honing your focusing skills and capturing the drama of a snow storm.x
15
Photographing Island Wildlife
Head to the Galapagos Islands and experience what it's like to photograph wildlife like crabs, iguanas, and sea lions. Key takeaways you'll learn include anticipating an animal's peak moment of behavior, tapping into the power of the golden hour" of light, and using bad weather to make photos more interesting."x
16
Nighttime Wildlife Photography
Stop being afraid of the dark and discover the wonders of photographing nocturnal animals like bats, lizards, owls, insects, and lemurs. How can you use shadows to add drama to a shot? How can you refine your lighting technique to capture the background as well as your subject?x
17
Documenting Biodiversity
Follow Mr. Laman as he documents birds and monkeys during a trip to the Amazon rainforest. This lecture on shooting with big lenses (essential tools of wildlife photography) also introduces you to specialized tripods, as well as image stabilizers that help photographers capture sharp pictures at low shutter speeds.x
18
Photographing Life in the Sea
Get a primer in underwater photography as another form of wildlife photography that requires you to adapt to a unique set of circumstances. You'll learn how light works underwater, why you should be careful using flash, and why particular shots of underwater fauna work so well. x
19
Camera Traps for Elusive Wildlife
What does it take to shoot in a wet, muddy environment like the mangroves? How does a wildlife photographer set out to photograph an elusive animal? Find out in this lecture on remote control photography and camera traps-and some of the surprising results they can give you.x
20
Antarctica: A Photographer's Paradise
Discover what makes Antarctica such a visual wonderland for wildlife photographers. King penguins massed along an iceberg; wandering albatrosses in mid-flight; Mr. Laman reveals the trade secrets of how he manages to snag these and other dynamic shots in the midst of such a white, snowy environment.x
21
Photography on the Road
Learn how to navigate the pros and cons of photographing wildlife from the safety (and constriction) of a vehicle. You'll visit one of the most sparsely populated regions of Australia and follow a photographic expedition that brings you up close and personal with wildlife, including the rare Golden Shouldered Parrot.x
22
Orangutans: Photographing Animal Communities
Join Mr. Laman for an eye-opening encounter with some of our closest relatives: orangutans. Follow him as he tries different techniques for capturing images of these animals eating, playing, fighting, and nesting. It's a lecture that highlights why there's always room to strive for improvement in wildlife photography.x
23
Birds of Paradise: Ultimate Photo Challenge
Comb through more than eight years of photos from Mr. Laman's most ambitious project: photographing all 39 species of birds of paradise in the wild. As you'll learn in this adventure story, one of the most important aspects of wildlife photography is appreciating the sheer joy of the pursuit.x
24
Getting Your Best Wildlife Photo
Finish the course with three different experiences capturing photos of exotic birds-from their perspective. Along the way, learn how everything you've explored in previous lectures comes together to produce what Mr. Laman considers some of the best images he'll ever make.x

It could be a silent expanse of Artic wilderness. An ancient tree in the woods. An elusive tiger out on the hunt. A hummingbird flitting along your back porch. Whatever their subject, few photographs as are ethereal and soul-stirring as those that capture landscapes or wildlife.
Our world is filled with so much eye-catching beauty and intrigue that it demands to be photographed. The only problem: the perfect landscape and wildlife shot is so tricky that if you don't know how to shoot what you're seeing at the right time and the right moment, you're likely to let these natural wonders pass you by.
In fact, it often seems like some photographers are simply blessed with a preternatural ability to capture these subjects in their lenses. But even the world's greatest landscape or wildlife photographers are operating from a learnable set of skills, techniques, tricks, tools, and perspectives to get their award-winning photos of shimmering sunsets, snowcapped mountains, curious monkeys, and vibrant fish. Knowing how to work with natural light, how to move quickly and quietly, how to play with depth of field and perspective, how to research your subjects, how to see the world like a professional photographer: these and other insights can help photographers at all levels take smarter, sharper photos—whether you're on a short walk through your backyard or on a grand trip to some of the most unique regions on the planet.
Who better to explain these skills and insights than expert photographers from National Geographic, whose trained eyes are responsible for some of the most powerful images of the natural world? In The National Geographic Guide to Landscape and Wildlife Photography, National Geographic photographers Michael Melford and Tim Laman reveal their stories and secrets about what makes for great landscape and wildlife photography. Taking you around the world from the comfort of your own home, they've created 24 visually-rich, adventure-packed lectures that lay bare the art of seeing that's essential to taking unforgettable photos of desert cliffs, penguin colonies, dramatic waterfalls, birds of paradise, and so much more.
See Landscapes like an Expert
Cameras are powerful tools, but they don't take pictures by themselves.
"You have to imagine the photograph you want, frame it, and make the image," Mr. Melford says. "In other words, the most important tool for photography is not your camera but your eye, your vision, your mind."
In the first 12 lectures of The National Geographic Guide to Landscape and Wildlife Photography, you'll travel alongside Mr. Melford as he ventures out into the field in search of moments in natural time that can't be missed. Taking you through parks, forests, deserts, and preserves, he reveals how to look at and shoot everything from frozen ponds and rushing waterfalls to star-filled skies and desert dunes.
As you comb through his wide-ranging portfolio of landscape photographs, you'll discover just what it takes to see landscapes with a seasoned photographer's eye. You'll learn:

which lenses are best for capturing particular vistas, including the 16-35mm zoom lens, which can highlight the wide expanse of a landscape as well as smaller spaces;
how photographers research the landscapes they want to capture before they start shooting (including making quick "sketches" on their mobile phones);
how to play with natural colors, including slowing down the shutter speed on windy, overcast days so the colors around you mix and blur together;
how simple tools in common editing programs can help you recapture the magic of what you originally saw out in nature; and
how to cultivate your own style so that your landscape photos speak to how you, not others, see the world.

Follow Wild Stories of Wild Animals
In the second half of this fascinating course, Mr. Laman introduces you to the unique challenges of telling visual stories about wildlife and the techniques required to do it well.
Imagine how impossible it is to get animals to sit still for a photo—especially in their natural habitats. So how does a wildlife photographer get the job done?
Each of Mr. Laman's lectures in The National Geographic Guide to Landscape and Wildlife Photography is crafted like a photographic expedition, in which he recounts what it's like to venture out into the world (often in uncomfortable situations) to get great images of animals.

Embark on a trip to the Galapagos Islands, where you'll find out how a wildlife photographer captures the daily habits of albatrosses and sea lions.
Visit the forests of Borneo for a photo series on orangutans that will open your eyes to how photos can tell the story of animals in their natural environment.
Travel to Bangladesh through the murk and tangle of mangrove forests in the Sundarbans and set up camera traps in hopes of finding elusive tigers.
Plunge under the water in search of the perfect shot that captures the diversity of colorful fish living in the nooks of crowded coral reefs.
Learn the art of patience, and the craft of working with remote cameras, as you search for fascinating tropical birds like the Greater Bird-of-Paradise.

Whether photographing at night or during the day, on foot or in a motor vehicle, in forest shade or full sun, Mr. Laman and his work are sure to inspire you to get out there and start thinking about wildlife in new ways.
Learn from a Dynamic Team of Photographers
Every lecture of The National Geographic Guide to Landscape and Wildlife Photography will inform and inspire you with insider tips to keep in mind any time you use a camera to capture the world around you.

When taking flat landscape shots, try altering your composition with leading lines, frames within frames, and repeating patterns to add a sense of drama.
Become a student of natural history. By knowing how species act in their natural environment, you can anticipate the peak moment of their behavior—and capture it.
When shooting up at the sky, try turning on your camera's polarizing filter, which will take the haze out of your pictures and turn the sky a bright blue.
If you're photographing nocturnal animals, pay attention to the shadows created by your camera flashes. Focus on unique adaptations, such as large eyes or ears.

By bringing Mr. Melford and Mr. Laman together, these lectures do more than just lay bare the secrets of two equally challenging types of photography. They give you complementary ways to look at the natural world.
A 30-year veteran of National Geographic whose landscape photos have been recognized by prestigious organizations, including the International Center of Photography, Mr. Melford takes an artistic approach to photography. Mr. Laman, a regular contributor to National Geographic magazine for almost 20 years, opts for a scientific approach, documenting endangered species and biodiversity hotspots.
The photography on exhibit in these lectures is enough to make The National Geographic Guide to Landscape and Wildlife Photography one of the most visually captivating Great Courses you'll experience.
And with this dynamic team's stories and lessons, you'll come away with empowering ideas and approaches the next time you find yourself with a camera in the perfect spot at the perfect time of day, or up-close-and-personal with a curious animal.
آیا می خواهید برنامه نویسی موبایل را با بهترین تکنولوژی شروع کنید؟
به کمک این دوره آموزشی که توسط مدیر سایت گیت تدریس می شود به راحتی اپلیکیشن های Android و iOS و Windows Phone بسازید.
تمامی مباحث از مقدماتی تا پیشرفته آموزش داده می شوند و شرکت کنندگان دوره به مدت نامحدود پشتیبانی می شوند.
برای اطلاعات بیشتر و استفاده از دوره روی لینک زیر کلیک نمایید:
آموزش برنامه نویسی چندسکویی موبایل
آیا می خواهید طراحی وب را به صورت حرفه ای یاد بگیرید؟
در این دوره آموزشی طراحی وب را در قالب بیش از 72 ساعت آموزش تصویری فارسی فرامیگیرید.
در این دوره HTML5 | CSS3 | Javascript | Jquery | Ajax | Bootstrap4 | PHP | MYSQL | SQL Server | Wordpress آموزش داده می شود.
تمامی مباحث از مقدماتی تا پیشرفته آموزش داده می شوند و شرکت کنندگان دوره به مدت نامحدود پشتیبانی می شوند.
برای اطلاعات بیشتر و استفاده از دوره روی لینک زیر کلیک نمایید:
دوره آموزش طراحی وب
حجم فایل: 3.11GB
لینک های دانلود: (Download Links)
موضوع: آموزش عکاسی | Photography Tutorials آموزش های TTC دیزاین | Design
تگ ها: آموزش عکاسی آموزش عکاسی از منظره و حیات وحش فیلم عکاسی از منظره و حیات وحش
مدیر