چگونه ایده ها گسترش می یابند؟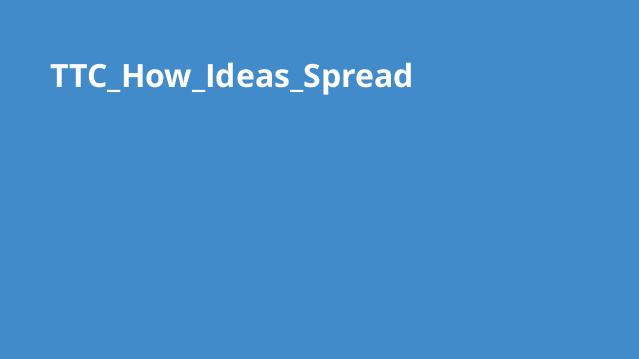 How Ideas Spread
Publisher: TTC
Link:https://www.thegreatcourses.com/courses/how-ideas-spread.html
What makes one novel a bestseller, while a similar work languishes unnoticed? Why are the same few baby names suddenly everywhere? Why is everyone at work talking about that same viral video?
Welcome to the science of social epidemics: the


12 lectures
29 minutes each
1
Social Epidemics - Why Things Catch On
What leads products, ideas, and behaviors to become popular? What causes them to die out? The answer lies in the science of how ideas spread, which you'll begin to examine with the story behind Livestrong bracelets - one of the most notable social epidemics of our time.
x
2
The Basics of Consumer Psychology
Why can seeing something more frequently make you like it more? Find out here, as you look at consumer psychology and the way we naturally process information. Understand what happens from the moment people are exposed to information and begin to develop perceptions, and learn how these basic cognitive processes influence what eventually catches on.x
3
The Impact of Triggers on Consumer Choice
Why might voting in a church versus a school change how you cast your ballot? Why would hearing French music at the grocery store make you more likely to buy French wine? Explore the phenomenon of triggers, from how they're defined to how they influence what we like, what we buy, and top-of-mind awareness.
x
4
Simple Rules to Make Ideas Stick
Why do some things stick in memory while other ideas are quickly forgotten? Find out here, as you learn how ideas that fit with the four key principles of human memory - simplicity, unexpectedness, concreteness, and credibility - tend to be "stickier" or more memorable.
x
5
The Social Influence of Conformity
In the first of several lectures related to social influence, you'll consider the phenomenon of conformity and its role in why ideas spread. You'll learn why bartenders seed the tip jar, when people actually prefer waiting in line, and why conformity compels us to follow others even when we know they're wrong.
x
6
The Social Influence of Divergence
Social influence is like a magnet - it can attract or repel. As you explore the notion of divergence and the meaning of consumption, discover when and why people avoid following the crowd and how anti-conformity has caused once-popular cars, designer bags, and other products to fall out of favor with their original audience.x
7
Word of Mouth - Powerful and Persuasive
More than 10 times as effective as company-generated communications, word of mouth is a powerful tool - and it's becoming more so each day. Examine the influence of word of mouth, how it differs from traditional advertising, and the role that social networks such as Facebook and Twitter play in shaping communication.
x
8
The Social Currency of Shared Ideas
From cat videos to New York Times science articles, some online content goes viral while the bulk of it never gets more than 10 views. Some products get lots of word of mouth activity, while others are never discussed. Discover the six key drivers of social transmission that lead products, ideas, and behaviors to generate buzz.x
9
Messages That Go Viral
Wrap up the section on social influence by looking at the three remaining drivers of social transmission - stories, practical value, and making the private public - in the context of intriguing case studies. Learn about the failure of the "Just Say No" campaign, the success of a humble corn-husking video, and some shrewd design decisions by Apple.
x
10
Social Networks - Channels of Influence
Could a person you barely know affect your behavior? Consider this question as you begin to explore the channels through which information and influence spread. Learn about different types of social ties and how these ties impact what people share, the jobs people get, and life in general.x
11
Social Influencers - Myths and Science
Are well-connected people or "influencers" the catalysts for ideas and products catching on? Examine this social-epidemic theory, the science behind how it does - or doesn't - work, how likely it is to be true, and whether companies who pay reality TV star Kim Kardashian $10,000 per Tweet will see a return on their investment.
x
12
Tracking Results - Big Data, Little Data
Conclude the course with a thought-provoking discussion of Big Data. Learn how Google tries to predict everything from flu outbreaks to retail and home sales, why companies need to monitor social media chatter, and whether our addiction to analytics might be leading us astray. Also, consider the rise of Little Data and the effects of measuring and tracking the minutiae of our everyday lives.x

What makes one novel a bestseller, while a similar work languishes unnoticed? Why are the same few baby names suddenly everywhere? Why is everyone at work talking about that same viral video?
Welcome to the science of social epidemics: the cutting-edge study of why some ideas, products, and concepts spread wildly, while others quickly flame out.
Anyone who has ever had something to sell, a cause to promote, or a message to spread knows that there are enormous obstacles in creating a message that resonates, cutting through the clutter, and cracking the code of the social epidemic to make their product or idea the word on the street.
Enormous sums of time and money have been spent trying to answer the question of why some ideas catch on. And not only is it an ever-present challenge for businesses, governments, and organizations, but it has long been a source of inquiry for psychologists, economists, and sociologists as well.
Now, in How Ideas Spread, you can discover what researchers studying the science of social transmission have uncovered about why some messages get through, stick in our memory, and get shared with others. Taught by Jonah Berger—a best-selling author, expert in social dynamics, and Associate Professor of Marketing at the Wharton School of the University of Pennsylvania—this enlightening course draws on lessons from business, social psychology, economics, and popular culture to give you the cross-disciplinary tools necessary to identify and promote contagious ideas that last. Across 12 half-hour lectures filled with absorbing stories and intriguing information, you'll learn the psychological and sociological mechanisms that lead products, ideas, and behaviors to catch on, plus specific techniques that can be applied in your personal and professional life, whatever your field or interest.
Along the way, you'll hear of clever publicity ideas, failed government campaigns, and doomed product launches, plus a wealth of surprising discoveries about human behavior. You'll also encounter an abundance of provocative questions:

Can someone you've never met have an impact on your behavior?
Can merely seeing something multiple times make you like it more?
What makes some messages "tastier" than others?
Can negative publicity actually increase sales?
Is there an elite group of "influencers" responsible for ideas and products catching on? And are companies who pay a certain reality star hefty sums for online mentions getting their money's worth?

Study the Science and Art of Social Epidemics
Remember Livestrong bracelets? Odds are that the answer is yes, because more than 80,000,000 were sold and demand quickly outstripped supply. Well, the Livestrong bracelet is a classic example of a social epidemic. Seemingly out of nowhere, this accessory was suddenly everywhere.
How Ideas Spread explains why ideas like this worked while other ideas, despite enormous publicity, failed, such as the "Just Say No" campaign to prevent drug abuse by children. You'll learn why a simple video about corn-husking or a blender can be shared millions of times, while seemingly more compelling content stagnates. And you'll discover whether Disney or Cheerios generates more word of mouth, and why.
These lectures deliver one powerful case study after another in teaching you how you can leverage three main concepts—individual psychology, social influence, and social networks—to design infectious messages.
You'll come away with actionable techniques and practical information, including:

four key principles that make information more memorable;
why word of mouth is more than 10 times as powerful as traditional advertising;
how triggers in the environment can influence everything from what we buy to how we vote;
which types of sales messaging drives consumers to act; and
why your looser social ties are more likely to help you find a job than closer ones.

Groundbreaking First-Hand Research
In addition to describing noted studies and illuminating the wisdom of figures such as Steve Jobs, Professor Berger shares findings from a decade's worth of his original research into why things catch on. Along with colleagues from Wharton, he has looked at thousands of pieces of online content, tens of thousands of brands, and millions of purchases, using that data for investigations into such questions as which kinds of articles make the New York Times most-emailed list, or how social influence shapes everything from the cars we buy to life-or-death decisions about our healthcare.
By applying rigorous scientific methods to these important questions, Professor Berger and his colleagues determined that there is indeed a science behind why people share. Here, you'll learn the six key factors or psychological principles that came up again and again in this research, whether looking at products, ideas, news, or even rumors.
As a sought-after consultant for Fortune 500 companies, the best-selling author of Contagious: Why Things Catch On, and an award-winning researcher and lecturer at one of America's elite business schools, Professor Berger brings both real-world expertise and a scholarly perspective to this course, making it a highly relevant, rewarding, and entertaining experience.
Whether you're a small business owner or a nonprofit professional seeking guidance on crafting products and messages that grab hold, or you just want insights into how viral trends work, this course will open your eyes to the power of contagious ideas.
آیا می خواهید برنامه نویسی موبایل را با بهترین تکنولوژی شروع کنید؟
به کمک این دوره آموزشی که توسط مدیر سایت گیت تدریس می شود به راحتی اپلیکیشن های Android و iOS و Windows Phone بسازید.
تمامی مباحث از مقدماتی تا پیشرفته آموزش داده می شوند و شرکت کنندگان دوره به مدت نامحدود پشتیبانی می شوند.
برای اطلاعات بیشتر و استفاده از دوره روی لینک زیر کلیک نمایید:
آموزش برنامه نویسی چندسکویی موبایل
آیا می خواهید طراحی وب را به صورت حرفه ای یاد بگیرید؟
در این دوره آموزشی طراحی وب را در قالب بیش از 72 ساعت آموزش تصویری فارسی فرامیگیرید.
در این دوره HTML5 | CSS3 | Javascript | Jquery | Ajax | Bootstrap4 | PHP | MYSQL | SQL Server | Wordpress آموزش داده می شود.
تمامی مباحث از مقدماتی تا پیشرفته آموزش داده می شوند و شرکت کنندگان دوره به مدت نامحدود پشتیبانی می شوند.
برای اطلاعات بیشتر و استفاده از دوره روی لینک زیر کلیک نمایید:
دوره آموزش طراحی وب
حجم فایل: 4.8GB
لینک های دانلود: (Download Links)
موضوع: آموزش های TTC کسب و کار | Business
تگ ها: آموزش کسب و کار چگونه ایده ها گسترش می یابند؟ فیلم آموزش کسب و کار
مدیر