آموزش مدرنیسم ادبی: مبارزه برای تاریخ مدرن با پروفسور پرل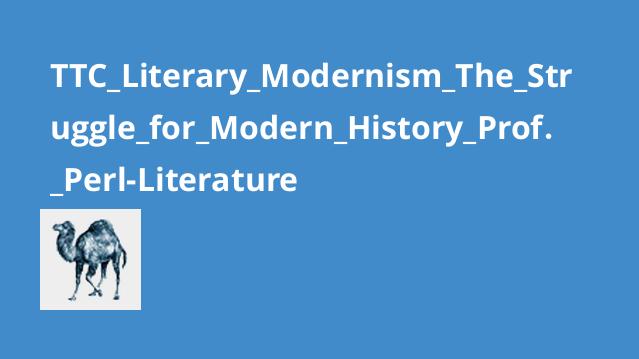 Literary Modernism: The Struggle for Modern History Prof. Perl-Literature
Publisher: TTC
Link:https://www.thegreatcourses.com/courses/literary-modernism-the-struggle-for-modern-history.html
Join Professor Jeffrey Perl on an intriguing reconsideration of some of the most controversial authors of the 20th century: the Literary Modernists. Just who were these authors? How did writers such as Ezra Pound and James Joyce differ from others like Gertrude Stein and William Carlos Williams? What social and political forces made them write the way they did? Literary Modernism: The Struggle for Modern History does not shrink from the challenges imposed by these questions. But it does provide you with illuminating answers that can enhance your appreciation of the literature, philosophy, politics, and morality of this seminal moment in literary history.


8 lectures
46 minutes each
1
Introduction—Modernity and Modernism
This lecture discusses the two kinds of modernism: paleomodernism and neomodernism. A poem by William Carlos Williams, "The Red Wheelbarrow," is presented as the neomodernist response to the paleomodernism of T. S. Eliot and others. The lecture then begins the examination of the characteristics that differentiate the two schools.x
2
Transition
The neomodernist view is examined, and we learn that T. S. Eliot's work was influenced by his early study of philosophy and that he disagreed with the direction taken by philosophers. Therefore, Eliot chose the discourse of poetry over that of philosophy.x
3
Against Theory
We review the career of W. B. Yeats and trace his shift from symbolist to realist. Conversely, Henry James's career is examined because it moves from realist to symbolist. At the end of the lecture we hear T. S. Eliot's assertion that romanticism and neoclassicism are personalities that were once joined.x
4
Waste Lands
The effects of the Depression and World War II were profound, and the modernists reflected their concern in art. T. S. Eliot, D. H. Lawrence, and others considered themselves to be therapists to the world. Eliot's "The Waste Land" and works by Lawrence called for a new religion to lead to the rebirth of society.x
5
The Complete Consort
James Joyce's Ulysses is presented as the ultimate paleomodernist novel. Joyce's goal was to capture the full circle of history and the novel's structure uses chaos and opposing themes to create one phenomenon. Even postmodernists admire the work because of the use of chaos.x
6
Modernist Theater
While modernist literature thrived, we learn from this lecture that modernist drama failed to win popular support. Some poets such as Yeats decided to battle the middle class through drama. By the 1940s, T. S. Eliot had decided that art should respond to the public, and he was able to find commercial success. x
7
Apocalypse
The Depression and World War II altered the focus of the modernists. Most were involved in politics, but the movement was represented on both the right and left. The Spanish Civil War had a tremendous impact on the writers. The politics of Ezra Pound are examined at the end of the lecture.x
8
Postwar, Postmodern, Postculture
This final lecture takes us from Evelyn Waugh, who presented us with a "Hollywood metaphysics" in which the fake world is ideal, to Samuel Beckett, who unites the themes of modernism and thus helps define modernism's end. The modernists are no longer against the bourgeoisie and are seeking to understand and influence the middle class.x

"It is no trick to like what you like. It is no trick to understand what you understand." With that pronouncement, Professor Jeffrey Perl invites us to abandon our preconceptions and consider some of the most controversial authors of the 20th century: the Literary Modernists. Who were the Literary Modernists?How did the "Classical Modernism" of Ezra Pound, T. S. Eliot, and James Joyce differ from the "Neomodernism" represented by Gertrude Stein and William Carlos Williams? What made them believe as they did? What did they have to say to us? What might they still have to say to us? How were the political extremism and self-destructive choices so many of them made during the war years related to their writing and the personal demons that haunted them? These lectures do not shrink from the challenges imposed by these questions, or by challenging the answers scholars have routinely accepted. Indeed, Professor Perl accepts them with relish.Nor do the lectures shrink from the difficulties of Literary Modernism itself, which can only be appreciated within the wide-ranging context of the philosophy, literature, politics, and morality of its own time.Two Opposing Schools and the Myths That Have Endured Professor Perl neatly delineates the differences between the two opposing schools of Modernist thinking: The "Classical Modernists" including Pound, Eliot, and JoyceTheir "Neomodernist" attackers, such as Stein and Williams. Professor Perl debunks many myths about these two opposing schools, especially those that have grown around the politics of these authors. In doing so, he helps us see our own cultural bias toward literature. And he allows us to look more clearly at the literary artists who have contributed to the definition of culture.You'll see Eliot, Joyce, Pound, Yeats, James, Lawrence, and others spring to life, with all their radical ideas, personal demons, and beliefs about art and morality.Professor Perl explores the political extremism of so many of them, revealing their often destructive choices during World War II.And though his arguments are often complex, the lectures are brilliantly organized and crystal clear.A Gift for Cutting through ComplexityTime after time, Professor Perl sets foot into what might appear to be an impenetrable thicket of literary and philosophical complexity, bristling with conflicting ideas and leading us we know not where.Yet he always emerges on the other side with each "i" dotted, every "t" crossed, and all implications dealt with, so that you are left with the certainty that you have understood every word of his argument, no matter how complex it might have appeared.For example, Joyce's monumental work Ulysses is one of the most notoriously intimidating novels ever written. But Professor Perl's discussion leaves you with a new appreciation and understanding of what Joyce set out to do and how he accomplished it.His discussion of Ezra Pound's final interview, which came years after one of literature's most famous voices had fallen silent, is equally insightful.In fact, he believes it may well be the most telling moment in literary history."Words no good."Pound—epic poet and once-accused Fascist collaborator—had been acquitted of capital treason on the grounds of insanity and institutionalized for a dozen years before returning to Italy.He had agreed to the only interview he would ever give during this final period of his life. But he had remained mute, reacting to every question with persistent silence."Why aren't you answering my questions?" asked the reporter from The New York Times."Words no good," answered Pound.They were the only words the author of The Cantos and the last surviving Literary Modernist would utter during the entire interview. But after listening to this course, you'll understand why this single primitive sentence, lacking even a verb, perhaps carried as much import as any piece of writing ever produced by any member of this celebrated, debated, and oft-misunderstood literary movement.A Course with Rewards Worthy of Its DemandsProfessor Perl has crafted a course that is deep, complex, and demanding of your constant attention.But if you care about literature and its relationship with the ideas and culture around it—and are willing to give this course the attention it deserves—it is also an uncommonly rewarding learning experience.Because Professor Perl is able to draw on whatever intellectual discipline is necessary to make his point, his lectures remain completely accessible to those new to Modernism. Yet they also probe deeply enough to satisfy the most dedicated readers of these giant figures who so shook the pillars of literature during the first half of the 20th century.You'll have a chance to see how Eliot's dissatisfaction with philosophy's ability to explain and shape the world he saw around him caused him to turn his back on his impending doctorate in philosophy.Instead, he became a man of letters, abandoning what was perhaps one of the most promising philosophical careers of the century.Hear Pound's War Propaganda And you'll come to a new understanding of Pound's remarkable tragedy as you get a chance to listen to Professor Perl read some of the worst of the propaganda broadcasts Pound made from Italy into England—explaining, as well, why he did what he did.This is a course rich in arch humor and populated by intensely dramatic figures. They were men and women whose deep-seated beliefs about culture, class, and the pain of real people could barely be contained on the printed page and often burst out into real life. For those of you who have tried some of these writers and retreated—perhaps remembering traumatizing collegiate encounters with The Waste Land or Ulysses—Professor Perl's opening invitation to set aside our preconceptions may be particularly pertinent and is well worth repeating:"It is no trick to like what you like. It is no trick to understand what you understand."It is quite a trick, though, to have you like and understand what you otherwise might not have. And it is something this course for thinkers accomplishes with seriousness and zest.
آیا می خواهید برنامه نویسی موبایل را با بهترین تکنولوژی شروع کنید؟
به کمک این دوره آموزشی که توسط مدیر سایت گیت تدریس می شود به راحتی اپلیکیشن های Android و iOS و Windows Phone بسازید.
تمامی مباحث از مقدماتی تا پیشرفته آموزش داده می شوند و شرکت کنندگان دوره به مدت نامحدود پشتیبانی می شوند.
برای اطلاعات بیشتر و استفاده از دوره روی لینک زیر کلیک نمایید:
آموزش برنامه نویسی چندسکویی موبایل
آیا می خواهید طراحی وب را به صورت حرفه ای یاد بگیرید؟
در این دوره آموزشی طراحی وب را در قالب بیش از 72 ساعت آموزش تصویری فارسی فرامیگیرید.
در این دوره HTML5 | CSS3 | Javascript | Jquery | Ajax | Bootstrap4 | PHP | MYSQL | SQL Server | Wordpress آموزش داده می شود.
تمامی مباحث از مقدماتی تا پیشرفته آموزش داده می شوند و شرکت کنندگان دوره به مدت نامحدود پشتیبانی می شوند.
برای اطلاعات بیشتر و استفاده از دوره روی لینک زیر کلیک نمایید:
دوره آموزش طراحی وب
حجم فایل: 173MB
لینک های دانلود: (Download Links)
موضوع: آموزش های TTC آموزش های علمی
تگ ها: آموزش ادبیات آموزش مدرنیسم ادبی
مدیر