آموزش شاهکارهای داستان های تخیلی کوتاه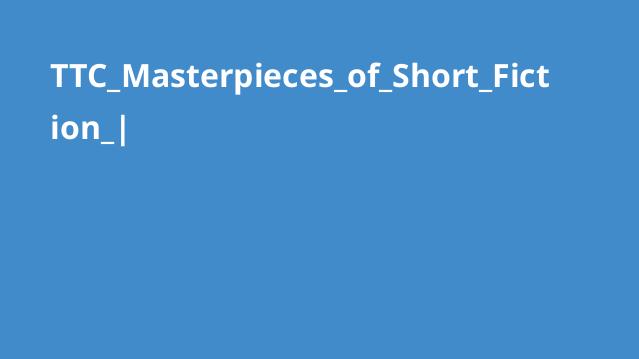 Masterpieces of Short Fiction |
Publisher: TTC
Link:https://www.thegreatcourses.com/courses/masterpieces-of-short-fiction.html
More than a shorter version of a novel, the short story is a unique and rewarding literary form in itself. Delve into 23 renowned short stories from iconic writers like Edgar Allan Poe and Ernest Hemingway.


24 lectures
30 minutes each
1
Excavations—Poe's "The Cask of Amontillado"
What is a short story? How do we judge the strengths and weakness of short fiction? Using Edgar Allen Poe's masterpiece of suspense and psychological horror, you enter the world of the short story and examine the techniques used by writers in this powerful genre.x
2
Hawthorne's "Goodman Brown" and Lost Faith
Colonial puritanism serves as the backdrop for Nathaniel Hawthorne's tale of a young man who glimpses the evil in the human heart. You explore how Hawthorne weaves together the strands of Calvinism, paganism, and Indian lore in this surreal allegory.x
3
Under Gogol's "Overcoat"
The next stop is tsarist Russia, where you encounter one of the most influential pieces of 19th-century short fiction. In this darkly satiric yet sympathetic story, Gogol' creates the ultimate "low man," Akaky, the predecessor of a generation of literary underdogs.x
4
Maupassant's "The Necklace"—Real and Paste
This lecture continues to focus on "little people" with Maupassant's classic tale of bourgeois longing and ironic reversals. In considering the story's famous surprise ending, you examine what the author had to say about morality, materialism, and the unpredictability of fate.x
5
Chekhov, Love, and "The Lady with the Dog"
According to novelist Vladimir Nabokov, "All the traditional rules of storytelling have been broken in this wonderful story." In this lecture, Professor Krasny delineates how Chekhov's unorthodox but deft treatment of character, plot, and setting result in a masterpiece of short fiction.x
6
James in the Art Studio—"The Real Thing"
The work of Henry James is the epitome of 19th-century Realism. Using as his source an anecdote about an aristocratic couple and an artist, James creates a unique piece of short fiction that questions the distinction between appearance and reality and raises profound questions about the social order of his day.x
7
Epiphany and the Modern in Joyce's "Araby"
This lecture enters the 20th century, moving to Dublin and the work of one of the greatest Modernists, James Joyce. In this story from his famous collection of short fiction, Dubliners, Joyce offers a view of a boy's epiphany about life's disappointments expressed through the story of a failed quest.x
8
Babel's "My First Goose"—Violent Concision
This lecture takes you back to Russia and to a remarkable initiation tale set against the backdrop of the Bolshevik Revolution. Through Babel's shocking and unsettling tale, you are introduced to a singularly important theme that will recur throughout 20th-century fiction: violence.x
9
Male Initiation—Hemingway's "The Killers"
A similar initiation into the world of violence appears in Hemingway's dark story of a young man's encounter with two hit men. The story provides an opportunity to examine the author's mastery of language and to contemplate his enormous influence on later writers.x
10
Kafka's Parable—"A Hunger Artist"
In this satirically humorous allegory of the proverbial "starving artist," Kafka presents a grim but funny vision of the faddishness of public tastes and explores Modernists' ideas about Existentialism and the relationship of art and commerce.x
11
Lawrence's Blue-eyed "Rocking-Horse Winner"
A young boy's uncanny abilities have dire consequences for him and his family in this dark fairy tale about materialism and familial relations. This lecture explores the story's many meanings, including its resonance with Lawrence's own complicated relationships with his mother and his wife.x
12
Female Initiation—Mansfield's "Party"
Class conflict and psychological complexity take center stage in this great Chekhov-influenced story, which traces the initiation of a young girl from pampered naiveté into the understanding of the relationship between life and death.x
13
Jackson's Shocking Vision in "The Lottery"
The mid-century focus begins with "The Lottery," a tale that shocked the post–World War II generation. You consider how the story's revelation of a deadly and inhuman ritual reflects a new awareness of the horrors of war and human aggression. x
14
O'Connor's "A Good Man Is Hard to Find"
This lecture turns to the great Southern American writer Flannery O'Connor, whose harrowing story of a family murdered by a serial killer presents a paradoxical vision of grace.x
15
Paley on Survival and "An Interest in Life"
With Grace Paley, you encounter one of the first authors to reflect a feminist perspective. Paley creates the memorable character Virginia, an abandoned wife and mother who, despite her suffering, maintains a kind of faith in life and other human beings. x
16
The "Enormous Wings" of García Márquez
Myth and satire blend in this powerful allegory about a winged man who falls from the sky and upsets life in a small South American village. You consider the literary movement of Magical Realism and explore why this story has such a powerful impact on readers.x
17
A New World Fable—Malamud's "The Jewbird"
Malamud's story about a fantastical Jewish black bird named Schwartz offers another version of Magical Realism, one that reflects growing anxieties about the assimilation of Eastern European Jews in the United States during the 20th century.x
18
Baldwin's "Sonny's Blues"—A Harlem Song
This lecture considers the great Baldwin story "Sonny's Blues," with its themes of music, drug addiction, suffering, family relationships, and the blues, and examines how the story explores the conflicts implicit in the experience of black Americans. x
19
Updike's "A & P"—The Choice of Gallantry
Considered one of John Updike's best short stories, "A & P" is a realistic, bittersweet tale of awakening and the pain of adolescence. You consider how the story reflects both its time (the Sixties) and its place (New England) and appreciate the authentic voice of Updike's narrator, the teenager Sammy.x
20
Kingston's Warrior Myth—"No Name Woman"
In this story of family secrets, Kingston uses autobiographical details to create an exploration of the meaning of identity. The result is a groundbreaking work that combines strands from ethnic, cross-cultural, and feminist writing.x
21
Atwood's "Happy Endings" as Metafiction
Atwood takes the conventions of fiction as her subject in this Postmodernist and satiric explication of what makes a "happy ending." You consider how readers contribute to the meaning of fiction and test how Atwood's story reflects Hemingway's idea that all stories end in death.x
22
Gordimer's "Moment Before" Apartheid Fell
This lecture begins with a discussion of the role of apartheid in South Africa and examines how Gordimer, a long-time antiapartheid activist, creates a story that sheds a compassionate light on both the victims of this oppressive political order and its supporters.x
23
Carver's "Cathedral"—A Story that Levitates
Art, transcendence, intimacy, and consciousness-expanding substances all play a role in this subtle and beautifully rendered account of a working stiff, his wife, her blind friend, and the evening they share.x
24
Why Short Fiction Masterpieces?
Is short fiction really needed? What does this format offer that cannot be achieved in other literary forms? In this summary, you meditate on the value of the short story and take a long view of its development.x

Imagine that, in one sitting, you could enter a world of imagination and witness the triumphs, tragedies, errors, and epiphanies that arise in the lives of ordinary and extraordinary people. Imagine that, in the time it takes to run an errand, you could gain remarkable insights about the true nature of humanity—its dark secrets and its saving graces. Imagine that, in the space of an hour, you could do this instead: Visit a Harlem jazz club and hear the inspired improvisations of gifted bluesmen Attend a glittering Parisian ball bedecked in borrowed jewels Confront a dangerous criminal on a lonely backwoods road Journey back to colonial America and encounter a coven of witches This enlightening experience awaits you in Masterpieces of Short Fiction, a 24-lecture course that samples two centuries' worth of great short stories written by some of the acknowledged masters of the genre, including Anton Chekhov, D. H. Lawrence, Flannery O'Connor, Franz Kafka, and Ernest Hemingway. Dr. Michael Krasny, Professor of English at San Francisco State University and the host of KQED's award-winning news and public affairs radio program, Forum, guides you deep into 23 renowned works, illuminating the remarkable variety, breathtaking artistry, and profound themes to be found in these miniature masterpieces. The Art of the Present Moment Although short stories have been around throughout history in the form of myths, fables, and legends, the short story as a distinct art form arose only during the 19th century, just in time for the busy age we all live in. More than simply a shorter version of the novel, the short story is a unique and rewarding literary form in itself. Great short fiction offers something you can find nowhere else: a world in miniature faithfully captured by the author's mastery of character, plot, setting, image, and theme. The time it takes to read a short story may be brief, but its impact lasts much longer. "Short story writers see by the light of the flash," says author and Nobel Laureate Nadine Gordimer. "Theirs is the art of the only thing that one can be sure of—the present moment." Encounter the Ordinary and the Extraordinary As Masterpieces of Short Fiction demonstrates, however, that flash can reveal many different kinds of truths. For example, in Edgar Allan Poe's "The Cask of Amontillado," an embittered nobleman entombs his rival in a dank crypt, while in Grace Paley's "An Interest in Life," a deserted housewife maintains her good humor and hope while trying to raise her children. Throughout the course, you encounter both of these extremes—the extraordinary and the ordinary moments of life—while you examine the craft of short fiction. On one end of the spectrum, you see how great authors use the short story to capture the experience of the common man and woman. From Gogol's 19th-century underdog, the Russian scribe Akaky in "The Overcoat," to Raymond Carver's sympathetic portrait of a "plain man" in "Cathedral," short story writers use their remarkable powers of observation to record and often celebrate the unsung lives of ordinary people. But you also sample the exotic and unusual as well, whether in Franz Kafka's satirical tale of an artist who turns starvation into a work of performance art ("A Hunger Artist") or in Gabriel García Márquez's Magical Realist allegory about a winged man who falls to Earth in a Latin American village ("A Very Old Man with Enormous Wings"). Each story, whether drawn from the closely observed details of everyday life or a richly imagined land of fantasy, offers you an exquisite and unique portrait of humanity. How to Recognize a Masterpiece How can stories that are so brief have such a strong emotional impact? What makes each of the works in this course a masterpiece? In Masterpieces of Short Fiction, you not only enjoy great literature, but you also develop an appreciation for how these great authors elevate the craft of storytelling into an art form. In each lecture, Professor Krasny, who holds an Award of Excellence from the National Association of Humanities Educators, focuses on a single story written by a master of the genre. Using examples from the stories themselves, he illuminates each author's virtuosic development of character, plot, setting, imagery, theme, and language. As you progress through the course, you hone your ability to recognize and assess these elements. You also learn fascinating facts about the author's lives and the artistic and historical contexts that helped shape these great works: "Young Goodman Brown" reflects Nathaniel Hawthorne's stern Puritan upbringing and his guilt about his ancestors' participation in the Salem witch trials. Like the main character of "My First Goose," Isaac Babel was a Jew who nevertheless rode with the notoriously anti-Semitic Cossacks as they undertook violent pogroms in Jewish neighborhoods and villages. The terse literary style in Ernest Hemingway's "The Killers" (later dubbed "cablese" because it imitated the conciseness of telegram writing) was developed during the writer's early stint as a war correspondent. Shirley Jackson's depiction of the village in "The Lottery" reflects her own feeling of isolation living as a progressive intellectual in a close-minded New England town. Traces of James Baldwin's evangelical background remain in the poetic and biblical language of stories like "Sonny's Blues." Discover the "Literary Form of Our Age" Since 1970, Professor Krasny has taught courses on a wealth of subjects, including the short story, modern and contemporary American literature, ethnic American literature, transatlantic modern drama, and literary theory. Drawing on his considerable scholarly background, he provides you with an "insider's view" of the craft of short fiction that is as rare as it is valuable. Join him on this survey of short fiction's hallmark works from its origins in the 19th century to its confrontation with the issues of the late 20th century and discover why this specific genre, in the words of Nadine Gordimer, is the "literary form of our age."
آیا می خواهید برنامه نویسی موبایل را با بهترین تکنولوژی شروع کنید؟
به کمک این دوره آموزشی که توسط مدیر سایت گیت تدریس می شود به راحتی اپلیکیشن های Android و iOS و Windows Phone بسازید.
تمامی مباحث از مقدماتی تا پیشرفته آموزش داده می شوند و شرکت کنندگان دوره به مدت نامحدود پشتیبانی می شوند.
برای اطلاعات بیشتر و استفاده از دوره روی لینک زیر کلیک نمایید:
آموزش برنامه نویسی چندسکویی موبایل
آیا می خواهید طراحی وب را به صورت حرفه ای یاد بگیرید؟
در این دوره آموزشی طراحی وب را در قالب بیش از 72 ساعت آموزش تصویری فارسی فرامیگیرید.
در این دوره HTML5 | CSS3 | Javascript | Jquery | Ajax | Bootstrap4 | PHP | MYSQL | SQL Server | Wordpress آموزش داده می شود.
تمامی مباحث از مقدماتی تا پیشرفته آموزش داده می شوند و شرکت کنندگان دوره به مدت نامحدود پشتیبانی می شوند.
برای اطلاعات بیشتر و استفاده از دوره روی لینک زیر کلیک نمایید:
دوره آموزش طراحی وب
حجم فایل: 4.56GB
لینک های دانلود: (Download Links)
موضوع: آموزش زبان انگلیسی | English Learning آموزش های TTC
تگ ها: آموزش داستان های تخیلی کوتاه آموزش شاهکارهای داستان های تخیلی کوتاه
تبلیغات
مدیر