آموزش علمی مهارت های تفکر انتقادی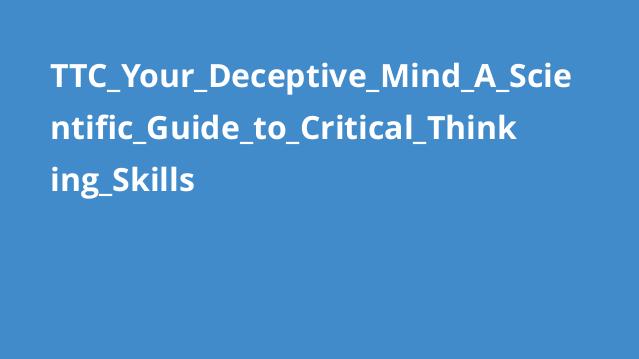 Your Deceptive Mind: A Scientific Guide to Critical Thinking Skills
Publisher: TTC
Link:https://www.thegreatcourses.com/courses/your-deceptive-mind-a-scientific-guide-to-critical-thinking-skills.html
Dr. Steven Novella of the Yale School of Medicine equips you with the knowledge and skills you need to become a savvier, sharper critical thinker in your professional and personal life. The 24 rewarding lectures of Your Deceptive Mind: A Scientific Guide to Critical Thinking Skills immerses you in the science of cognitive biases and thought processes. By learning how to think about thinking (a fascinating process known as metacognition), you'll gain concrete lessons for doing so more critically, more intelligently, and more successfully than ever before.


24 lectures
31 minutes each
1
The Necessity of Thinking about Thinking
Start by learning how to think about thinking itself (an act known as metacognition). Dr. Novella reveals how to distinguish good science from bad science; the individual steps involved in the critical thinking process; and how we can use critical thinking to break down topics such as the existence of UFOs.x
2
The Neuroscience of Belief
Our brains are hardwired to believe in something. What is the neuroscience that drives this desire? What are the reasons behind the specific things you believe in? How can you use this understanding to mitigate the effects of your need to believe on your critical thinking skills? Find out the answers here.x
3
Errors of Perception
A solid understanding of metacognition relies on an understanding of the nature of perception. First, examine the nature of how our brains acquire and process information. Then, investigate the ways we can be deceived by what we think we perceive in phenomena such as attentional blindness, change blindness, and optical illusions.x
4
Flaws and Fabrications of Memory
Memory is tricky, to say the least. Here, unpack the vital role that memories—even inaccurate memories—play in critical thinking. Some of the many topics you'll explore: how memory recall works; the roots of source amnesia; the inverse relationship between confidence and accuracy in a memory; and how memories can even be manufactured.x
5
Pattern Recognition—Seeing What's Not There
Pattern recognition is both a cognitive strength and a weakness; sometimes our brains can perceive patterns that aren't there. By seeing hyperactive pattern recognition at work in everything from data mining to superstitious thinking, you'll be better equipped to sort out what's real from what only appears to be real.x
6
Our Constructed Reality
Explore how different parts of your brain work together—and sometimes in conflict with one another—to construct your aggregate consciousness and the illusion of a single reality. In the process, you'll examine a range of interesting topics, including out-of-body experiences, phantom limbs, and altered states of consciousness such as dreaming.x
7
The Structure and Purpose of Argument
Focus on one of the most important reasoning tools you can use to override the flaws in neurological function: argumentation. What makes for a true argument? How is an effective argument built? What's the difference between inductive and deductive logic? What common logical fallacies are we most susceptible to—and how can you avoid them?x
8
Logic and Logical Fallacies
Delve further into logical fallacies, including the ad hominem argument (attacking the person instead of the argument) and the genetic fallacy (assuming the historical use of something is relevant to its current use). Dr. Novella provides vivid examples to hammer home each fallacy's specific description and damaging implications.x
9
Heuristics and Cognitive Biases
The worst biases are the ones you're not aware of. Avoid this pitfall of critical thinking by mastering the common biases in our thinking. After focusing on heuristics (mental short-cuts that can lead to erroneous conclusions), explore other powerful cognitive biases, including confirmation bias, familiarity bias, and optimism bias.x
10
Poor at Probability—Our Innate Innumeracy
Unfortunately, our brains are horrible when it comes to probability—and that can often lead to a number of probability-based cognitive biases. See the effects of this flaw, known as innumeracy, in everything from numerology (the supposedly mystical meaning behind numbers) to hot-and-cold streaks in competitive games.x
11
Toward Better Estimates of What's Probable
Continue your exploration of innumeracy by turning to the nature and perception of false positives, insignificant risks, and other manifestations in statistics and probability. Then, engage with some fun and revealing probability puzzles to discover just how lacking our intuition is when it comes to numbers.x
12
Culture and Mass Delusions
The culture and people around you can also have a profound impact on your critical thinking. Using powerful examples such as the response to Orson Welles's 1938 radio broadcast of The War of the Worlds and the Salem witch trials of the late 1600s, Dr. Novella explains the hidden power and pervasiveness of mass delusion and hysteria.x
13
Philosophy and Presuppositions of Science
Turn now to an in-depth examination of science, which serves as the foundation for critical thinking and can compensate for the tendency of human thinking to go awry. Specifically, you'll focus on and make sense of the philosophical interpretations of science (including Occam's razor), as well as probe some of the limits of scientific reasoning.x
14
Science and the Supernatural
What are we to make of "supernatural" issues such as the existence of ghosts and the possibility of miracles? Approach these and other topics from a critical thinker's perspective. Along the way, examine the deeper issue at work here: what is—and what should be—the relationship between science and the belief in things we can't see.x
15
Varieties and Quality of Scientific Evidence
Scientific studies are often used to provide evidence and support to a range of ideas and arguments. What questions should you ask when you are presented with an experimental or observational study? What specific biases should you be on the lookout for? What's the best way to compare studies with one another? Find out here.x
16
Great Scientific Blunders
Learn how important skepticism is as a first response to scientific claims by surveying blunders that resulted from a lack of critical thinking. Among them: the claimed existence of "n-rays," cold fusion, Lord Kelvin's calculations for the age of the Earth, and a psychologist drawn into reports by patients convinced they were abducted by aliens.x
17
Science versus Pseudoscience
Many claims label themselves as scientific—but are they really? Break down the concept of pseudoscience by exploring some of its most prominent features (or warning signs), including its tendency to work backward from desired results, its shifting of the burden of proof onto others, and its bold claims that go beyond evidence.x
18
The Many Kinds of Pseudoscience
Deconstruct several specific examples of pseudoscience to see how its various features work. You'll investigate the pseudoscience behind iridology (the idea that our irises reflect our health), photographs that claim to capture ghosts, psychic abilities such as precognition, spontaneous human combustion, and more.x
19
The Trap of Grand Conspiracy Thinking
Theories about the assassination of President John F. Kennedy. The existence and power of the Illuminati. The Roswell incident. Grand conspiracies such as these are cognitive traps that result from our attempts to make sense of our complex world. Examine both the compelling nature of conspiracy thinking and ways to determine which theories are true and which are just pseudoscience.x
20
Denialism—Rejecting Science and History
Dr. Novella introduces you to denialism, a subset of pseudoscience that seeks to deny established science. By exploring the features and tactics of denialism, as well as extreme examples of it at work, you'll shed light on how critical thinking helps you sidestep the more subtle forms of denialism we're all susceptible to.x
21
Marketing, Scams, and Urban Legends
Ever since its creation, the Internet has revolutionized our access to facts and become a veritable "Wild West of Information." Gain tips for using critical thinking to filter the wealth of information out there in chain emails, popular scams, and other everyday outlets that exploit human psychology.x
22
Science, Media, and Democracy
How does one find sound, reliable information in today's world? Topics you'll explore include the strengths and weaknesses of science reporting in the media; traps reporters fall into when covering science topics; the intersection between science and ethics, politics, and social issues; and the important role of science literacy.x
23
Experts and Scientific Consensus
How reliable is scientific consensus on hot-button issues such as climate change? What is the definition of an expert, and when should you defer to an expert's knowledge on important questions? Is there any characteristic that guarantees an expert's legitimacy? Probe these and other tricky questions related to the nature of scientific consensus.x
24
Critical Thinking and Science in Your Life
In the course's final lecture, Dr. Novella leaves you with some final thoughts on thinking more critically in your everyday life. These include accepting humility in the face of your own knowledge; understanding—but not denying—your emotions and their influence on thinking; and accepting the need to be comfortable with uncertainty.x

What should you think? Who should you believe? Could you be deceiving yourself? These are questions that all critical thinkers of any age must constantly ask themselves. There is no more important skill in today's world than being able to think about, understand, and act on information in a way that is both effective and responsible. Critical thinking transforms you from a passive member of society into an active participant in the ideas and issues of the day. It empowers you to better understand nearly every single aspect of everyday life, from health and nutrition to science and technology to philosophical and spiritual belief systems. What's more: At no point in human history have we had access to so much information, with such relative ease, as we do in the 21st century. Information is literally everywhere around you; in newspapers and magazines, on the radio and television, and across the Internet. But as the amount of information out there increases, so too does the amount of misinformation. So it's more important than ever before to become a better critical thinker—someone who can analyze and construct arguments and arrive at more sound, more informed opinions. And the key to success lies in understanding the neuroscience behind how our thinking works—and goes wrong; mastering the fundamental skills behind logic, reasoning, and argumentation; avoiding common pitfalls and errors in thinking, such as logical fallacies and biases; and knowing how to distinguish good science from pseudoscience. All this and more you can find in the 24 rewarding lectures of Your Deceptive Mind: A Scientific Guide to Critical Thinking Skills. Dr. Steven Novella of the Yale School of Medicine—an academic neurologist, award-winning instructor, and public educator—equips you with the knowledge and techniques you need to become a savvier, sharper critical thinker in your professional and personal life. By immersing yourself in the science of cognitive biases and critical thinking, and by learning how to think about thinking (a practice known as metacognition), you'll gain concrete lessons for doing so more critically, more intelligently, and more successfully than ever before. Explore the Inner Workings of Critical Thinking Our brains, according to Dr. Novella, are our greatest strength as critical thinkers. But they can also be the source of many weaknesses and impairments in critical thought. In Your Deceptive Mind, you'll take a closer look at the neuroscientific details of critical thinking and how the (often unfamiliar) ways in which our brains are hardwired can distract and prevent us from getting to the truth of a particular matter: The neuroscience of critical thinking: Approach the act of thinking not as some abstract concept but as an action rooted deep within your brain. In clear, easy-to-understand language, Dr. Novella takes you deep inside this powerful organ to examine how you form beliefs, perceive your surroundings, and remember events. Biases and problems in critical thinking: The key to success as a critical thinker lies in understanding the range of biases and problems that can stand in the way of reason and truth. You'll encounter—and learn how to deftly sidestep—fallacies such as retrofitting of evidence, collective wish fulfillment, reliance on "factoids,"and ad hominem arguments. Science and pseudoscience: Knowing how to separate science (the foundation of critical thought) from pseudoscience is of the utmost importance to any well-rounded critical thinker. Here, you'll investigate common examples of pseudoscience that surround us every day—from the denial of established evidence to the belief in grand conspiracies. Along the way, you'll sample a range of illuminating case studies, experiments, and observations from nutrition, science, technology, mass culture, and even politics; all of which vividly illustrate the core components of (and threats to) responsible critical thinking. These include how purported sightings of UFOs, ghosts, and Bigfoot are, in reality, plagued by a host of cognitive flaws that also reveal secrets about how we all make sense of unexplainable events; how functional MRI scans have demonstrated that different parts of our brain work together to construct an aggregate consciousness and sense of reality; how a 1938 radio broadcast of The War of the Worlds so easily incited mass hysteria in listeners and actually convinced them that an alien invasion was at hand; and how reactions to the assassination of President John F. Kennedy illustrate the inherent tendency in human beings to fall into the cognitive trap of grand conspiracies. Unpack the Critical Thinker's Toolbox Throughout Your Deceptive Mind, Professor Novella provides you with a critical thinker's toolbox that you can use to better assess the quality of information or to make a more informed decision. The smaller the scientific study, the greater you should be concerned about the potential for statistical noise. Larger scientific studies are often needed for the random effects to average out so that a more reliable answer can be arrived at. While it's important to remember that emotions have an influence on an individual's thought processes, it's dangerous to completely deny them when analyzing information or trying to make an informed decision. Learn to be comfortable with the uncertainty of the world. The truth is that there is no single guarantee of legitimacy when it comes to scientific information, only solid indicators of legitimacy. Be particularly on guard when dealing with controversial subjects frequently covered in the media. The more controversial a topic, the greater the chances are that information about that topic is skewed in one direction or another. These invaluable tips, techniques, and strategies are only a few of what you'll find in these lectures. And that's not all. Your Deceptive Mind's greatest strength lies in Professor Novella's delivery and engagement with the material. In addition to being a master teacher, he is an expert on critical thinking and its intersection with science. President and cofounder of the New England Skeptical Society and the host of its award-winning show, The Skeptic's Guide to the Universe, Professor Novella has dedicated himself to increasing the public's ability to use critical thinking skills to better navigate the mass of information (and misinformation) in today's highly mediated world. And the world is only going to get more and more saturated with information. So take the initiative and become better prepared to make sense of it all with this intriguing and rewarding course. While these lectures can't read the news or make decisions for you, they'll undoubtedly give you the concrete knowledge for doing so more intelligently.
آیا می خواهید برنامه نویسی موبایل را با بهترین تکنولوژی شروع کنید؟
به کمک این دوره آموزشی که توسط مدیر سایت گیت تدریس می شود به راحتی اپلیکیشن های Android و iOS و Windows Phone بسازید.
تمامی مباحث از مقدماتی تا پیشرفته آموزش داده می شوند و شرکت کنندگان دوره به مدت نامحدود پشتیبانی می شوند.
برای اطلاعات بیشتر و استفاده از دوره روی لینک زیر کلیک نمایید:
آموزش برنامه نویسی چندسکویی موبایل
آیا می خواهید طراحی وب را به صورت حرفه ای یاد بگیرید؟
در این دوره آموزشی طراحی وب را در قالب بیش از 72 ساعت آموزش تصویری فارسی فرامیگیرید.
در این دوره HTML5 | CSS3 | Javascript | Jquery | Ajax | Bootstrap4 | PHP | MYSQL | SQL Server | Wordpress آموزش داده می شود.
تمامی مباحث از مقدماتی تا پیشرفته آموزش داده می شوند و شرکت کنندگان دوره به مدت نامحدود پشتیبانی می شوند.
برای اطلاعات بیشتر و استفاده از دوره روی لینک زیر کلیک نمایید:
دوره آموزش طراحی وب
حجم فایل: 2.65GB
لینک های دانلود: (Download Links)
موضوع: آموزش های TTC آموزش های علمی
تگ ها: آموزش علمی آموزش مهارت های تفکر انتقادی فیلم مهارت های تفکر انتقادی
مدیر