آموزش افسانه ها، دروغ ها و حقایق ناقص کاربرد زبان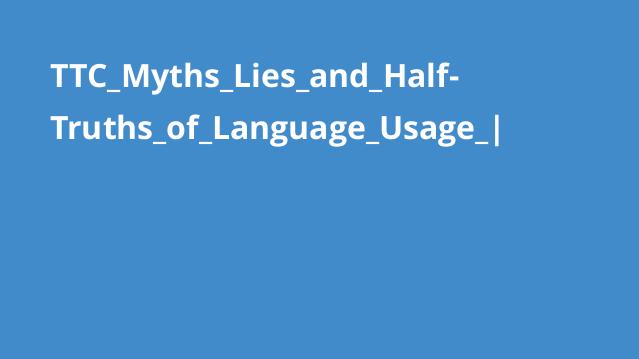 Myths, Lies, and Half-Truths of Language Usage |
Publisher: TTC
Link:https://www.thegreatcourses.com/courses/myths-lies-and-half-truths-of-language-usage.html
In Myths, Lies, and Half-Truths of Language Usage, you'll discover the true answers to these and other questions that continue to perplex us all: Is English, as a language, in crisis? Should grammar always be logical? Does texting degrade writing?


24 lectures
30 minutes each
1
Alarm over the Decay of English
Is English going to the dogs? Embark on an exploration of myths and controversies about our native tongue—where it came from, where it's going, and its unusual place among the world's 6,000 languages. Begin your investigation by looking at the purported epidemic of English abuse.x
2
Surprises in the Ancestry of Old English
Trace the evidence that English derives from a language that was incompletely learned by invaders of northern Europe more than 2,000 years ago. Where were these people from? An analysis of sound changes in their language, Proto-Germanic, leads to an intriguing hypothesis.x
3
Not Exactly Anglo-Saxon
How did Old English develop from Proto-Germanic? And why did people in Britain end up speaking the language of the Germanic invaders? Discover that the traditional explanation that English was brought to England by the Angles, Saxons, and Jutes in the 5th century A.D. is vastly oversimplified.x
4
Don't Forget the Celtic Connection
English has a more interesting history after the Anglo-Saxon period than was previously thought. See how the evidence is in grammatical constructions you use every day. For example, the reason you say "I'm building a house" rather than "I build house" traces to Celtic influences.x
5
From Insider Language to Lingua Franca
Explore the general properties of human language to learn the place of English in the broad spectrum of different tongues. In the process, discover how to distinguish a language spoken by a limited number of people from one used by hundreds of millions around the globe.x
6
English as Easy German
Starting with a simple sentence in German, peel away layers of complexity that don't exist in English. Then uncover more evidence that English is unusual in the simplicity of many of its grammatical features, showing that something happened to pare it down.x
7
The Viking Conquest of English
Trace the events that explain why Old English lost much of its complexity in the transition to Middle English. The agents of change were not the Norman French, who arrived in 1066, but the already established Vikings, whose Old Norse fused with Old English to create an abbreviated new language.x
8
How the Words of Modern English Emerged
Starting with Celtic contributions to English vocabulary, explore the borrowings from Old Norse, French, and Latin. These have enriched English with a wealth of synonyms, allowing speakers to choose between alternatives such as the Anglo-Saxon hide versus the Latinate conceal.x
9
Black English—The Streamlining Continues
Having seen that Proto-Germanic was streamlined into Old English, which was streamlined into Modern English, discover that Black English takes this process a step further. What some regard as bad grammar is language evolution, analogous to the shift from biblical Hebrew to modern Hebrew.x
10
Honored Conceits of Blackboard Grammar
Begin a new section of the course that focuses on your own relationship with language. In this lecture, trace the origin of "correct" usage to Robert Lowth, an 18th-century bishop who wrote an influential textbook on grammar that is the leading source of prescriptivist rules still promoted today.x
11
Pronoun Fashions Come and Go
In a sentence such as "Tell each student to hand in their paper," no ambiguity arises, but prescriptivists insist that the singular form of the pronoun be used: his, her, or his or her. Ponder that pronouns' behavior is unpredictable and ever-changing in all languages.x
12
Wrong Then, Proper Now—and Vice Versa
Turn back the clock to a time when proper forms of speech seem ungrammatical now, and what were considered blatant errors sound perfectly correct today. Among the authors you examine are the American colonial poet Anne Bradstreet and Charles Dickens.x
13
A Procession of Accidents and Fossils
Roll up your sleeves for some language archaeology, tracing the origin of seemingly nonsensical features in English that once had a function. An example: the initial N in the nicknames Ned and Nan is the fossil of mine, the archaic form of my, as in "mine Ed."x
14
The Pursuit of Logic in Language
Consider the role of logic in language and why double negatives are the default in French, Russian, and many other languages, including every dialect of English except the standard form. Dangling participles pose a similar problem of seeming illogical while being rarely misunderstood.x
15
Clarity as the Logic of Language
Investigate the illogicality of English by looking at everything from the use of the definite article, the, which is difficult to teach to nonnative speakers, to the blatantly ungrammatical "aren't I," which is the contraction for "are not I" and is preferred over the more logical "ain't I."x
16
20th-Century Fashions from Strunk & White
Delve into two influential works that prescribe how English should be used: Strunk and White's The Elements of Style and Fowler's Dictionary of Modern English Usage. Both mix astute advice with overly fussy personal opinions. How do you decide which is which?x
17
The Kinds of Grammar You Don't Hear About
Explore features of the language that are off the beaten track of conventional grammar. For example, handbooks often decry the use of the passive voice, but it can be a powerful tool—as in passive expressions using got, which acts as a marker of misfortune.x
18
Linguists Uncovering Grammar We All Use
Focus on fascinating discoveries about grammar in The Cambridge Grammar of the English Language, an authoritative guide to usage written by linguists. Learn that English doesn't have a future tense, and analyze the peculiar function of up in such expressions as "clean up."x
19
Speech versus Writing—Different Languages
Many languages have a huge gap between the spoken, colloquial form and what's considered appropriate for formal or written communication. Trace the evolution of that gap in English by comparing how people actually talked in the past with how they expressed themselves on the page.x
20
Speechmaking—From Oratory to Plain Speaking
Public speaking in English is currently trending toward a more informal style. Contrast speeches given in the old oratorical style with the more colloquial approach that took hold in the 1960s. Paradoxically, this loss of rhetorical polish has not meant a loss of eloquence.x
21
The Old and New Styles of Writing
See how writing styles have changed by comparing typical school reading assignments in the United States from the beginning and end of the 20th century. Then search out the reasons for this marked shift. One clue is that Americans in the past often spoke of a fine style as "good English."x
22
Got Poetry? Language with Spice
Until recently, poetry had a central role in American culture. Why has this distinctive form of elevated language declined, and how has poetry itself changed? Chart this transformation in poets from Longfellow and Edna St. Vincent Millay to Billy Collins and Kurt Cobain.x
23
Why Texting Is Misunderstood
Do the shortcuts and informality of e-mail and text messages represent bad writing? Probe this controversy in light of the unique niche filled by these new forms of expression. Until the advent of e-mail and texting, there was no truly conversational form of writing analogous to conversational speech.x
24
The Living Past and Future of English
Drawing on what you have learned about the history of English, look ahead to its possible future course. Some things will stay the same; others will change radically. Close by analyzing a famous 20th-century sentence to chart the curious pathways to our modern tongue.x

Is English broken? Do bad grammar, slang, and illogical constructions signal a decline in standards of usage? Do e-mail and text messages corrupt the art of writing? In short, is our language going to the dogs?It's easy to think so, just as it's easy to listen to people speaking a foreign language and think that they're doing something more complicated and interesting than we're doing in speaking English. But English is complicated and interesting too. Consider the real truth behind these widespread beliefs: English is in crisis: False. English has been undergoing fundamental change for centuries. Novelty and caprice have created not just slang but the very foundations of what we think of as the best parts of English. Latin is more perfect than modern languages: False. By historical accident, Latin became the standard for grammatical rigor. But countless languages, including English, are Latin's equal in precision and expressive power. Grammar should be logical: False. A double negative is unacceptable in standard English because it implies a positive. But many languages use it without misunderstanding, along with other constructions that defy strict logic. Texting degrades writing: False. Text messages and e-mail are not crowding out other forms of language. Instead, they fill an important niche—informal writing—that until now had no adequate outlet. The modern attitude toward English is filled with such misconceptions that obscure the true picture of what a marvelous language it is. Far from being a language in decline, English is the product of surprisingly varied linguistic forces, some of which have only recently come to light. And these forces continue to push English in new directions—in defiance of those who long for an age of formal perfection that never existed. Taught by acclaimed linguist, author, and Professor John McWhorter of Columbia University, Myths, Lies, and Half-Truths of Language Usage dispels the cloud of confusion that clings to English, giving you a crystal-clear view of why we use it the way we do and where it fits into the diverse languages of the world. After completing these 24 lectures, you will think about how you use English in a new way, listen to others with discernment and fascination, and take joy in speaking such a wonderfully idiosyncratic tongue. Dig beneath the Surface of English Like an archaeologist sifting through clues to a vanished civilization, Professor McWhorter highlights the many features of English that sound normal to a native speaker but that linguists find puzzling and also revealing: Meaningless do: The only languages that use do in the way English does (as in "do not walk") are the Celtic languages such as Welsh, which were spoken by people who lived among the early English and influenced their language in many subtle ways. Fossilized mistakes: The little green legume often eaten with carrots was formerly called pease in the singular. The word was gradually misinterpreted as plural because of the final s sound, and a new singular form was assumed to exist: pea. "Heritage" Old English: One of the mysteries of Modern English is that it resembles a heritage version of Old English. A heritage language is one learned imperfectly at home, typically by immigrant children who acquire a different dominant language.
آیا می خواهید برنامه نویسی موبایل را با بهترین تکنولوژی شروع کنید؟
به کمک این دوره آموزشی که توسط مدیر سایت گیت تدریس می شود به راحتی اپلیکیشن های Android و iOS و Windows Phone بسازید.
تمامی مباحث از مقدماتی تا پیشرفته آموزش داده می شوند و شرکت کنندگان دوره به مدت نامحدود پشتیبانی می شوند.
برای اطلاعات بیشتر و استفاده از دوره روی لینک زیر کلیک نمایید:
آموزش برنامه نویسی چندسکویی موبایل
آیا می خواهید طراحی وب را به صورت حرفه ای یاد بگیرید؟
در این دوره آموزشی طراحی وب را در قالب بیش از 72 ساعت آموزش تصویری فارسی فرامیگیرید.
در این دوره HTML5 | CSS3 | Javascript | Jquery | Ajax | Bootstrap4 | PHP | MYSQL | SQL Server | Wordpress آموزش داده می شود.
تمامی مباحث از مقدماتی تا پیشرفته آموزش داده می شوند و شرکت کنندگان دوره به مدت نامحدود پشتیبانی می شوند.
برای اطلاعات بیشتر و استفاده از دوره روی لینک زیر کلیک نمایید:
دوره آموزش طراحی وب
حجم فایل: 4.66GB
لینک های دانلود: (Download Links)
موضوع: آموزش زبان انگلیسی | English Learning آموزش های TTC
تگ ها: آموزش کاربرد زبان فیلم آموزش کاربرد زبان
تبلیغات
مدیر