آموزش هنر خواندن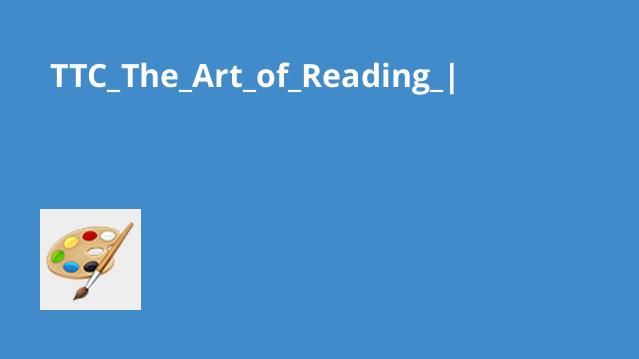 The Art of Reading |
Publisher: TTC
Link:https://www.thegreatcourses.com/courses/art-of-reading.html
Learn how to make your future reading experiences more enriching and enjoyable. Designed to maximize your effectiveness as an artful reader, The Art of Reading brings together concepts, tools, and techniques rarely found together in a single package.


24 lectures
31 minutes each
1
Artful Reading and Everyday Reading
In this introductory lecture, discover the difference between everyday reading (reading to extract information) and artful reading (reading to take pleasure in language). Also, learn how noted author C. S. Lewis defined the two types of readers, and outline the methods you'll use over the next 23 lectures.x
2
Authors, Real and Implied
You spend a lot of time with your favorite authors. But what is the difference between a real author and an implied author? Learn the answer to this intriguing question by examining a familiar story, the theories of two literary critics, and personal opinions from two iconic Western writers.x
3
Narrators—Their Voices and Their Visions
First- and third-person narrators are the two most common narrators to be found in literature. In this lecture, Professor Spurgin argues the pros and cons of each form and the unique ways they influence your reading experience, using stories by Edgar Allan Poe and Nathaniel Hawthorne as examples.x
4
Characters—Beyond Round and Flat
For most readers, nothing is more important than a story's characters. Here, investigate what makes characters flat (unchanging) or round (dynamic) with an example by Anton Chekov—a master of literary characterization. Then, learn the secret to determining whether a character is worth reading about.x
5
Descriptions—People, Places, and Things
Discover an alternative to skipping detailed descriptions in your reading. As stories by John Updike and Flannery O'Connor demonstrate, descriptions not only create vivid impressions, they also provide the potential for new perspectives, deepen your understanding of the characters, and sharpen your interest in the story.x
6
Minimalists to Maximalists to Lyricists
What are the two fundamental elements of style? Does the style in which a story is told really make a difference in how it affects you? And which style is the best one to read? Uncover the answers in this engaging look at how writers work—and play—with words.x
7
Explosive Devices—Irony and Ambiguity
Professor Spurgin teaches you how to heighten your ability to detect irony and ambiguity in your reading with a look at Katherine Mansfield's classic short story, "Bliss." By understanding the different forms of irony and ambiguity and picking up on their use, you can radically change your opinion on an entire work.x
8
Reading for the Plot—Five Simple Words
Plots are what hook us at the beginning of a reading experience and what keep us reading through to the end. Unpack the mechanics of a work's plot—what goes into it, how it can be arranged and presented to the reader, and how to distinguish the plot from the story.x
9
Master Plots—The Stranger and the Journey
Continue your explorations of plot with a look at master plots—familiar plots that appear everywhere—and genres. Learn to recognize the difference between the two terms, how they shape your reading experience, and why you can't begin to make sense of a book before placing it in a particular genre.x
10
The Game Is Afoot—Sherlock Holmes
In the first of three lectures that take you through the elements of fiction as they appear in classic works, apply your newfound knowledge and skills to the adventures of Sherlock Holmes. As you work through various stylistic questions, discover why Holmes is considered both a writer and a reader.x
11
The Plot Thickens—Scott and Brontë
Most of the literary examples so far have been short stories, but what happens when you're reading a larger novel such as Sir Walter Scott's or Charlotte Brontë's Jane Eyre? See how Professor Spurgin's tips and tricks to more artful reading still apply—even when you're faced with hundreds of pages of material.x
12
The Plot Vanishes—Faulkner and Woolf
Innovative and experimental, Modernist literature can sometimes be intimidating for first-time—or even seasoned—readers. In this case study of the Modernist masterpieces As I Lay Dying and The Waves, learn how to approach these types of novels with increased confidence.x
13
Chapters, Patterns, and Rhythms
Now, turn to one of the smaller units of storytelling: the chapter. Chapters are more than just convenient places to stop reading; they are carefully arranged and organized by the writer. Learn how to tease out these connections with a look at chapters from two very different novels: Great Expectations and My Antonia.x
14
Scene and Summary, Showing and Telling
Zoom in on the structure of an individual chapter and learn how to distinguish between its scene and its summary. Learn why these two terms are, in the opinion of Professor Spurgin, the basic building blocks of fiction by seeing them at work in The Mayor of Casterbridge and Disgrace.x
15
Subtexts, Motives, and Secrets
Sharpen your ability to understand subtext—the meaning that lies beneath the words and actions of characters in a particular scene. Using Jane Austen's classic novel Persuasion as a case study, develop some techniques for gleaning hidden meaning in the novels you read.x
16
Dialogue—The Good, the Bad, the Ugly
Focus on a topic touched on in previous lectures: dialogue. Using examples from classic and contemporary novels, Professor Spurgin shows you how to tell the difference between convincing dialogue and flat dialogue; he also calls attention to the relationship between a literary genre and the style of its dialogue.x
17
Metafiction—Fiction about Fiction
Metafiction is, essentially, fiction about fiction; with these particular reading experiences, anything is possible. Learn how to read, make sense of, and—most important—enjoy this complex and demanding genre by examining works by two of its recognized masters: Jorge Luis Borges and Italo Calvino.x
18
Adaptation—From Fiction to Film
Tackle the age-old question: Why is the movie never as good as the book? Each medium approaches the act of storytelling in markedly different ways. Using cinematic versions of Heart of Darkness as examples, discover how film adaptations can provide you with a sharper sense of the strengths of their literary sources.x
19
Realism Times Four
What do writers and literary critics mean when they talk about "realism"? Unpack the meaning of this writing style, distinguish between the four types of realism, and discover how H. G. Wells's War of the Worlds endows the science fiction conceit of a extraterrestrial invasion with a startling sense of realism.x
20
Thumbs Up?—Interpretation and Evaluation
The question of how to interpret a work is one of the thorniest in literary theory. Do artful readers respect the intentions of a text, or do they question its hidden assumptions? Is there a right or wrong way to interpret and evaluate a book? Find out in this lecture.x
21
A Long Short Story—"Runaway"
Examine Alice Munro's "Runaway," a short story whose power can be unearthed with the techniques outlined in earlier lectures. By reading this story in an artful manner, you can learn just why it is that Munro and writers like her are so admired and respected by critics and readers.x
22
A Classic Novel—The Age of Innocence
In the second of three case studies, turn to Edith Wharton's masterpiece of old New York: The Age of Innocence. Professor Spurgin demonstrates how a close, artful reading of the novel's narrator and its intriguing central character reveal deep insights into the social complexities of late 19th-century New York City.x
23
A Baggy Monster—War and Peace
Develop successful reading strategies for those times when you're confronted with a book that runs nearly a thousand pages in length. Case in point: Leo Tolstoy's mammoth Russian masterwork, War and Peace. As you explore familiar issues of artful reading, you also learn how to approach works written in translation.x
24
Picking Up the Tools
Conclude the course with this exploration of endings, specifically the closing passages of The Adventures of Huckleberry Finn and Persuasion. What makes for a satisfying conclusion to a reading experience? Also, revisit some of the major benefits of becoming a more artful reader. x

You definitely know how to read. But do you know how to read artfully? Unlike everyday reading, artful reading—the way we read novels and short stories—is less about reading for specific information and more about reading to revel in the literary experience.
It involves recognizing how a story's particular narrative style affects your connection with its characters, why authors choose to hint at meanings instead of just writing them out for you, how the organization of a novel into distinct chapters can affect your engagement with its plot, and much more. When you approach a work of fiction the way you do an e-mail or report or newspaper, you miss out on all of this. You're not getting everything you should out of the reading experience. Learning the skills and techniques of artful reading can improve your life in many ways. If you're a fiction reader, they can make your first reading of a new novel or short story feel as rewarding as a second or third reading, and they can give you new perspectives on works you already cherish. If you're an aspiring writer, they can help you understand the methods that great writers use to tackle literary concepts—successful methods you can then apply to your own writing. If you're a book club member, they can enliven discussions and provide your group with engaging activities to create even deeper appreciations of the works you're reading. If you're a student, they can improve and enhance the close reading skills essential to success in high school, college, and beyond. And the best part: These skills are not difficult or unwieldy; rather, they are well within your reach. According to award-winning Professor Timothy Spurgin, who has made a career of enlightening students about the benefits of artful reading, great readers are made, not born. This idea forms the core of The Art of Reading, Professor Spurgin's entertaining 24-lecture course that brings together concepts and techniques rarely found in a single package. Teaching with an engaging and conversational style, he gives you the knowledge and methods to approach even the most daunting reading experience with increased confidence. Master the Fundamentals of Fiction An artful reading experience relies on a concrete grasp of the basic elements of fiction, and The Art of Reading is a great way to master them. Throughout the first half of the course, you learn the definitions and characteristics of terms such as authorship, master plot, theme, genre, and metafiction. While some of these nuts-and-bolts concepts may be familiar to you, Professor Spurgin examines them from multiple angles, revealing hidden meanings that can escape even experienced readers. For example: How many types of realism are there? What are the differences between a work's plot and its story? How can you spot ambiguity in a passage and not confuse it with irony? Professor Spurgin's answers to these and other hazy questions about the fundamentals of fiction are easily understandable and never bogged down in complicated literary theory. In some instances, he emphasizes a particular element's purposes, strengths, and weaknesses through exercises in which you mentally "rewrite" passages by iconic writers. One intriguing exercise asks you how Edgar Allan Poe's "The Tell-Tale Heart" would read if it were narrated in the third person instead of the first person. Discover the Artful Reader's Toolbox Central to Professor Spurgin's lectures are the practical tips and techniques designed to maximize your effectiveness as an artful reader. The Art of Reading gives you a veritable toolbox that you'll find essential to mining everything you need from a novel or short story. Here is a sample of Professor Spurgin's great suggestions for more artful reading: Holding an initial reading session: Getting into a book is like getting acquainted with another person, so it's important to make your first reading session a fairly long one—between one hour and 90 minutes. This will give you enough time to become familiar with the author's writing style and the characters. Even if you can't return to the book for days, when you do you'll still be returning to something familiar. "Pre-reading": Instead of diving headfirst into a new work, leaf through it and explore its organization and structure. Are there chapters, parts, volumes? What might these divisions say about the possible direction of the work? This technique will help make even the lengthiest novel seem less daunting. Constantly asking questions: Make a point to ask yourself questions about what you're reading, such as the motivations of its characters or the potential outcomes of an event. If you keep brief notes about various possibilities as you continue reading, you'll feel more deeply involved with the characters and their stories. And these are just a few suggestions! You'll also learn insights into how to contribute to book club discussions, choose the right translation, notice the "beats" in a particular scene, decipher what characters aren't saying in their dialogue, and more. Learn through Literary "Case Studies" Throughout the lectures, Professor Spurgin uses a host of literary "case studies" to refine and elaborate on the concepts of artful reading. Unlike other literature-themed courses, The Art of Reading focuses less on a literary analysis of works like A Christmas Carol, Jane Eyre, and The Age of Innocence and more on how artful readers can use their skills to recognize why these works are so significant. Professor Spurgin also uses literary examples to show how you can finally approach works that, in the past, might have seemed intimidating. He shows you how to read and understand Modernist literature (As I Lay Dying), epic novels (War and Peace), and even the differences between reading a novel and a short story. In today's busy world, it can be difficult to set aside quality time to savor a great work of literature—the kind of novel or short story that readers have cherished for centuries. After taking this course, you'll be able to use Professor Spurgin's suggested tips to get the most out of the valuable time you spend with these and other classic books. Rediscover the Joy of Reading Professor Spurgin understands, first and foremost, the sheer joy of reading and just how contagious that joy is. His engaging teaching skills have brought him numerous teaching honors at Lawrence University—and he delivers every lecture of The Art of Reading in this same acclaimed, award-winning style. At its core, The Art of Reading is not about complicated literary terms and theories. It's about the wonderful feeling of engaging with a novel or short story on all levels and learning how artful readers think about and approach the works they read. Whether you're someone who loves curling up with a good book, a writer who is looking for insights into how to get inside your readers' minds, or a student who wants to contribute to class discussions, there's something for you to find in this course. What's more, you won't have to comb through shelves of books searching for ways to get more out of your reading. With The Art of Reading, you'll get a comprehensive and concise package that finally brings together all the myriad ways you can make your future reading experiences more engaging and—most important—more enlightening.
آیا می خواهید برنامه نویسی موبایل را با بهترین تکنولوژی شروع کنید؟
به کمک این دوره آموزشی که توسط مدیر سایت گیت تدریس می شود به راحتی اپلیکیشن های Android و iOS و Windows Phone بسازید.
تمامی مباحث از مقدماتی تا پیشرفته آموزش داده می شوند و شرکت کنندگان دوره به مدت نامحدود پشتیبانی می شوند.
برای اطلاعات بیشتر و استفاده از دوره روی لینک زیر کلیک نمایید:
آموزش برنامه نویسی چندسکویی موبایل
آیا می خواهید طراحی وب را به صورت حرفه ای یاد بگیرید؟
در این دوره آموزشی طراحی وب را در قالب بیش از 72 ساعت آموزش تصویری فارسی فرامیگیرید.
در این دوره HTML5 | CSS3 | Javascript | Jquery | Ajax | Bootstrap4 | PHP | MYSQL | SQL Server | Wordpress آموزش داده می شود.
تمامی مباحث از مقدماتی تا پیشرفته آموزش داده می شوند و شرکت کنندگان دوره به مدت نامحدود پشتیبانی می شوند.
برای اطلاعات بیشتر و استفاده از دوره روی لینک زیر کلیک نمایید:
دوره آموزش طراحی وب
حجم فایل: 4.52GB
لینک های دانلود: (Download Links)
موضوع: آموزش های TTC
مدیر