آموزش شاهکارهای ادبیات اوایل قرن بیستم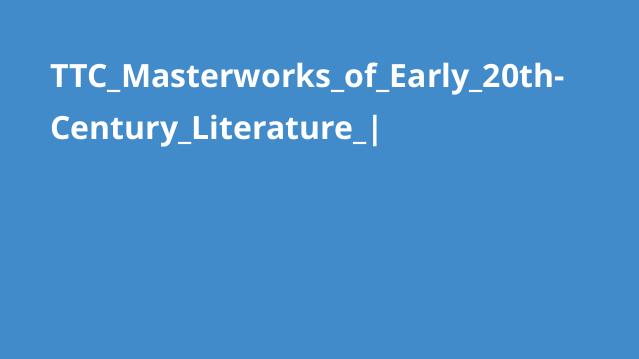 Masterworks of Early 20th-Century Literature |
Publisher: TTC
Link:https://www.thegreatcourses.com/courses/masterworks-of-early-20th-century-literature.html
Joyce, Faulkner, Conrad, Woolf, Kafka, Lawrence. Their works are some of the most challenging-yet rewarding-you'll ever encounter. But their novels are not what you might expect. Now you can explore this literary movement and gain insights into Modernism.


24 lectures
28 minutes each
1
Road Map—Modernism and Moral Ambiguity
In addition to providing an overview of the course, the opening lecture introduces a method of literary interpretation called Formalism, which allows readers to appreciate fiction regardless of their literary background. You'll explore some major themes of Modernism through a reading of John Crowe Ransom's poem "Captain Carpenter."x
2
How to Read Fiction—Joyce's "An Encounter"
Using a story from James Joyce's Dub­liners, Professor Thorburn demonstrates how close attention to the text can produce an insightful and valid interpretation. He contrasts this kind of reading to the over-ingenious and grandiose interpretations of some scholars who rely too heavily on evidence external to the text under discussion.x
3
Defining Modernism—Monet's Cathedral
Revolutionary new ideas—the theories of Darwin and Einstein; the psychological insights from Freud and James; the philosophies of Marx, Schopenhauer, and Nietzsche—provide a powerful intellectual context for Modernism. But perhaps the most central precursor of literary Modernism is the Impressionist art of Claude Monet.x
4
Defining Modernism—Beyond Impressionism
If Impressionism anticipates literary Modernism, Postimpressionism exemplifies a break with previous artistic modes. Artists such as Picasso and Beckmann create a new visual vocabulary to commu­ni­cate a profound sense of modern alienation.x
5
The Man Who Would Be King—Imperial Fools
Rudyard Kipling serves as a transitional figure between 19th-century certitudes and the Modernist disillusionment. Though many of his most popular works betray a deep-seated racism and faith in the British Empire, his anti-imperial fable The Man Who Would Be King deconstructs the myth of the white man's burden.x
6
Heart of Darkness—Europe's Kurtz
A Polish expatriate, sailor, and English novelist, Joseph Conrad's life exemplifies the Modernist themes of isolation and alien­a­tion. In his masterpiece, Heart of Dark­­ness, Conrad created the character Kurtz, the embodiment of Western civilization, its highest aspirations, profoundest myths, and most depraved violence.x
7
Heart of Darkness—The Drama of the Telling
Central to Modernist literature is the idea that each story narrates the difficulties of its own telling. More than just a simple travel story, Conrad's Heart of Dark­­nessexemplifies this obsession with the problems inherent in storytelling.x
8
The Shadow-Line—Unheroic Heroes
Conrad's late work, The Shadow-Line, tells of a young sea captain whose failed first voyage is a journey into adulthood. The story serves as an example of many of Conrad's favorite literary devices and themes, including the use of doppelgangers and the antihero.x
9
The Good Soldier—The Limits of Irony
Though less renowned than some of his contemporaries, Ford Madox Ford was a prolific writer, an influential editor, and a discoverer of literary talent. In The Good Soldier, he crafted a fable of infidelity that pushed to its furthest extreme a hallmark of Modernism: the unreliable narrator.x
10
The Good Soldier—Killed by Kindness
This lecture takes a closer look at Ford's masterpiece of irony and examines how the author uses language and structure to enact the narrator's "drama of the telling." x
11
Lawrence (and Joyce)—Sex in Modern Fiction
A striking feature of Modernism is its willingness to confront the nature of sexuality. Through his controversial works, D.?H. Lawrence presents an unblinking view of the complexity of sexual passion, as seen in Sons and Lovers, Lady Chatterley's Lover, and Women in Love.x
12
"Horse Dealer's Daughter"—A Shimmer Within
Please note: Parts of Lecture 11 contain some explicit discussion of sexual matters and may be unsuitable for children.x
13
The Metamorphosis—Uneasy Dreams
Lawrence's short story "The Horse Deal­er's Daughter" illustrates the continuities between Modernism and Romanticism, both of which celebrate the exhilarating, mysterious, and sometimes dangerous workings of passion and selfhood.x
14
Dubliners—The Music of the Ordinary
Through the stories of his native city, Joyce explored the failures and revelations that mark the lives of ordinary men and women. His most accessible work, Dubliners, introduces some of the themes and techniques he would later use in his masterpiece, Ulysses.x
15
Ulysses—Joyce's Homer
Joyce's masterwork represents a new kind of fiction that pushes the limits of language. Joyce's retelling of the foundational text of Western literature, Homer's Odyssey, is both an act of respect and of rebellion, an illustration of how we are "modern" and how we are not.x
16
Ulysses—The Incongruity Principle
In Ulysses, meaning is constructed by jux­taposing incongruous situations, perspectives, and themes. Through this "incongruity principle," Joyce aimed to dramatize the complicated, often contradictory experience of life in its actual fullness. He attempted to duplicate the way the world registers almost moment by moment in our consciousness.x
17
To the Lighthouse—Life Stand Still Here
A prolific writer, perceptive literary critic, and member of the famous literary circle, the Bloomsbury Group, Virginia Woolf is now one of the most widely read authors of the Modernist movement. This lecture explores how she sought to capture the experience of life through her art.x
18
To the Lighthouse—That Horrid Skull Again
This lecture returns to Woolf's classic novel to take a closer look at its structure and narrative style. Through the story of Mrs. Ramsay and her family, Woolf dramatizes the self as fluid and celebrates the ability to stem the tide of mortality and flux—even if only momentarily—through art and community.x
19
Isaac Babel—Jew and Cossack
Ironic, ambivalent, often violent, the stories of Isaac Babel reflect his experience of the brutal anti-Semitism of prerevolutionary Russia. In ironic fables and Red Cavalry stories, he reveals another face of Modernism: affectless, numbed, and precise.x
20
Isaac Babel—Odessa's Homer
In his tales of Odessa, Babel teases the reader with the idea of autobiography, but his accounts of the brutal pogroms of his childhood in Russia is more ironic and morally ambiguous than mere self-confession. In his mock-heroic stories about Benya Krik, the Russian-Jewish gangster, he sings, like an ancient poet, of a lost world. x
21
Faulkner's World—Our Frantic Steeplechase
William Faulkner's difficult, multivoiced novels demand active collaboration from readers. This lecture describes Faulkner's rich portrait of a fictional Mississippi county.x
22
Absalom, Absalom!—The Fragile Thread
Faulkner's Absalom, Absalom! synthesizes a variety of genres—adventure, family melodrama, detective novel, gothic novel—and mythological allusions to create a complex "drama of the telling" that is simultaneously a deeply American fable of race, gender, and ambition. x
23
Pale Fire—Modern or Postmodern?
In Pale Fire, Vladmir Nabokov creates a complicated parody of scholarship in his portrayal of the mad editor, Kinbote, and a verbally dazzling meditation on the nature of art and creativity. x
24
The Moral Vision of Modern Fiction
The course concludes with an overview of Modernist themes, emphasizing the respect for the past these authors shared. A key to their modernity, Professor Thorburn says, is their mission to dramatize the nearly irretrievable complexity of life.x

Perhaps this has happened to you: You've picked up a great novel—James Joyce's Ulysses, Virginia Woolf's To the Lighthouse, or William Faulkner's Absalom, Absalom! You launch in, ready to discover treasures in this great work of 20th-century fiction. But the novel is not what you expected. The style is unfamiliar, the narrative is fragmented, and there isn't a clear plot. It's like nothing you've ever read before. If you finish it, you find yourself unsatisfied. What did it all mean? Or perhaps you don't finish at all, and find yourself putting it off until "someday." Maybe you've yet to attempt one of these great novels. You've always wondered what you're missing, but you know these works are famously difficult, and you've hesitated to start without a guide to help you find your way through this rich but complex tradition. You needn't wait any longer. Now you can explore this remarkable literary movement and gain insights into the secrets behind Modernism with Masterworks of Early 20th-Century Literature. With Professor David Thorburn as your guide, you'll see how Modernist authors created new techniques to reflect an increasingly complex post-Victorian world. This tradition includes some of the greatest authors world has known—Joyce, Faulkner, Conrad, Woolf, Kafka. Their works are some of the most challenging—yet rewarding—you'll ever encounter. Each lecture is accessible and engaging—even if you're new to these authors. And if you've studied Modernism before, Professor Thorburn's perspectives will make you eager to return. Filled with fascinating facts and insightful readings, Masterworks of Early 20th-Century Literature is more than just an introduction to the great writers of the period. With Professor Thorburn's expert guidance, you'll understand why these authors were great. Modernism Made Accessible—and Compelling Choosing short but representative novels and stories, Professor Thorburn offers a compelling overview of Modernism you'll find intriguing—whether or not you have time to read the works along with him. Each work is introduced with a full plot summary to ensure that readers from all backgrounds will easily understand the lectures. Guided by the tenet "trust ourselves and trust the texts," Professor Thorburn demystifies the world of literary criticism and demonstrates how a thoughtful, careful reader can find exciting and enriching insights in these works. You'll examine these great novels and stories from all angles, through close readings of selected passages and illuminating discussions of structure, form, symbolism, and character. You'll also get to know the authors as people in fascinating biographical facts and anecdotes. Here's a sample of what you'll learn: Although his writing is often held up as a model of English prose, Joseph Conrad was not a native speaker. English was his third language, after French and his native language, Polish. One of Soviet Russia's most revered authors, Isaac Babel briefly worked for the Soviet secret police as a translator. Later he fell out of favor, and in 1940 he was arrested, tortured, and secretly executed by the Stalinists. Vladmir Nabokov was a trained lepidopterist—an expert on butterflies and moths—and discovered several new species during his academic career. At the time of his death at age 41, Franz Kafka had just finished correcting the proofs of one of his final stories, "A Hunger Artist." The story, which recounts the death by starvation of a performance artist, eerily predicted Kafka's own demise: Sickened by tuberculosis, he was incapable of eating and died of starvation. A skilled storyteller, Professor Thorburn weaves these and more fascinating details from the authors' lives to show how their personal experiences shaped their literary visions. Finally, you'll view the works of these great authors through the lens of what went before. Using classic texts from previous centuries—the works of Jane Austen, William Thackeray, and George Eliot—Professor Thorburn provides a striking contrast that underscores the boundaries in thought and expression that were crossed as the 19th century gave way to the modern era. "On or About December, 1910, Human Nature Changed." No picture of Modernism is complete without an understanding of the forces that helped bring it about. As Virginia Woolf so famously noted, the modern era represented a new way of thinking about humankind and its place in the world. The Modernists lived during a time of innovative breakthroughs and awareness that affected all realms of life. It was the world of Einstein and Marx, Freud and Wittgenstein. From the theory of relativity to perceptions on the depths of the human psyche, new discoveries overturned time-honored assumptions about humankind. You'll see how innovative scientific pronouncements called into question old notions about the nature of existence, and how Freudian psychology focused attention on ordinary people and the mysterious psychological forces that compelled them. Stunning ideas about the way the world works—such as Darwin's theory of evolution and Marx's ideas about economics—created a new image of a hostile world order. How did these forces affect the great artists of the day? What kind of art could capture the newly fragmented, alienated sense of self of the Modern era? To begin to answer these questions, Professor Thorburn explores the world of visual arts. Examining contemporary works in Impressionism, Postimpressionism, and German Expressionism, he shows how these striking paintings provide an illuminating visual counterpoint to the literary works you'll be studying. Seeing the World through Modern Eyes In this context the great literature of the Modernist era will come alive. You'll explore the techniques these great artists employed—stream-of-consciousness narration, fragmented plots, unreliable narrators—that helped capture their sense of uncertainty in a world unmoored from traditional beliefs. And you'll explore the dominant themes of the age—the sense of alienation and nostalgia for an irretrievable past, and the commitment to capturing the experience of ordinary people. Each author brings unique insights and innovative techniques to bear on this new understanding of the human condition. You'll encounter experimental forms of narrative and you'll see how these authors contend with the fallen idols of an earlier age. From the echoes of Greek mythology in James Joyce's wandering hero of Ulysses to Joseph Conrad's indictment of the European mission to "civilize" the peoples of developing nations in Heart of Darkness, these authors remade tradition to reflect a new, fragmented world order. You'll also sample the rich variety the tradition holds. For some authors, Modernism represents a bleak vision of human existence, as in "The Metamorphosis," Kafka's dark story of a man transformed into a repulsive insect. But other authors find hope—or at least consolation—within the new order, as in Virginia Woolf's To the Lighthouse. You'll meet indelible characters—Conrad's megalomaniac explorer Kurtz and Vladmir Nabokov's mad academic, Kinbote, among others—and you'll travel around the world, from James Joyce's Dublin to Rudyard Kipling's Afghanistan to the crumbling aristocratic estates of the American South. But the real journey is into the modern sensibility as it was transformed and expressed by some of the world's greatest literary artists. With Masterworks of Early 20th-Century Literature, you'll discover a new appreciation for this rich literary tradition and witness the birth of ideas about life and art that still resonate today.
مدیر